Valentine's Day is quickly approaching! If you are still on the hunt for the perfect Valentine's gift ideas to give your significant other this year, you're in luck. I searched high and low for some of the very best Valentine's Day gift ideas under $10 that anyone will love! No matter what they like, you're bound to find something perfect for your person here and at a super affordable price, nonetheless!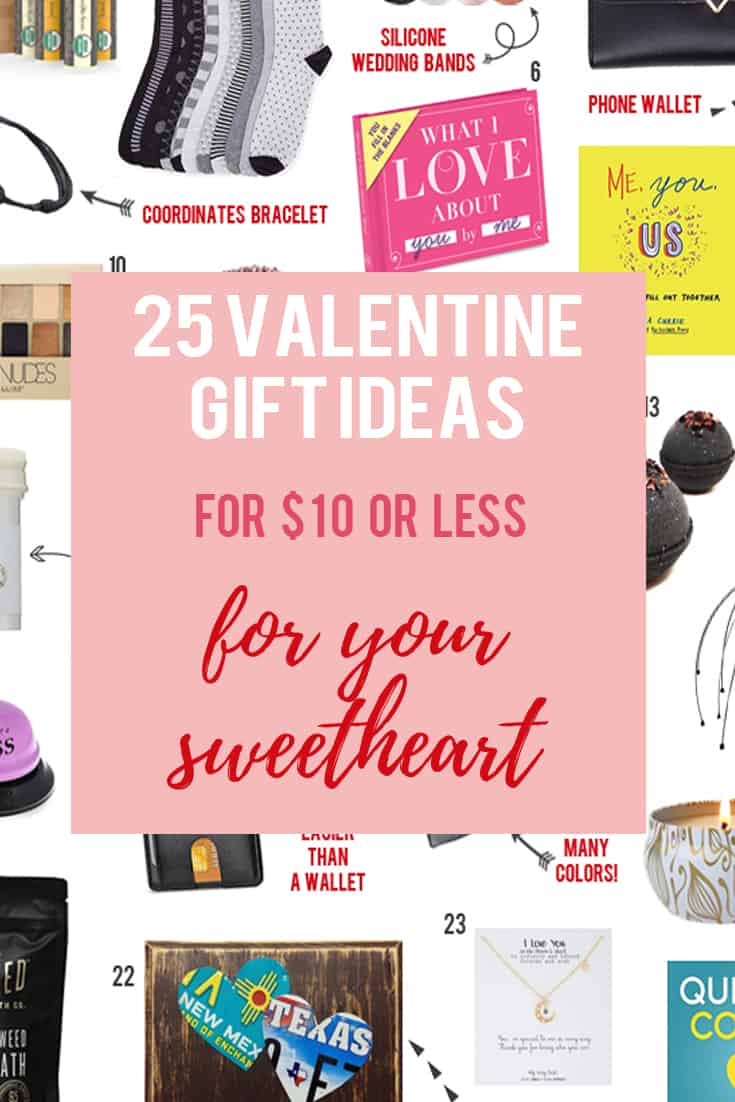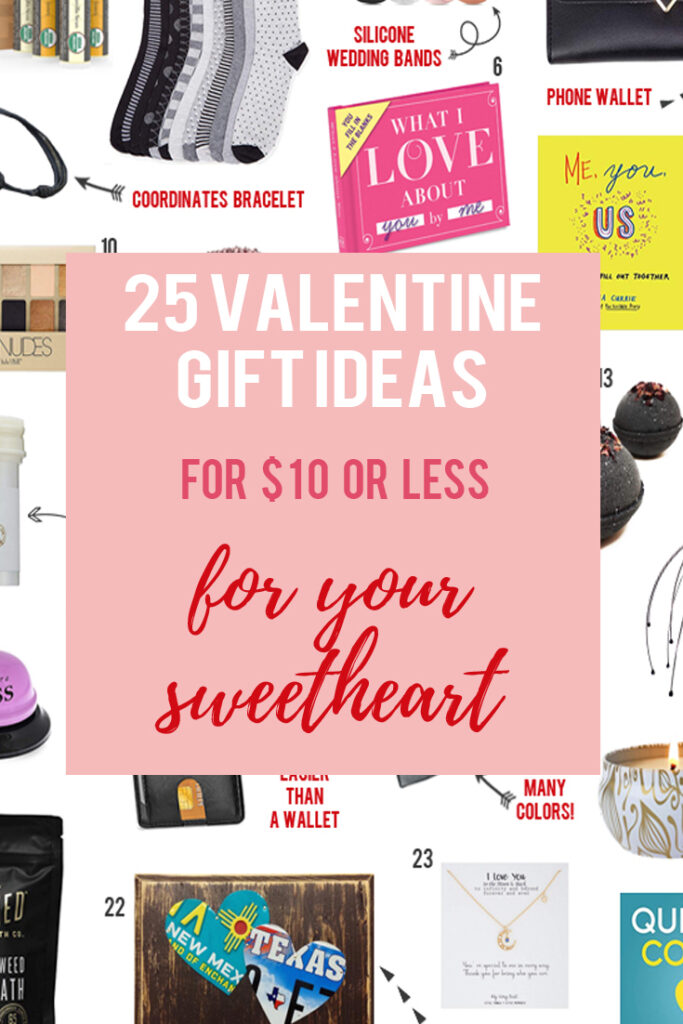 I love to shop for Valentine's Day gifts. It's a fun little holiday, but definitely not one you should feel obligated to spend a ton of money on! These Valentine's gift ideas prove just that, as they're ALL under $10. I hope you find the perfect Valentine's gift here!
Valentine's Gift Ideas under $10 for your Sweetheart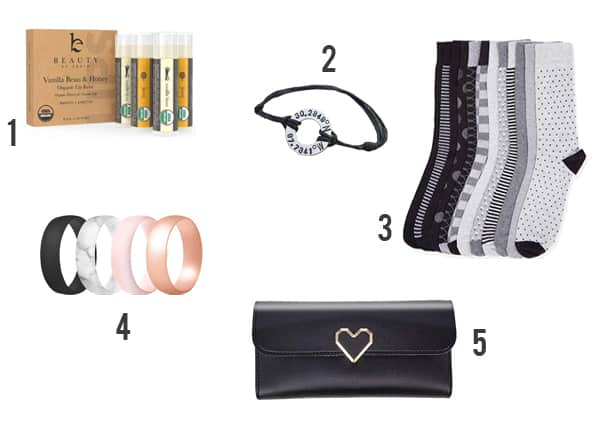 1. Organic Lip Balm: (Buy on Amazon) This vanilla bean and honey set of lip balms is perfect to keep with them throughout the day, especially in cold weather to keep their lips hydrated!
2. Coordinate Bracelet: (Buy on Amazon) I LOVE a good personalized gift idea like this one. You get to choose the coordinates that are engraved onto this bracelet, and it's perfect to commemorate someone's favorite place – their home, a specific landmark that's important to them or just about anywhere else. They're sure to love this gift.
3. Cotton Socks for Men: (Buy on Amazon) This pack of socks comes with 12 pairs and is filled with fun designs. Plus, who can't always use some new socks??
4. Silicone Wedding Bands: (Buy on Amazon) The perfect way to still wear a wedding ring if you work with your hands daily, are at the gym or just don't want to wear the real-deal out! I love this gift idea.
5. Phone Wallet: (Buy on Amazon) This cute phone wallet has a fun heart detail and also comes in a gold and silver shade. Fits cards, cash and your phone comfortably – can you believe this is under $10?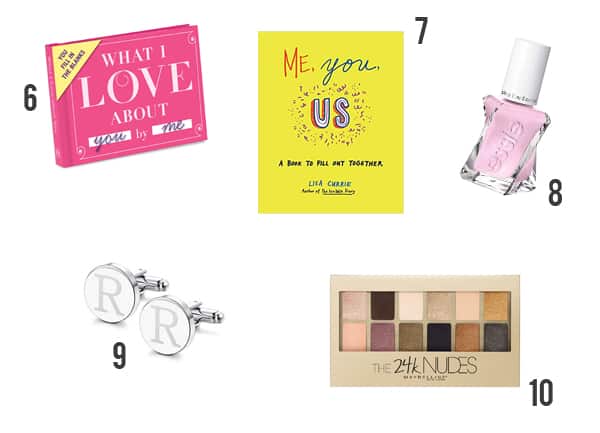 6. What I Love About You Fill-in-the-Blank Journal: (Buy on Amazon) Such a sweet gift idea – this journal is filled with pages for you to fill out before gifting it and just like that, you have a super thoughtful, personalized gift for your significant other!
7. 'Me, You, Us' Book: (Buy on Amazon) Fill out the pages of this book with whoever you're gifting it to – it's filled with fun prompts that also serve as great conversation starters!
8. Essie Gel Nail Polish: (Buy on Amazon) The easiest way to get a gel manicure, right from your own home! This gel polish comes in hundreds of shades and it's a fun way for her to pamper herself.
9. Engraved Cuff Links: (Buy on Amazon) Can you believe that these are so affordable?! I love them! Cuff links are always a great gift idea, because they're something special that he can wear for every special occasion for a long time.
10. Eye Shadow Palette: (Buy on Amazon) If she loves all things beauty, this eye shadow palette is the perfect gift for her. The shades included are all neutral and great for putting together a ton of different looks!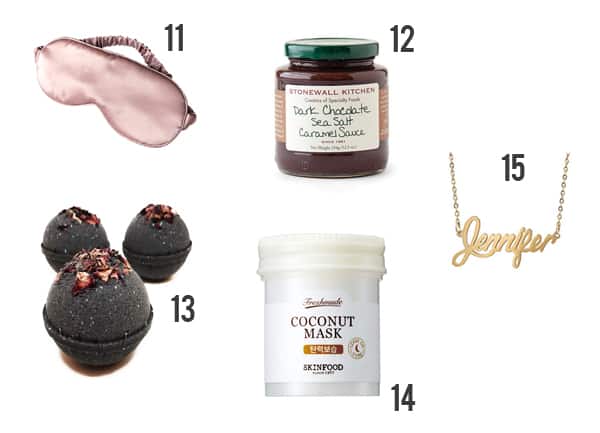 11. Silk Eye Mask: (Buy on Amazon) This luxurious eye mask is so light and breathable, you'll barely feel like anything is on your face but will sleep SO much more soundly. A must have!
12. Dark Chocolate Sea Salt Caramel Sauce: (Buy on Amazon) How tasty does this sound? A fun candy alternative that's delicious on it's own, topped on ice cream or even with some fruit. Yum!
13. Black Rose Bath Bombs: (Buy on Amazon) The best and easiest way to relax and get some much needed "me" time in. These are such a wonderful gift!
14. Hydrating Coconut Milk Face Mask: (Buy on Amazon) Here's another way to treat yourself – this face mask will leave her face feeling soft and smooth!
15. Personalized Gold Name Necklace: (Buy on Amazon) This is such a beautiful piece of jewelry to gift!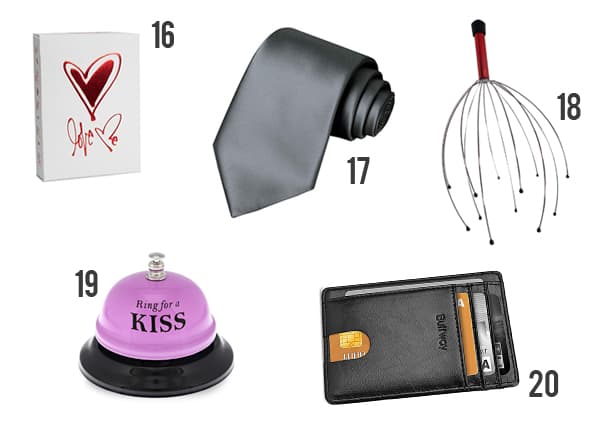 16. Love Me Playing Cards: (Buy on Amazon) A fun little gift that your Valentine won't be expecting but will love!
17. Satin Tie: (Buy on Amazon) This neck tie comes in sooo many colors to choose from. It looks like it's super well made and is so affordable.
18. Hand Held Scalp Massager: (Buy on Amazon) Have you ever tried one of these? If not, I'd urge you to buy one – LIFE CHANGING!
19. 'Ring for a Kiss' Desk Bell: (Buy on Amazon) A fun novelty gift that he/she can put on their desk!
20. Leather Card Case: (Buy on Amazon) Have you switched over to a card case yet? It's so much more convenient than using a large, bulky wallet and still fits everything you need inside.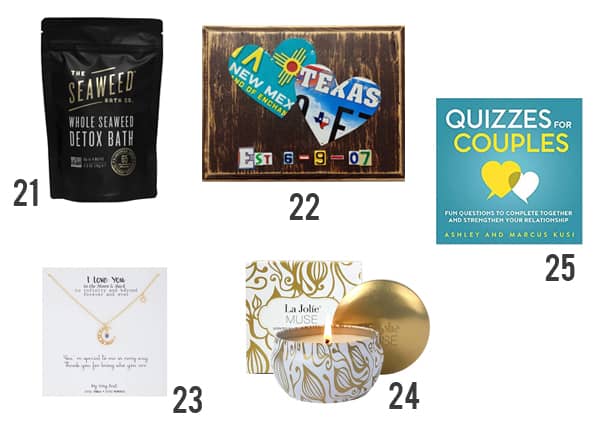 21. Seaweed Detox Bath: (Buy on Amazon) Not only is this detox bath vegan and cruelty free (win!), it's also extremely relaxing and gives your skin some major TLC. Perfect gift!
22. License Plate Sign: (Buy on Amazon) This custom-made sign is perfect to put two, customized license plates together on a hanging wood canvas. How original and awesome is this??
23. 'To the Moon and Back' Necklace: (Buy on Amazon) How sweet is this? Such a fun gift and an easy way to show your love!
24. Coconut Aromatherapy Candle: (Buy on Amazon) This beautifully scented aromatherapy candle is a great gift, especially for someone who has everything. You can never have too many amazing candles!
25. Quizzes for Couples: (Buy on Amazon) This book is filled with questions for couples to ask each other and is meant to help strengthen your relationship! I love this idea, it's great for any and every couple and is something that will only help your relationship – no better gift.
Hopefully with all of these Valentine's gift ideas, you can celebrate with your sweetheart without breaking the bank!
MORE VALENTINE IDEAS