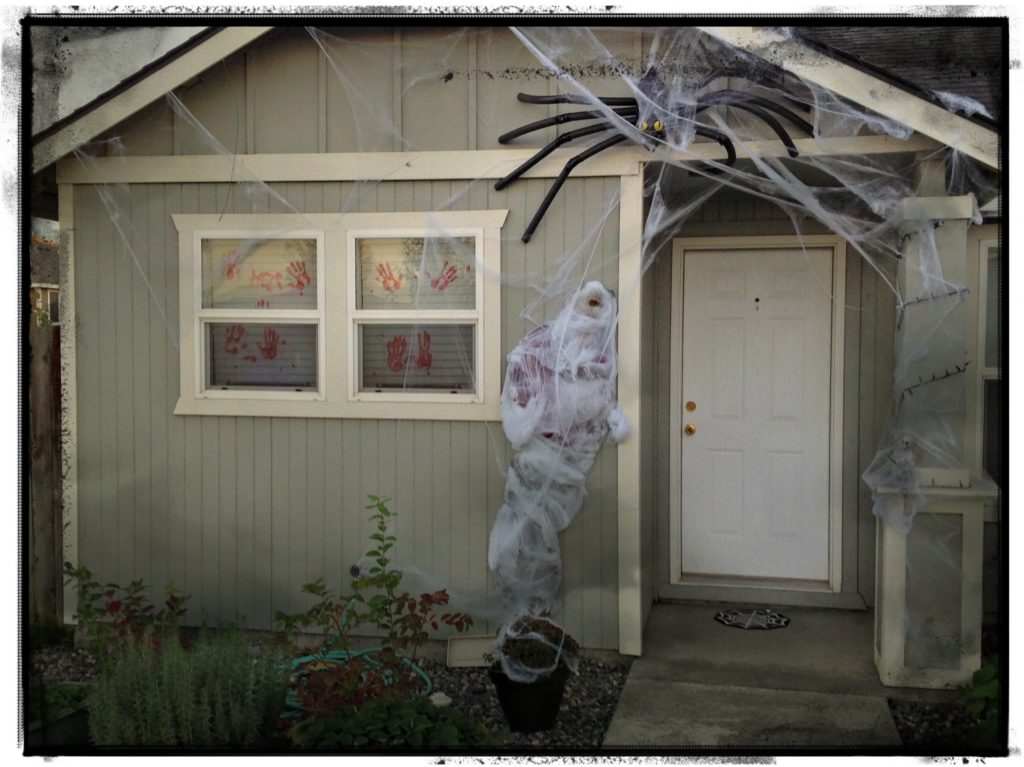 Well, its that time of year again: Spooks and Ghouls. Tricks and Treats. Nothing pleases me more than coming up with new ways to scare the neighborhood each Halloween. This year I decided to go big or go home.
Fortunately, I was able to go big without breaking the bank.
I have to give credit to this post for the giant spider instructions. Especially since that spider made my imagination go wild.
Every year I build a dead man out of my husbands old clothes, left over plastic grocery bags (they don't shrivel in the rain like newspaper) for stuffing, and a creepy plastic frankenstein mask which I purchased from the dollar store.
I've had this dead guy crushed by the house, sitting in a chair by the door, lined in chalk on the sidewalk, and sprawled out across the lawn. No matter where I put him, I get a lot of screams, shrieks,and shivers!
I know this year will bring even bigger screams, because I decided to make this poor dead man the victim of my giant spider. Thats right, folks! He is big, dead, desiccated, and wrapped in webbing, and it only took me 20 minutes to put him together, and 3 minutes to attach him to the house. Halloween decorating doesn't get much easier, or cheaper, than this!
Items you will need:
– 1 old, long sleeved shirt
– 1 pair of worn pants
– 1 scary mask ( I still use my dollar store frankenstein mask)
– 1 large sewing needle
– Any color thread for sewing
– Plastic grocery bags, a lot of them
– 5-6 bags of fake webbing. (1$ a bag at the dollar tree)
– 1 Staple gun
– 1 Giant Spider ( just follow instructions at listotic )
Instructions:
Begin by attaching the pants to the shirt with a few quick stitches. This will make stuffing, wrapping, and hanging easier. You don't want this dead man coming apart on Halloween.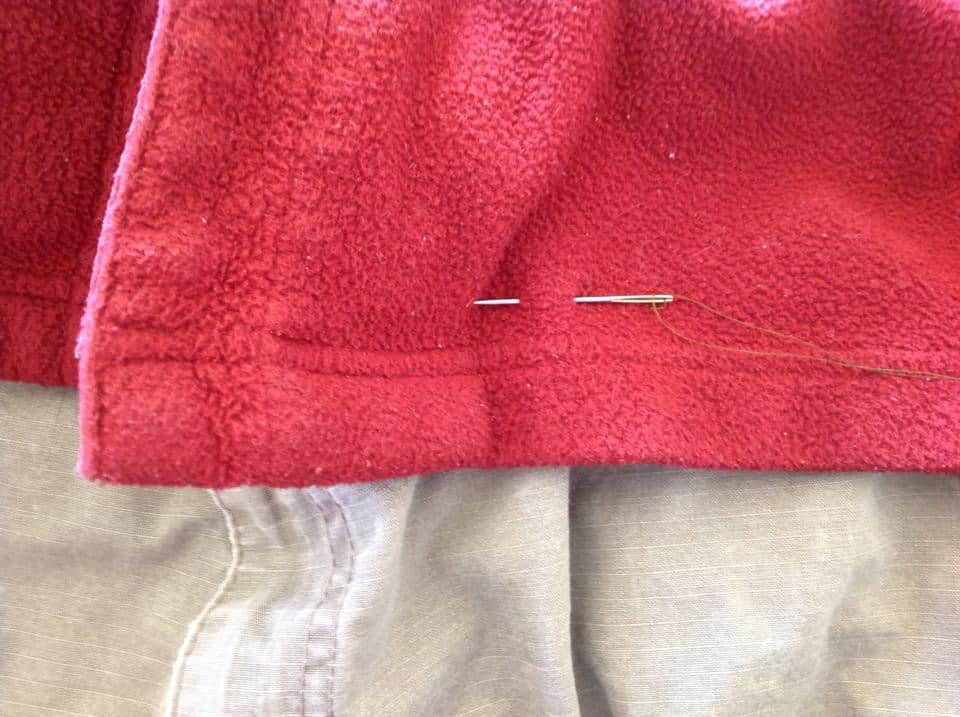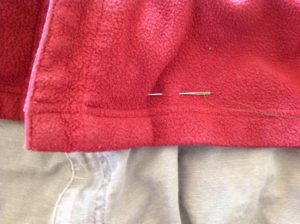 Once you have a few stitches in the front and back you can begin stuffing. Ball up your plastic bags and start shoving them in the arms, legs, and torso. Be sure not to over stuff. Remember, he has had his blood sucked out by a giant spider.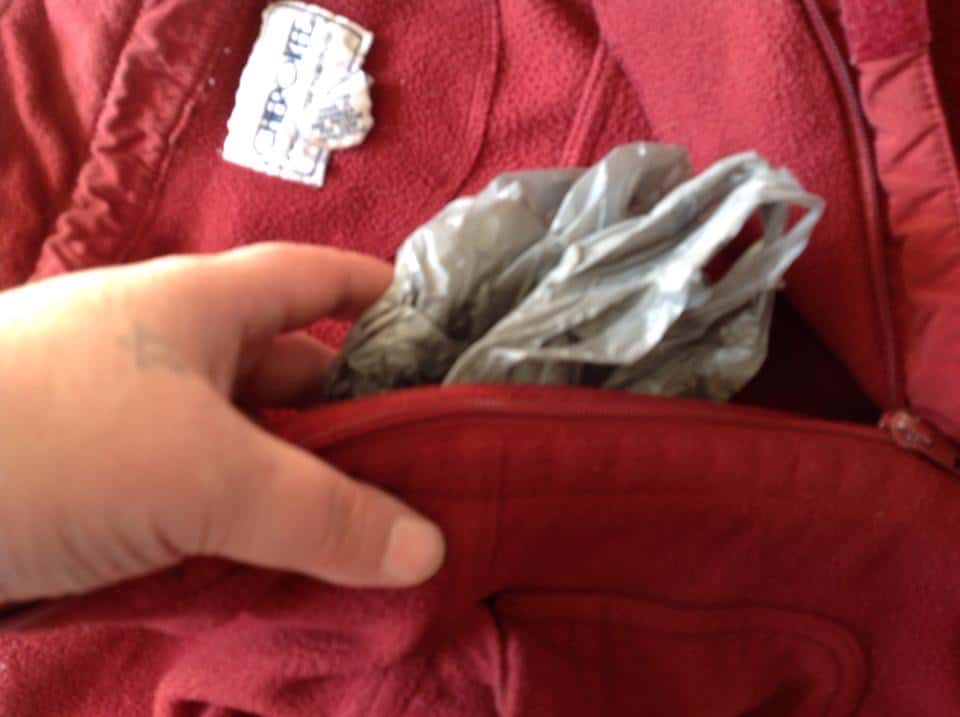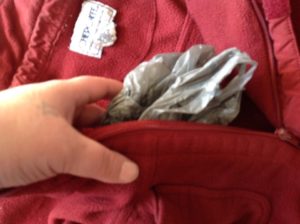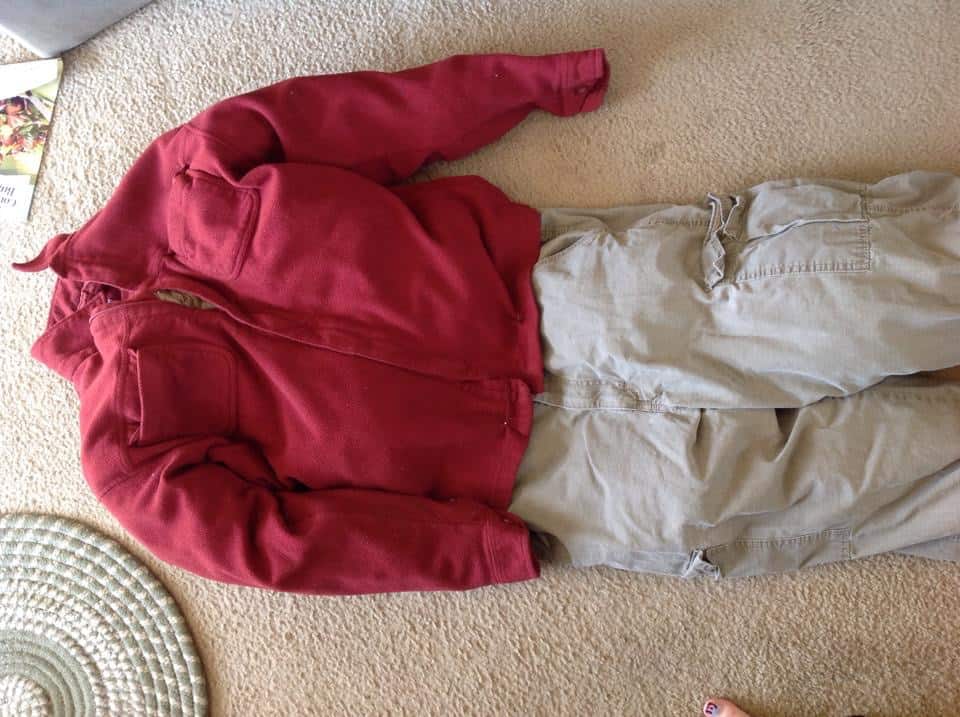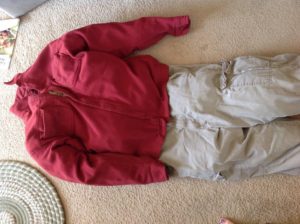 Now, we get Wrapping! Start at the legs and work your way up.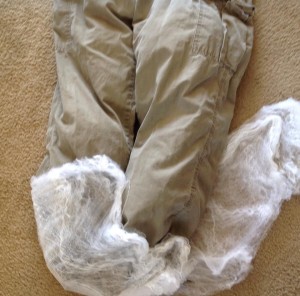 You want to wrap tight enough to simulate a desiccated body, but not so tight that you can't tell what is wrapped up. If you take a little time to pay attention, it will save you the time it would take later to completely unwrap and start over.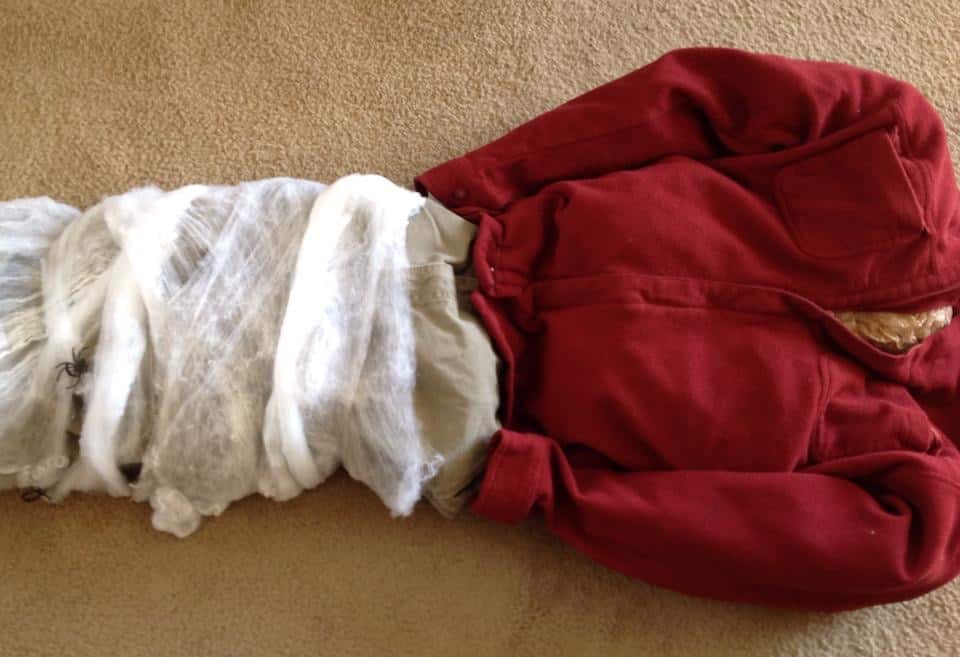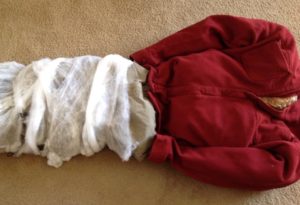 Once you are at the neck line, you will want to get your mask.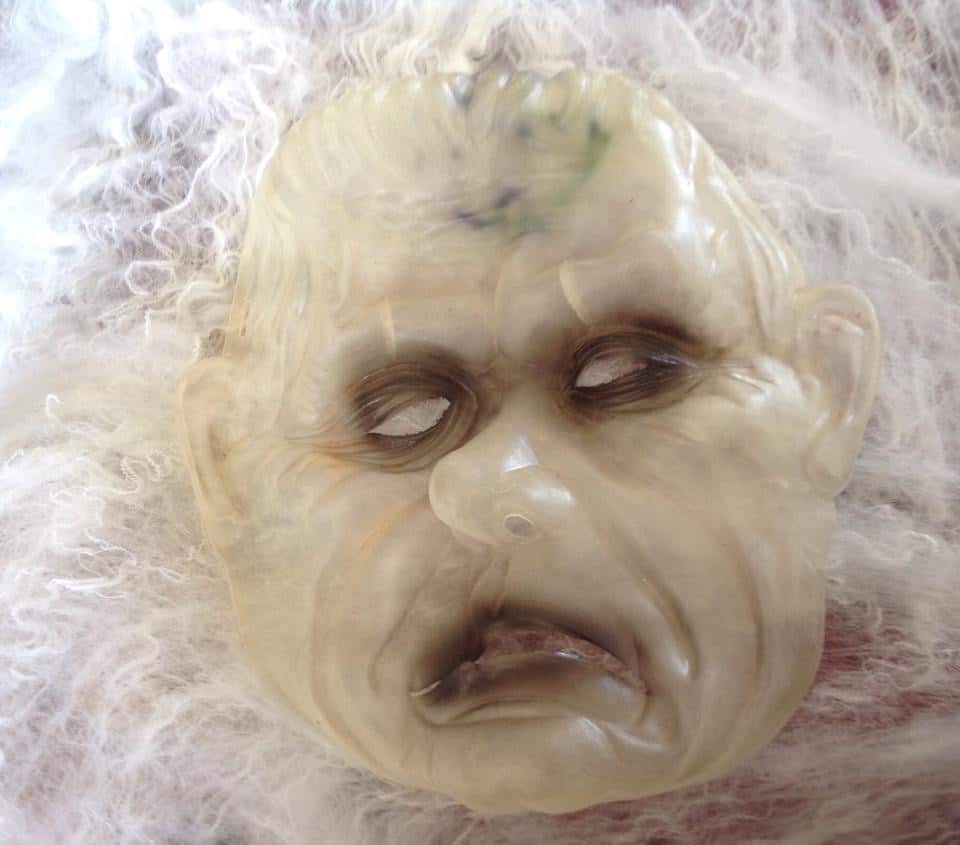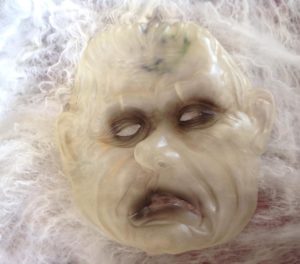 Take some plastic bags and scrunch them up and put them in the neck line, and the set your mask over the top. There does not need to be a neck, and the mask, once wrap will rest nicely inside the collar.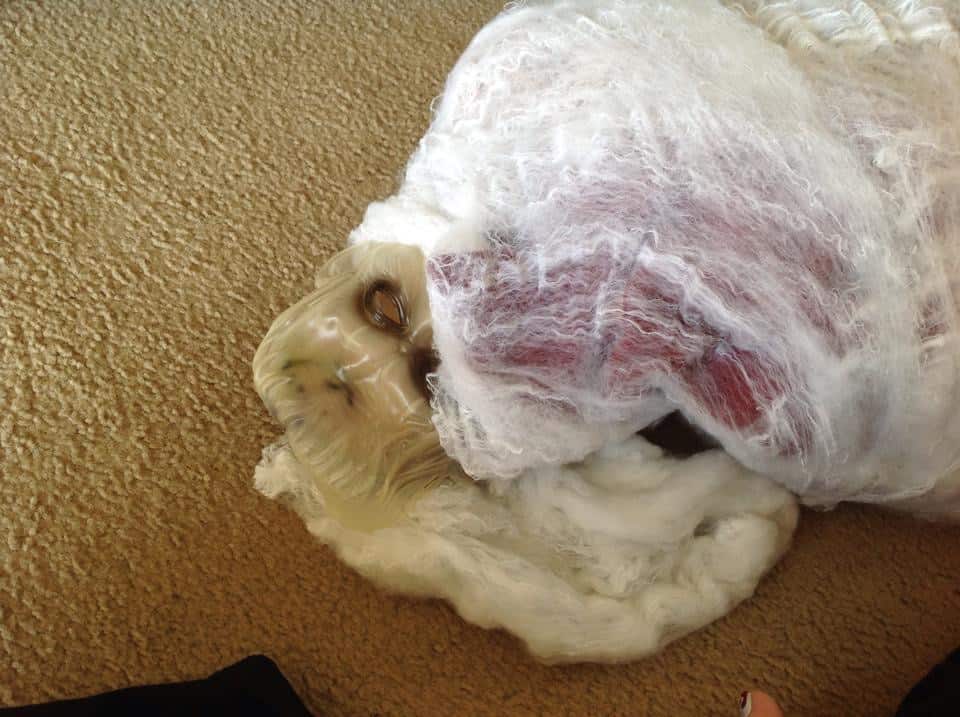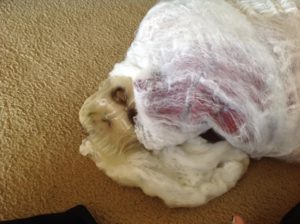 Continue wrapping the webbing all the way around the mask. When you are finished tear a little hole around the eyes so they peak through.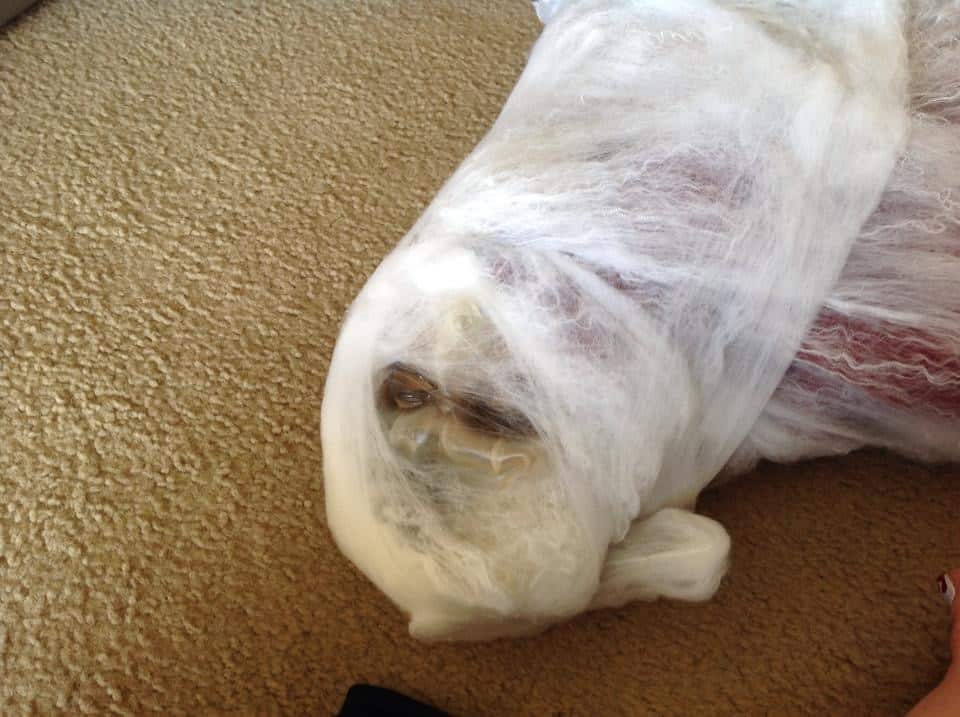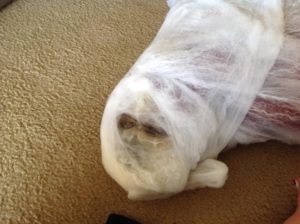 There you have it! Your dead, creepy, sucked dry man is wrapped and ready to hang.
I found that it was much easier to hang with an extra set of hands. Have one person hold the wrapped man in the place and position you prefer, and then using the staple gun, staple through his webs and clothes to the house. Make sure you have at least 8 staples on both sides of the body to ensure no movement or slippage when the wind blows. I also stapled 2 into the head for extra support.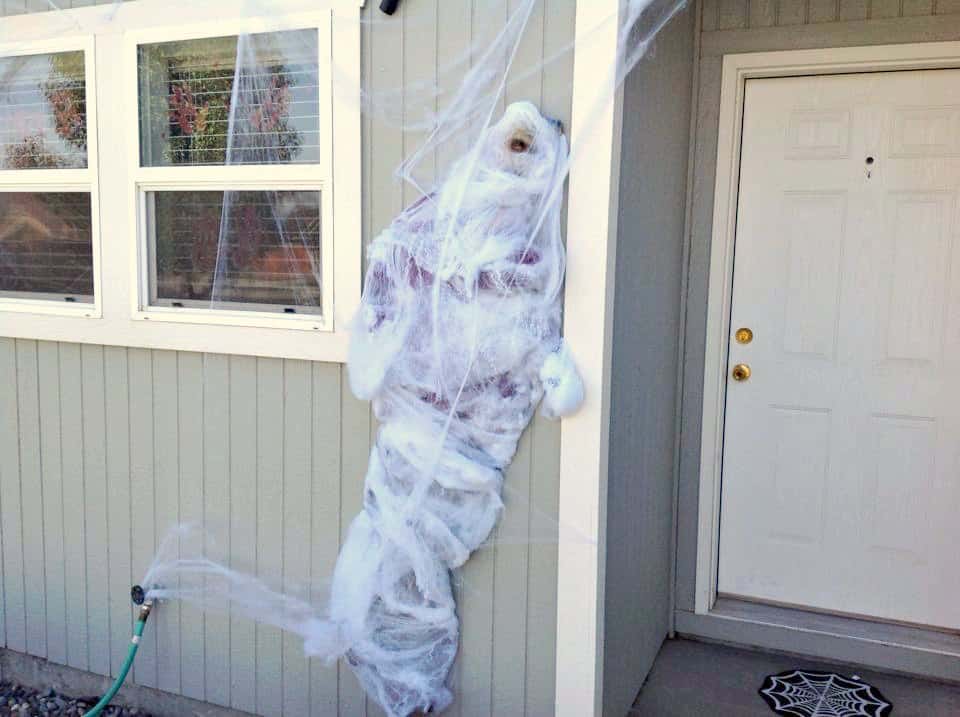 Once you feel you have successfully attached him to your house, finish by spreading extra webbing around outside. You can use as little or as much as you want. It took me 2 bags of webbing to wrap my dead man, and the rest of the webbing I used for spreading around the house and spider.
As you see our giant pet spider is perched above his pray, just waiting for its next meal to walk by. I wonder who it will be…..will it be you?
Happy Halloween!
This is a guest post by my dear friend Flower S. who happens to just LOVE Halloween. Hope you enjoy!