A couple of years ago, after a particularly difficult day filled with sick kids, doctors appointments, a flat tire and burnt dinner…my wonderful husband came home from work with a little brown bag. He handed it to me, told me to go upstairs, lock the door to our bedroom and draw myself a bath. "Don't worry, I'll take care of everything down here. You go and relax", he said.
So, up the stairs I went. As I started the bath water, I peeked into that little brown bag and pulled out…What was this thing? There was a little card inside that said, "Fill your bathtub with warm water, drop in the Bath Bomb and lay back to enjoy" A BATH BOMB?! I had never heard of such a thing, but that bath changed my life forever and I'm SO grateful for bad days and awesome husbands!
Turns out my husband had stopped off at LUSH, at the direction of his sister, of course, and picked up the miraculous bath bomb. It smelled like heaven and left my skin feeling silky smooth and moisturized. After my own trip(s) to the fresh, handmade cosmetics store, and after I trying all 17 of their bath bombs, I was hooked, and I knew I needed to find a less expensive way to keep up this new habit! My favorite "flavor" ended up being the Butterball…which is probably the simplest bath bomb lush offers.
Are you ready to change your bath time routine with the most amazing homemade bath bomb recipe ever?!
Here's what you'll need:
4 oz. baking soda
2 oz. corn starch
2 oz. citric acid
2 oz. epsom salt
1 to 1 1/2 teaspoons water
1/4 teaspoon essential oil (I used Ylang Ylang)
1 1/4 teaspoon oil (I used coconut, melted)
Optional: Shea Butter & Oats I chose to add about a 1/4 cup of each to add texture.
*Makes 2 bath bombs
Directions:
In a

glass bowl

, mix together all of your dry ingredients (baking soda, cornstarch, citric acid and epsom salt) and set aside.

In a separate bowl, combine your oils. While stirring, SLOWLY add these to the bowl of dry ingredients. If you pour too fast, the liquid will cause a reaction with the citric acid.

Using your hands, knead everything together until your ingredients start to hold together. Think wet sand.

Fill each half of your

bath bomb mold with the mixture until it's overflowing a little bit. Press together, and let sit on a cookie sheet, for 10 minutes. Gently remove one side of the mold, let dry a little more, about 10 minutes. Remove the other side, VERY GENTLY. 

These can fall apart very easily if you aren't careful.

Let your bath bombs dry for at least 24 hours, and they'll be ready to go!
Wrap them up and give them to your girlfriends as gifts (they'll love you forever!) or keep them all for yourself. I don't judge.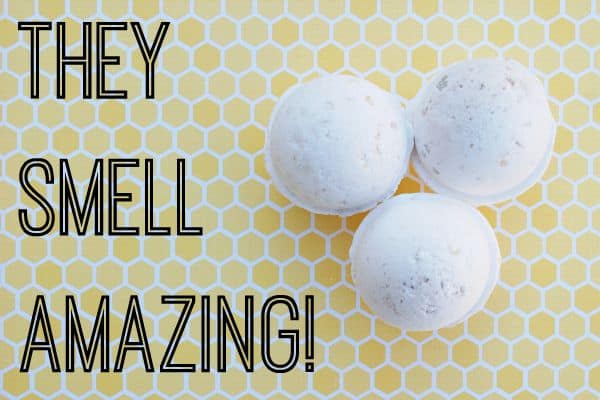 Baking Soda: $2.00
Corn Starch: $0.75
Citric Acid: $1.12
Epsom Salt: $0.10
Essential Oil: $2.00
Coconut Oil: You should have some of this left over from previous recipes! 😉

Total Cost: $5.97 ( about $3 each)

The Butterball retails at LUSH for $4.95. You save about $2 if you make it yourself…which will add up if you become addicted, TRUST ME!
Check out my post on Homemade Remedies for Dry Skin or this one about how to make Homemade Bath Melts!