I didn't think I would ever be writing a post about how to introduce a new chicken into your existing flock, but alas – my chicken adventures keep on coming. I recently shared with you all how the lovely Trish shared her best chicken with my Grace after the loss of her own sweet Ginger. We are enjoying Miss Dawn very much! But it's always scary bringing a new chicken to meet the others. Chickens are very territorial and don't allow other chickens into the flock quickly.
So I read online. And watched youtube videos. Then read some more – all about the best ways to add new chickens to the flock. And found out that you really need to let the chickens get to know each other safely with a barrier so they don't hurt each other.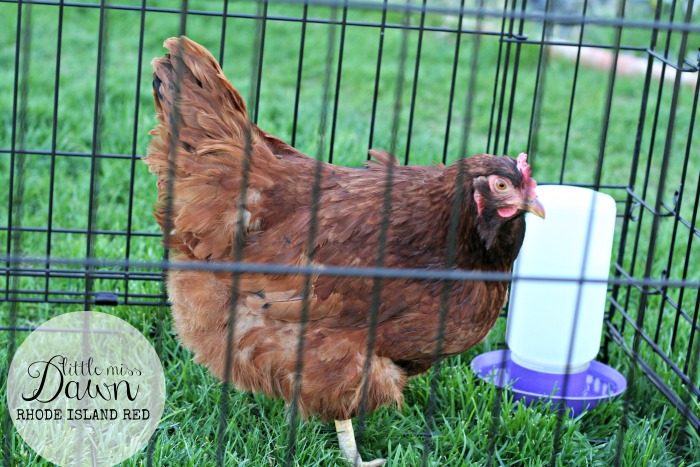 So we brought our new Rhode Island Red (Dawn) home and put her right away into a metal cage with some food and water. She was really excited to see all that lovely grass and began to eat it up.
Then we let the chickens out to meet her.
We were all a little bit nervous.
Lacey, Goldie and Pepper came up to the cage, and all seemed okay. They acknowledged that Dawn was there but went about their business. You know, pecking grass and the like.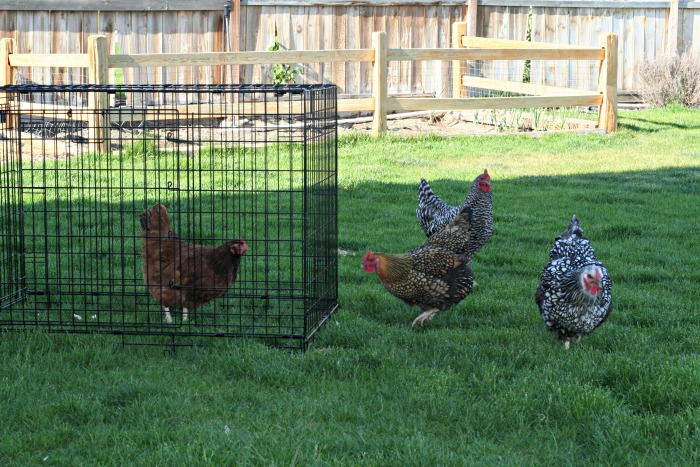 Heck, Lacey seemed so disinterested that she took a dust bath. And the other two chickens followed suit.
I felt like I was on National Geographic filming a documentary or something. 🙂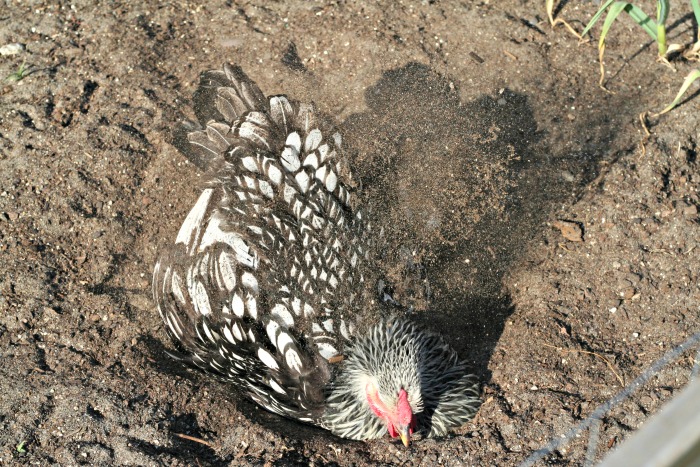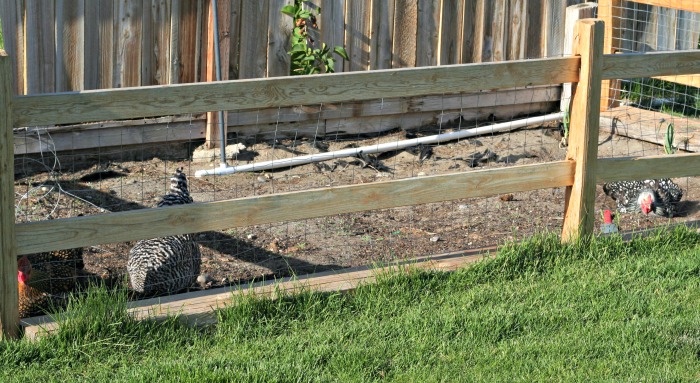 Lacey finished her dust bath and decided to come over to Dawns cage to get a better look.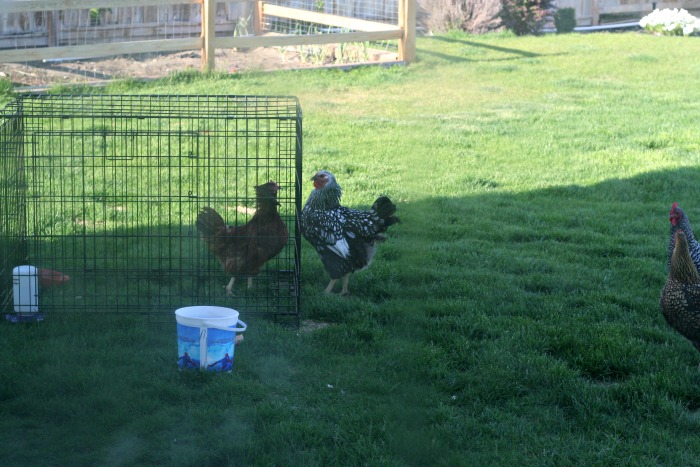 The necks went up and they started pecking each other right through the cage! Poor Dawn g0t a peck right on her little red wattle which caused some blood. I was pretty shocked that Dawn stood her ground.
I had to break it up of course… and shook my naughty naughty finger at Lacey. Told her to be nice in my mommy voice. Too bad chickens don't understand what I say.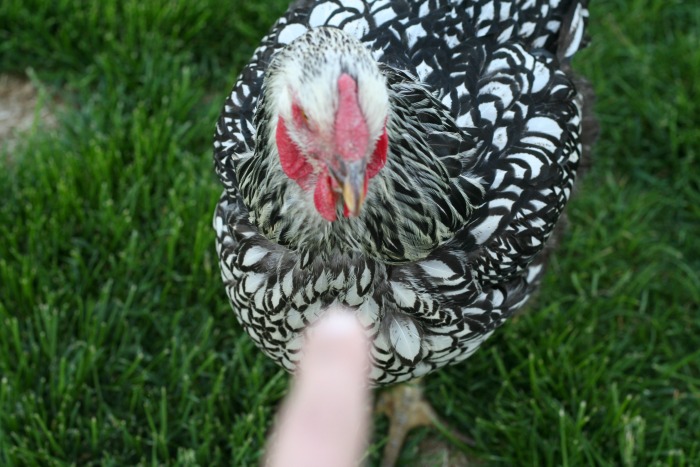 After that it was bed time so for the first few days we put Dawn into the box we brought her home with inside the house. Then everyday we put her out with the chickens in the cage. There was no more of that fighting stuff but I wanted to get them all used to each other for the week before taking her out of the cage.
After 4 days I started to put her cage in with the other chickens at night. This way they could wake up with each other, but still couldn't hurt her.
After one week I let Dawn out of the cage to be around the other chickens. Lacey went to peck her right away as she is the queen chicken. I was all mama-chicken though and kept her safely away enough not to get pecked. The next day though, whenever Dawn would get pecked she would just run away from her. They all eat grass together and seem to be fine.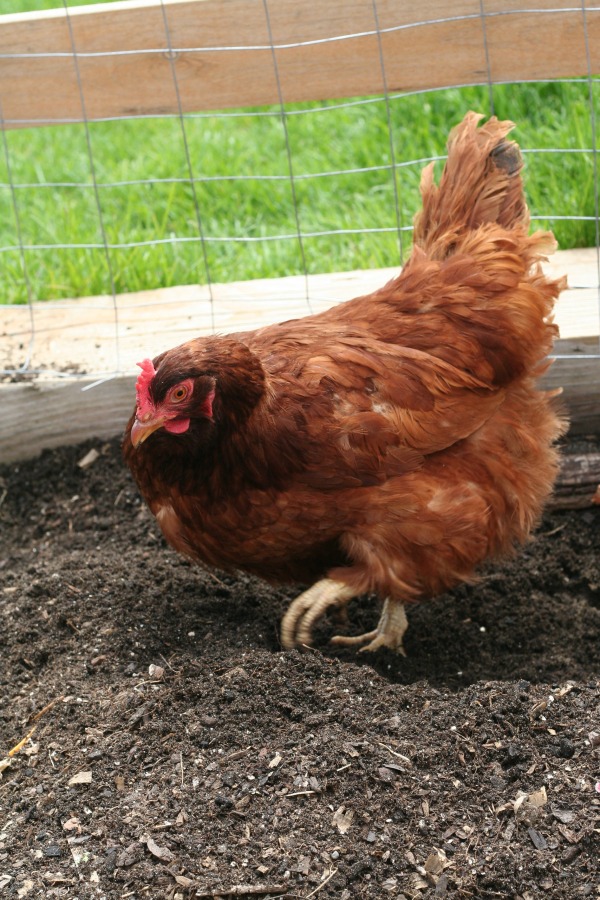 Dawn has already found a little place in Grace's heart. She loves her! She really is a sweet sweet chicken. And a smart one too! Always digging for bugs in the places my chickens never had looked before.
I will tell you Dawn is going to be #2 on the pecking order though, because she pecks Goldie and Pepper when they come near her. It's pretty funny to see a pecking order established.
Now it's been 2 weeks and we are able to keep them all together in the coop. Dawn is laying eggs all over the place instead of in the nesting box, but I am sure she will figure it out soon.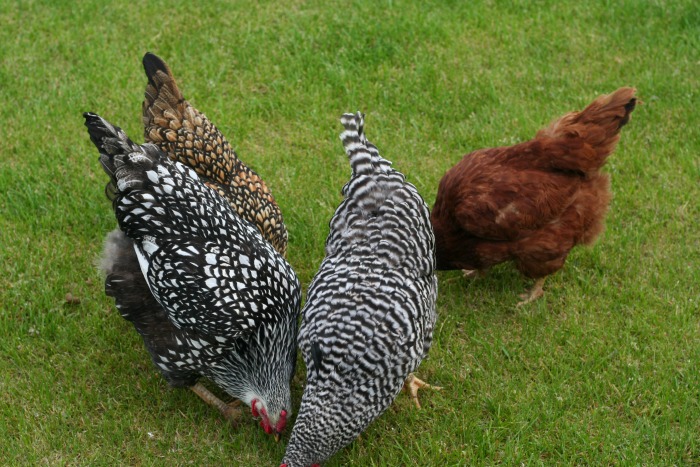 Here is a few pictures of them all together now that time has passed.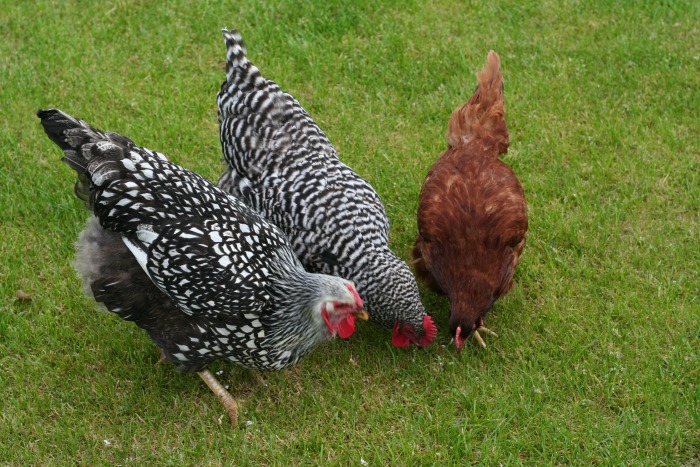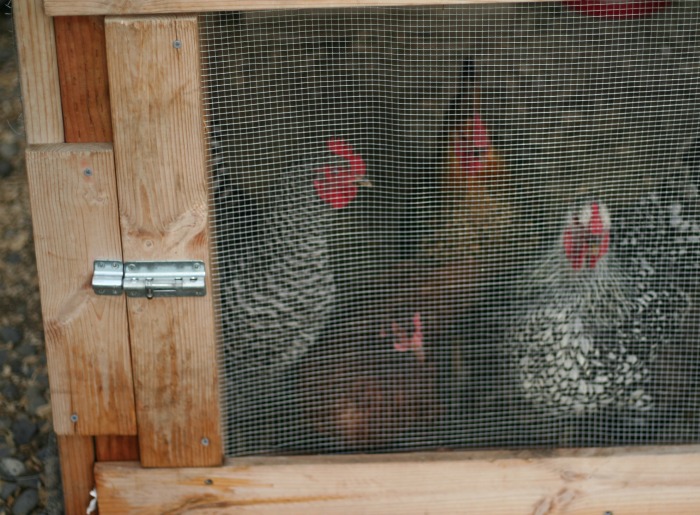 So all is going well with the new chicken. There is a lot less pecking and they seem to be getting along nicely.
Now to round this whole process all up!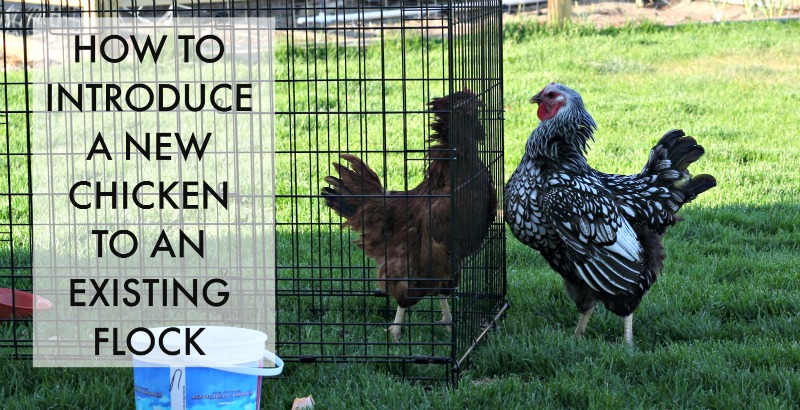 So here are all the best tips for how to introduce a new chicken into the flock.

1.) Have a small cage that your new chicken or chickens can be in with fresh food & water. This keeps them safe and lets the other chickens get to know them. I would keep them in this for at least the first 4-5 days.

2.) Have the new chickens wake up with the old chickens – still using the cage for the first little while. I used the cage inside the roosting area for the first 6-7 days.

3.) When you do let the new chicken out of the cage stay close and pretend to be mother hen if needed by shooing away any pecking chickens if you can. Or make sure the new chickens have a safe place they can run to if they are getting pecked.

4.) It can take quite a long time – up to 3 weeks for new chickens to get to like each other. Be patient. There will be pecking orders established so some pecking is okay. Just watch to make sure they aren't fighting for more than 20-30 seconds, drawing blood. A chicken with some blood can be attacked quickly by all the chickens and killed.
So that's it! Have any of you introduced a new set of chicks or old hens into your existing flock? Any other great tips to share?