For some people doing laundry is a negative thing. We've all heard it–er–said it, "I have to do the laundry today." But after learning how to make my own laundry detergent, liquid fabric softener and even fabric softener crystals, I have caught the bug and actually don't mind doing the laundry.
I especially love being able to find new ways to maximize my budget when it comes to the laundry. Recently, I learned how to make my own supply of unlimited dryer sheets using ingredients at my house for only $1.00! I know–$1.00!! Here is a thrifty and easy way to never run out of dryer sheets again!

How to make your own Unlimited Dryer Sheets
1 Container with an airtight lid – I used an old Huggies wipes box
3 sponges cut in half – $0.75 for a 4pk at the dollar store
1 cup of your favorite fabric softener – $0.25 worth of fabric softener
2 cups water – free from my water supply
Total – $1.00 – more if you need an airtight container
Mix the water and fabric softener together in your plastic container with a spoon. Cut the sponges in half and add them to the liquid completely soaking them in the mixture.
When you are ready to use them, squeeze the sponge of the excess liquid and add to the dryer with your wet clothes. Run the dryer as usual. Once the dryer cycle is finished, place the now dry sponge back into the container of liquid, move it to the bottom and close the lid until next time. The sponges stay moist in the liquid and are ready for the next batch when you are!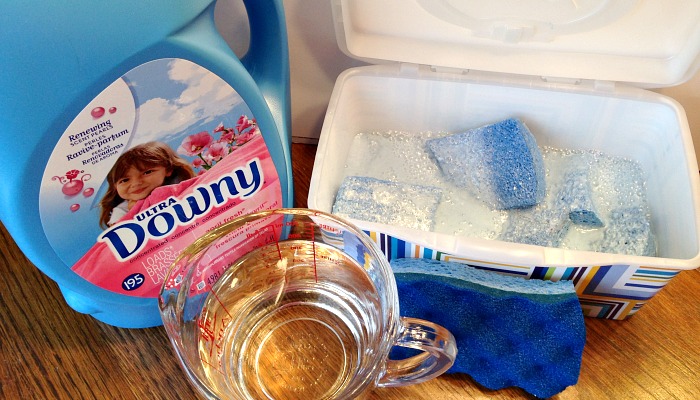 That is all it takes to make your unlimited dryer sheets! I spent less than five minutes and $1.00 to make this whole project!
Your clothes end up soft, smelling great, and free of static. I think they smell even better because these dryer sheets are cheap and reusable!
Now onto the next batch of laundry…