If you're looking for a cheap kid's Halloween costume, check out this list of 20 Kid's Halloween Costumes for Under $10! There's something here for even the pickiest of kids!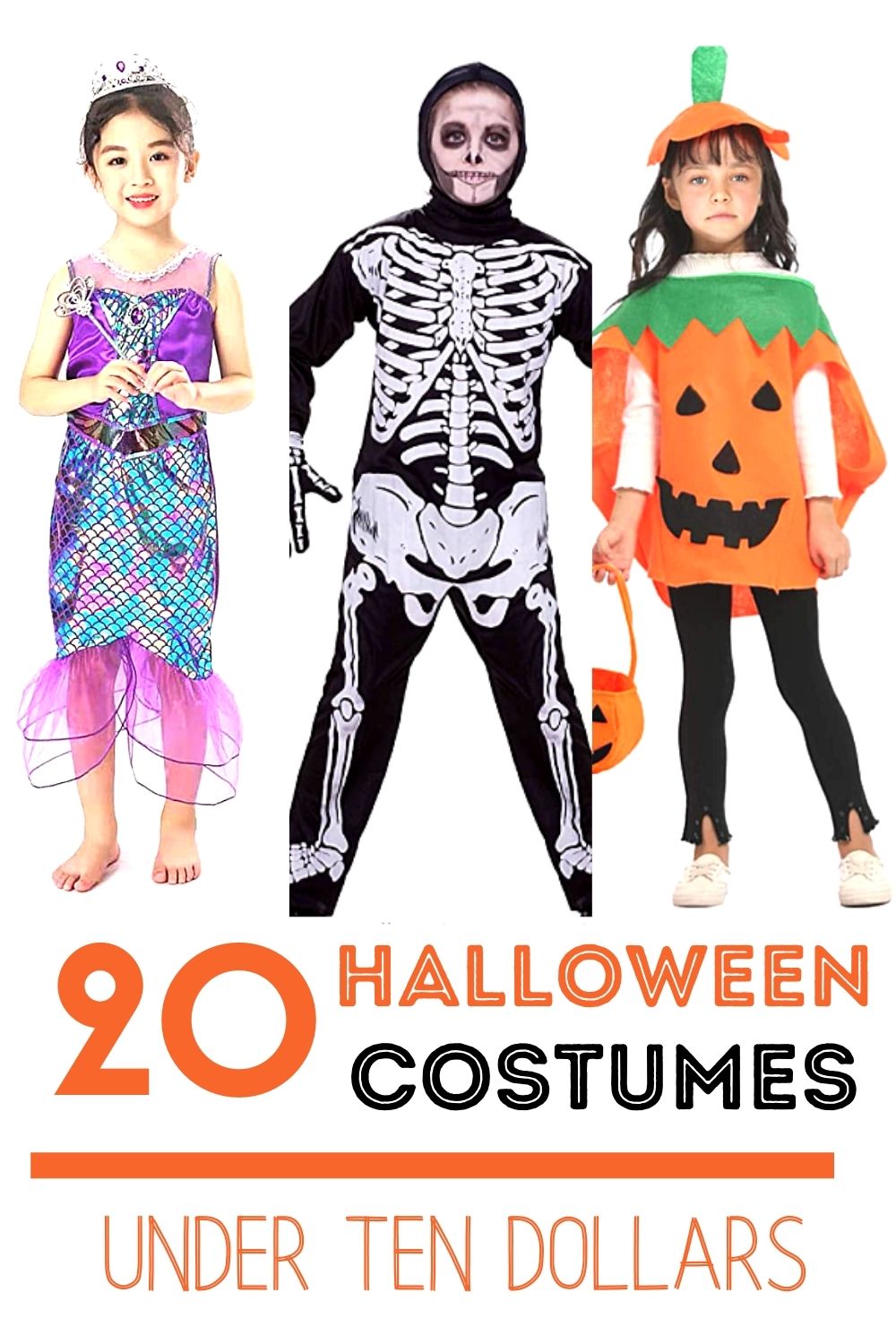 Halloween is just around the corner, and that means it's time to go on the hunt for a cute costume for your kids. There are a ton of choices out there, but many of them can be so expensive! Here are 20 of the best Halloween costumes on Amazon all for under $10, from Halloween classics to characters your kids love!
20 Cheap Kids Halloween Costumes for Under $10
**Remember that prices can change at any time so if you find the right costume, get it quickly while it is on sale!**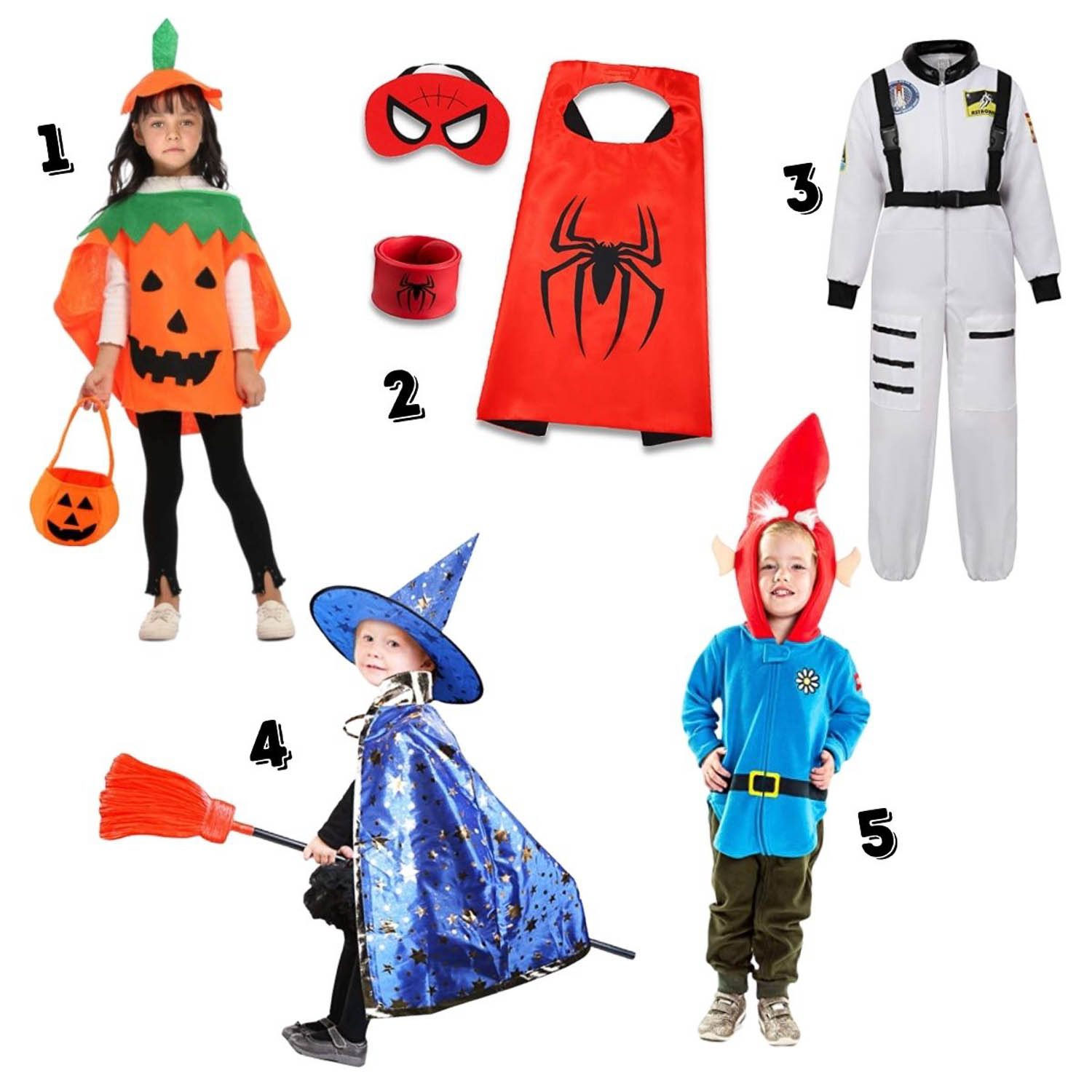 1. Kid's Pumpkin Costume: (Buy on Amazon) Your kid is going to look as cute as a pumpkin wearing this costume (pun most certainly intended).
2. Superhero Outfits for Kids: (Buy on Amazon) If your child has a superhero inside of them like Spiderman/SpiderGirl, the Hulk, Iron-Man or more, this is the perfect costume for them!
3. Astronaut Costume for Kids: (Buy on Amazon) One step for man, and a giant win for mom! Your kid is going to love this classic astronaut costume!
4. Garden Gnome Costume for Kids – (Buy on Amazon) How cute is this gnome costume – perfect for every house complete with pointy hat!
5. Kid's Witch or Wizard Costume – (Buy on Amazon) Harry Potter has nothing on these toddler sized-capes and hat – adorable and perfect for the kid who doesn't who what they want to be for Halloween!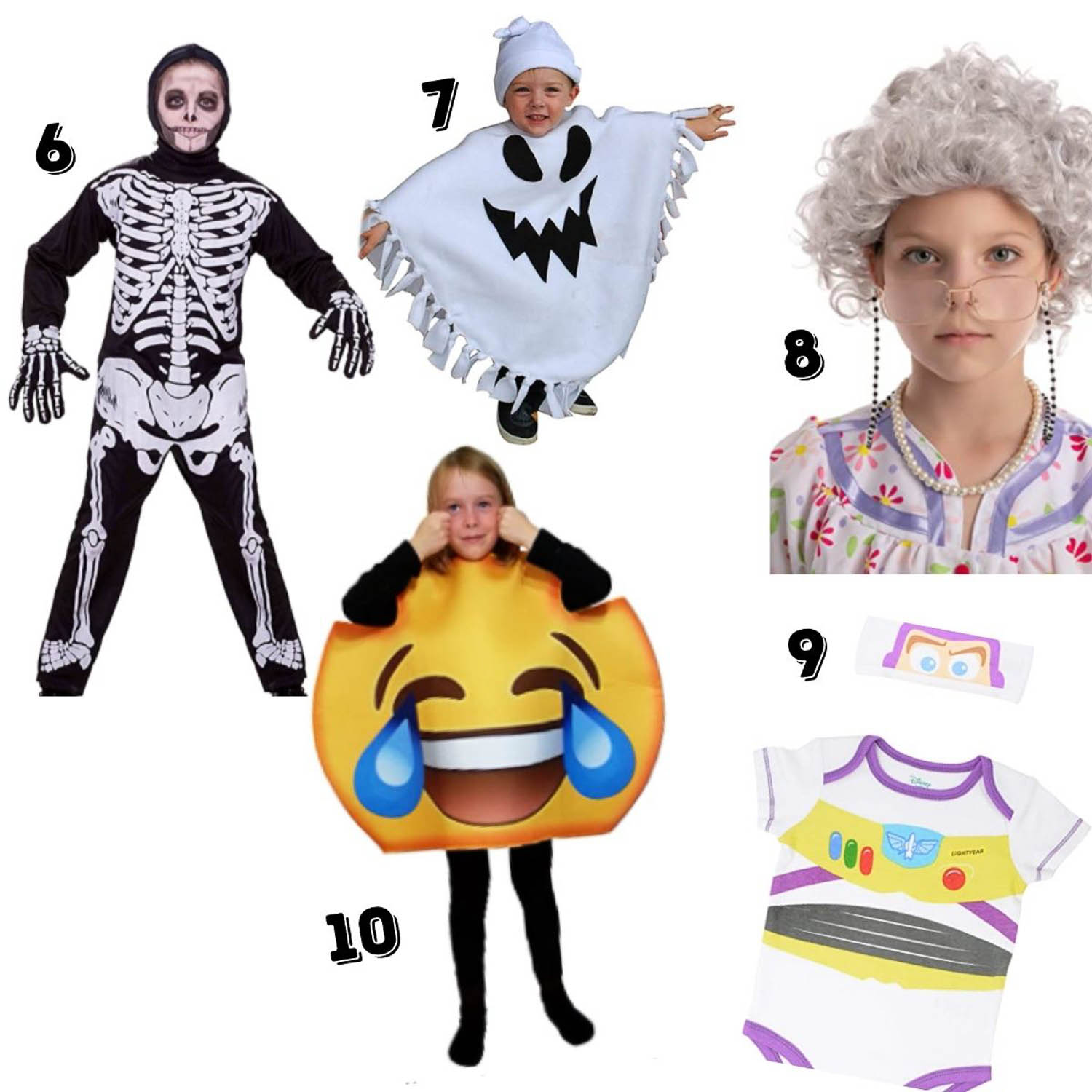 6. Kid's Skeleton Costume: (Buy on Amazon) Looking for something a little more spooky? This classic skeleton costume is just too perfect!
7. Toddler Kid's Ghost Cloak Poncho: (Buy on Amazon) This friendly ghost costume is perfect for those chilly Halloween nights with its soft blanket fabric!
8. Child's Granny Costume: (Buy on Amazon) Dress up like your favorite elder with this curly silver-grey wig, glasses and necklace! One of the most perfect cheap kids Halloween costumes of the year!
9. Disney's Buzz Lightyear Baby Costume – (Buy on Amazon) To infinity and beyond, this body suit is perfect for the baby sized 12 months, 18 months, and 24 months!
10. Kid's Emoji Costume: (Buy on Amazon) Are you ready to have a ton of fun with this fun laugh-until-you-cry emoji costume? Perfect for boys or girls!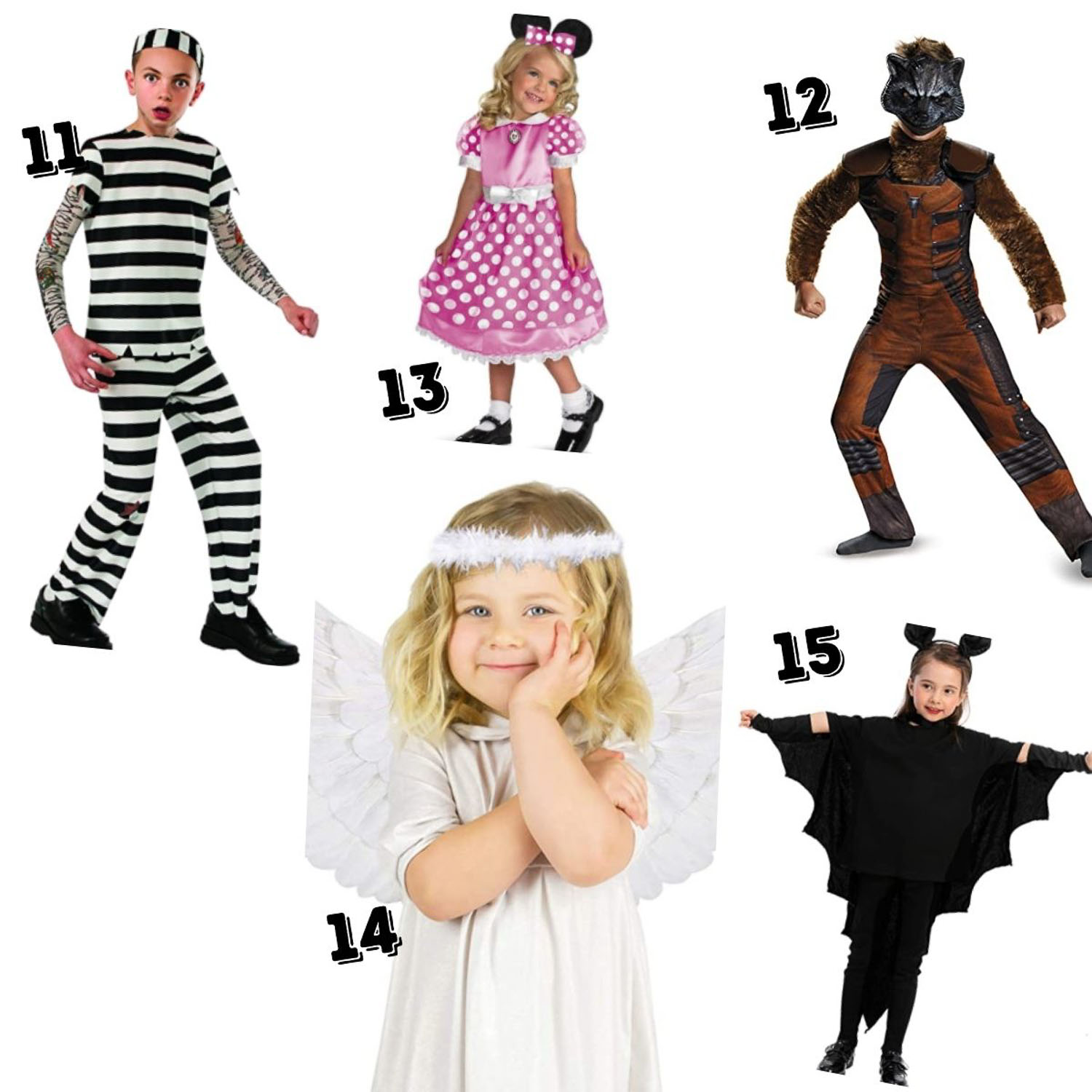 11. Child's Jailbreak Costume: (Buy on Amazon) This prisoner costume has it all! It includes the shirt, pants, hat and even tattoo sleeves!
12. Marvel Rocket Raccoon Deluxe Boy's Costume: (Buy on Amazon) What's a cool kid's costume roundup without a Marvel character? Dress your kid up as the sassiest character in the MCU!
13. Girls' Disney's Minnie Mouse Costume: (Buy on Amazon) A nod to the most famous mouse with the iconic dress, ears and bow – perfect for every toddler girl!
14. Toddler Girl's Angel Costume – (Buy on Amazon) You will look so angelic with these wings and halo to make the cutest costume for your little one!
15. Vampire Bat Costume for Girls – (Buy on Amazon) This costume is perfect to turn heads this Halloween including flowy black wings, a choker and headband.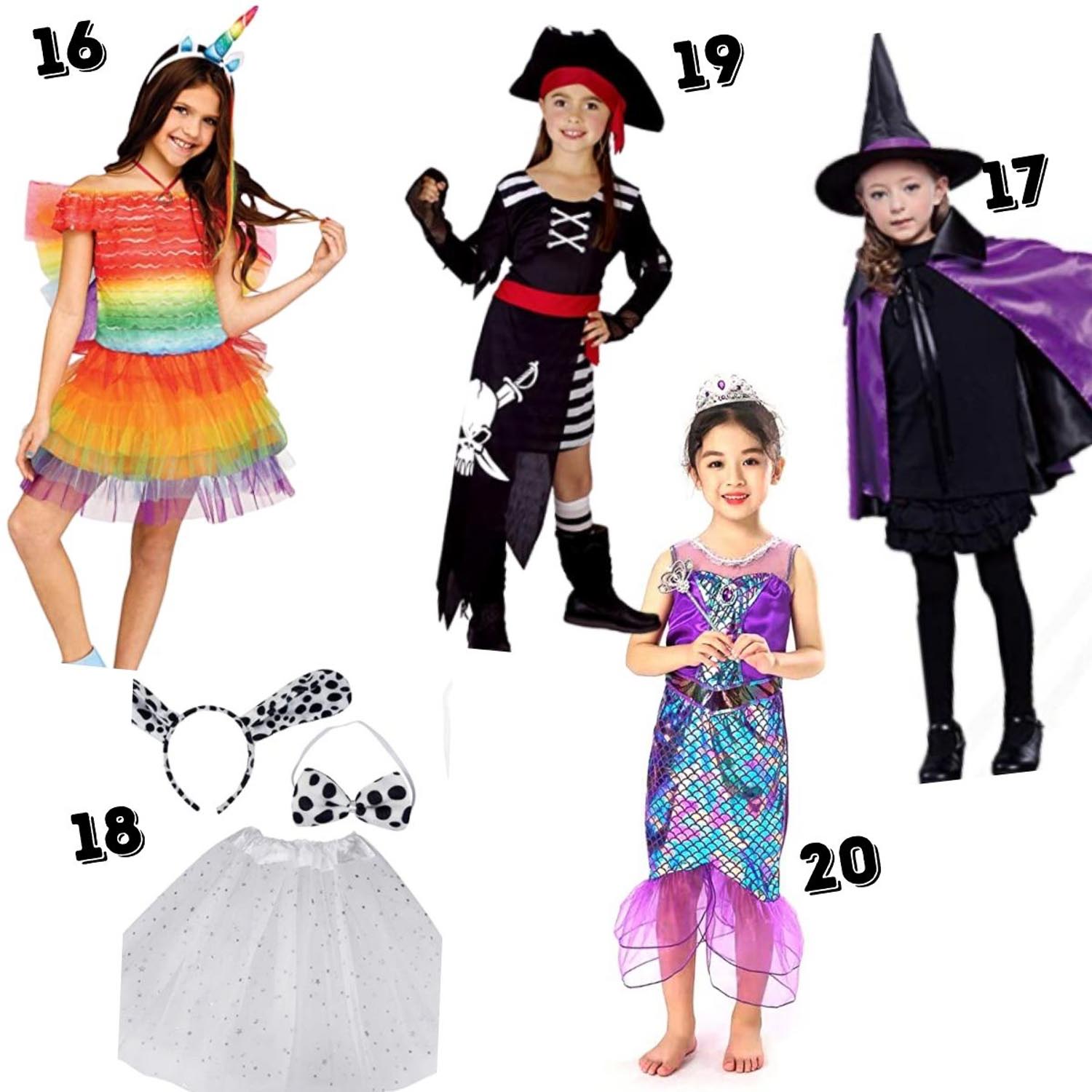 16. Girl's Rainbow Unicorn Costume – (Buy on Amazon) With this unicorn costume on, it will be hard to not stand out complete with a rainbow dress with attached wings, tail, and horn headband.
17. Girl's Witch Dress Costume: (Buy on Amazon) What's a Halloween list without a witch in it? This costume includes the witch's cape and hat!
18. Dalmatian Costume Set for Toddler Girls: (Buy on Amazon) This puppy costume is a show-stopper with the most darling tutu, headband, bowtie and tail!
19. Pirate Girl Costume: (Buy on Amazon) Girls can be pirates too especially in this cute soft outfit complete with the cutest hat!
20. Girl's Mermaid Princess Costume Dress: (Buy on Amazon) If your kid is obsessed with mermaids, they're definitely going to love this mermaid dress!
So no matter what your kid's interest may be, they're sure to find a costume they absolutely love in this list of 20 Cheap Kids Halloween Costumes for Under $10! Let me know in the comments what your favorite costume option is!
Want More Halloween Ideas?
Halloween Treasure Hunt – Surprise your kids with this super fun treasure hunt to start the season off right!
15 Thrifty Trunk or Treat Decorating Ideas – Decorate for trunk or treat on the cheap with these fantastically thrifty decorating ideas!
Monster Cookies – These are the cutest little monster cookies perfect for this Halloween season.
Witches Brew – For those who love to hand out something fun to your neighbors, this witches brew is so fun complete with a free printable!
Pumpkin Bowling – One of my family's favorite Halloween activities that we love to play and share with our neighbors! So much fun!