Father's Day is a great day to spoil that special dad in your life but you don't need a big budget to show them you love them. Here are free and budget-friendly Father's Day gift ideas that will make any guy feel special!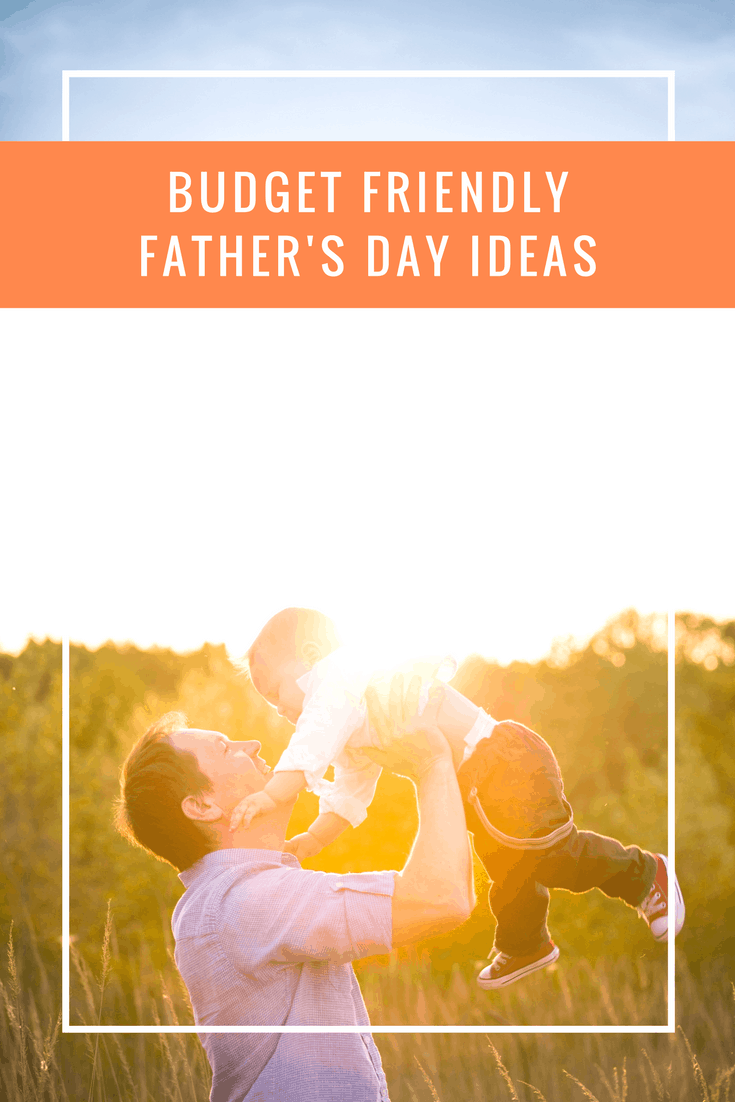 Being a dad is a hard job. If the kids want to show much they appreciate their dads, Father's Day is the perfect day to do it. While it's true you should show Dad how much you love him all the time, Father's Day is a great time to make sure he gets a bit of extra pampering and attention.
Budget-Friendly Father's Day Gift Ideas
1. Gift of Music
If you've got a dad who loves to be out in the garage or his workshop, give him the gift of music! With Amazon Music Unlimited, he can jam out anywhere with his favorite music of any decade!
2. Fill in the Blank Journal
This is my husband's favorite gift every year! The kids fill out these books – What I Love about Dad Fill-in-the-Blank Journal and A Little Book About My Awesome Dad. My husband loves it because it is fun to see what things really connect with the kids. There is usually laughter and tears = perfect gift!
3. Father's Day Beans Gift
Fill a jar with his favorite jelly beans and print off this free Father's Day Beans Gift Tag. He will love the thought behind it AND the candy! You can also make this for your grandpa, too!
4. Plan a Day Trip
Pick a day to do whatever dad wants! Does he like to go hiking? Pick out a fun trail for you to hike! Does he like to fish? Grab your pole, pack a picnic and spend the day doing what he wants!
5. Camping Hammock
Does your dad love the outdoors? This Camping Hammock is a must-have and so much fun to relax outside in. Whether you are reading a book or just taking a nap, it is perfect to take camping or even to set up on a day trip! You can also check out this cool list of 20 Unique and Cool Camping Equipment Ideas for other fun ideas!
6. Photos
There are so many different gifts you can create with photos for the dad who loves photos and memories! Places like Shutterfly and Walmart have tons of personalized options from pillows to mugs to puzzles. Create a long-lasting photo memory for your dad this Father's Day.
7. Relaxation
For the hard-working dad who deserves some time to relax, consider putting together a gift to help him do so! You can include things like these cool Acupressure Foot Massage Sandals, new pajamas, and some of his favorite soda!
8. Make a Personal Card or Decoration
Print out this Father's Day Free Printable – To the World, You are a Dad, to your Family, You are the World! With this printable, you can either attach it as a card, as part of your gift, or use it as a decoration to help celebrate Father's Day.
9. Offer Service
Sometimes the best gift is one that is truly needed but the gift recipient won't tell you what they need. This could be anything from vacuuming his car to helping organize his shoes to a night away with his friends. Pay close attention to Dad and listen to what he may need. Find a way to include that need in your gift.
10. Grilling Basket
Got a dad who loves to grill? This Father's Day spoil him with some new BBQ tools, a cool BBQ Grill Apron, or some Barbecue Rubs! Let him shine on the grill while you all show him you love the food he makes just as much as you love him!
11. Handmade Gifts
Some things you just can't buy at the store. For the dad who has everything already or the father who loves those little handmade items, Handmade Gifts that have a lot of love and meaning are the best choice.
12. Breakfast in Bed
If you can think ahead and make a delicious breakfast to surprise dad with, he will be thrilled! Who doesn't love a great breakfast without leaving your bed?
Some of my favorite recipe ideas for breakfast in bed are:
Crepes with Nutella, whipped cream, and fresh strawberries
Finish each of these off with hash browns, fresh fruit, and a big glass of orange juice.
13. Tile Mate
Does Dad lose his keys or his wallet every day This Tile Mate solves all of those problems! Never again will he lose his keys without being able to track them and find them in mere seconds.
14. Car Wash Kit
If you've got a dad who loves his car, consider putting together a bucket full of car wash and detail supplies so he can treat his car, too! Fill it with sponges, rags, soap, and wax! Want to go a step further? Wash his car for him!
15. Father's Day Coupon Book
Skip to My Lou has a free DIY printable coupon book for dad that is super easy to assemble. The Father's day coupon ideas give Dad all the love he needs all year long!
16. Make Dad a Special Treat
Every dad will know how much you love them with a special homemade treat and you can't go wrong with chocolate! This Malt Milkshake Chocolate Ice Cream Pie is to die for. But he would also love my famous Chocolate Chip Cookies or these insanely good Creme de Menthe Brownies! (I'm drooling here…)
More Father's Day Ideas
Got any other creative budget-friendly ideas for Father's Day this year? We'd love to know what you do for Father's Day in the comments below!