Milkshake + pie + ice cream lovers get ready! This Malt Milkshake Chocolate Ice Cream pie is so perfect, so creamy, so satisfying… that you're going to want to make it over and over again. It will become your favorite pie recipe of all time. No, seriously.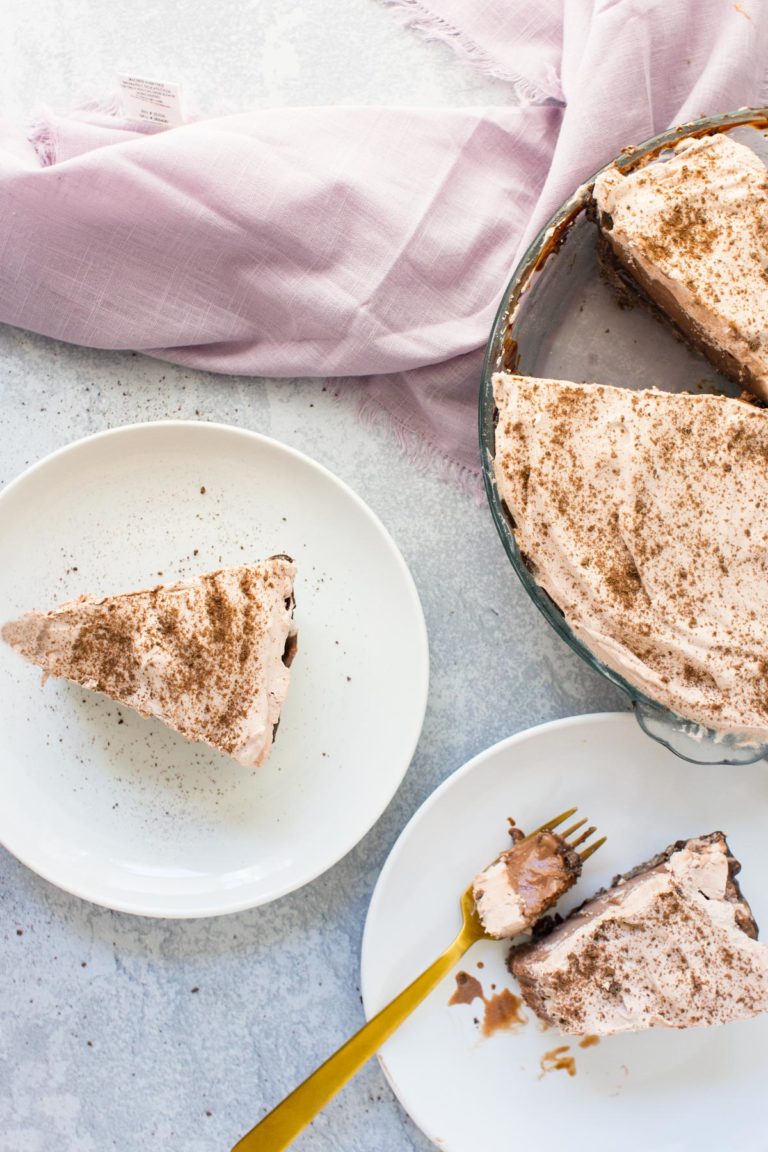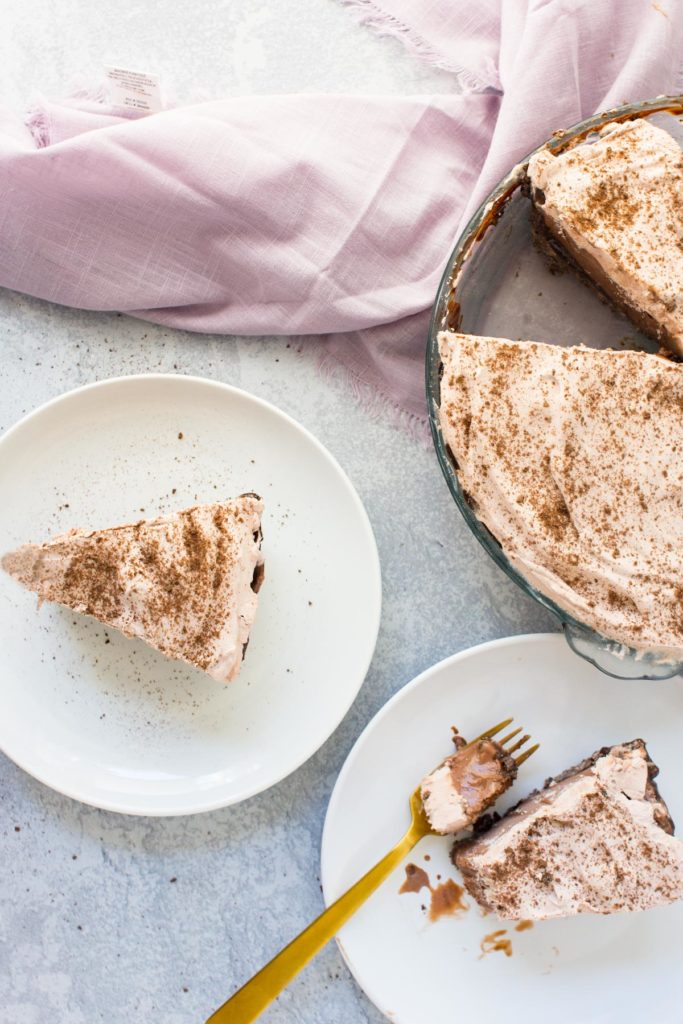 Seriously, chocolate lovers, this one's for you.
The inspiration for this pie started at a Red Robin Restaurant. They have this amazing Chocolate Hazelnut Bliss Milk Shake that I tried one day and fell in love with. So I got this idea in my head to try and recreate some of those same flavors that I love but in pie form. Because milk shakes don't last as long as a pie. I mean if I made a milkshake instead of a pie… it would melt and then I wouldn't be able to have chocolate pie for breakfast the next day.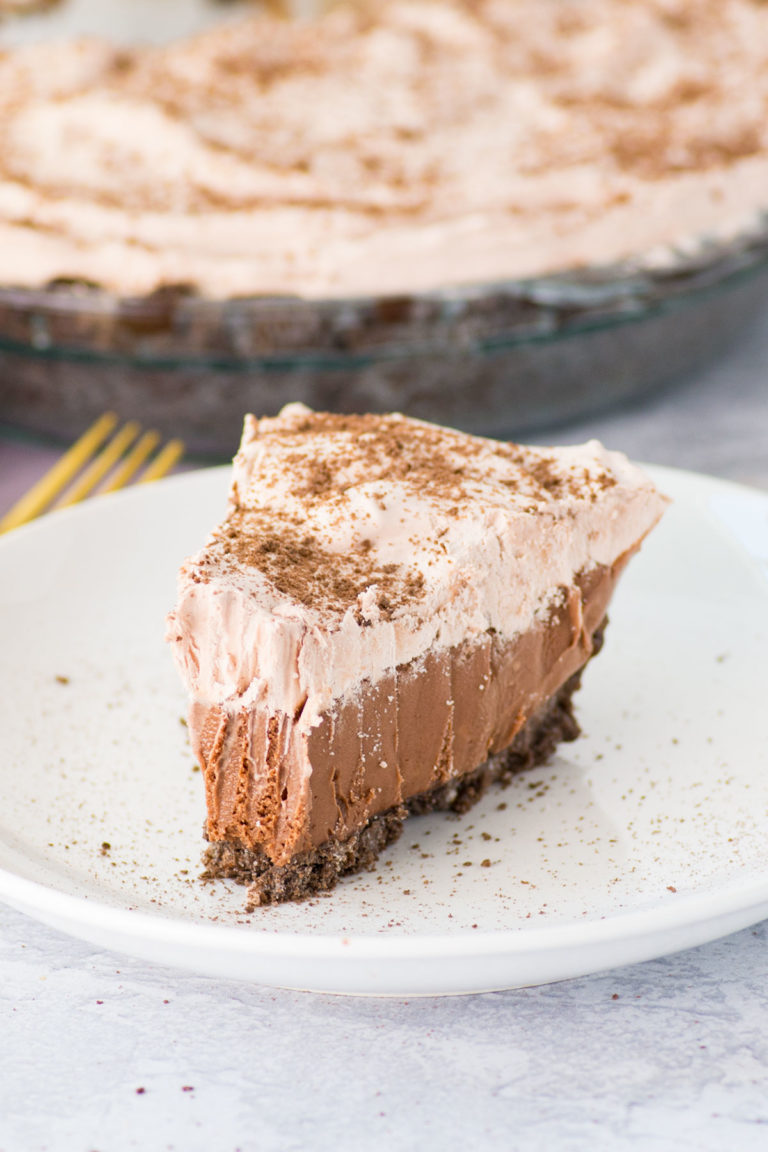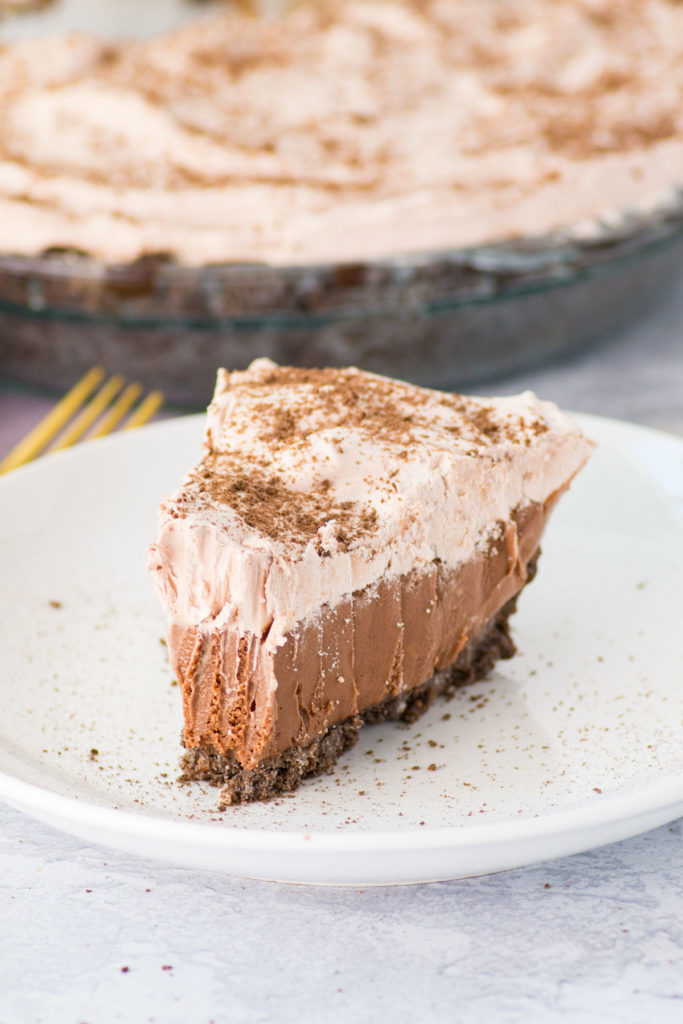 The best chocolate ice cream pie of all time starts with the pefect chocolate crust of course.
This crust? It is the absolute star of this pie. I kid you not. And it has a secret ingredient for you. Y'all, be prepared to be in chocolate heaven. ?
It's made with a blend of cocoa pebbles cereal, chocolate graham cracker crumbs, sugar, butter and just a pinch of salt to help bring out those chocolately flavors. And it's glorious. It's the most unique and buttery-crispy perfect bite you will ever experience. And the flavor is spot on. A chocolate lovers dream.
Friend, don't be afraid of the cocoa pebbles. They totally make this pie crust shine.
So, after this crust gets frozen we then pour a layer of hot fudge on this baby. And spread it on good. You can go as thick or as thin as you like. If you go thinner you could always save some of that hot fudge for a drizzle over the top at the end.
And as for chocolate ice cream filling… it's the perfect creamy milkshake flaver we've all been waiting for. And with only two ingredients, it couldn't be any easier. Chocolate Ice Cream and chocolate malt powder. That malt powder takes this ice cream pie from good to truly decadent.
SOOO…WHAT IS CHOCOLATE MALT YOU ASK?
Fun Tidbit: Malted milk powder dates back to the 1800's and is made by sprouting a grain and drying it, then mixing it with powdered milk. This process helps break down the grains, making it easier to digest while maintaining the nutritional content.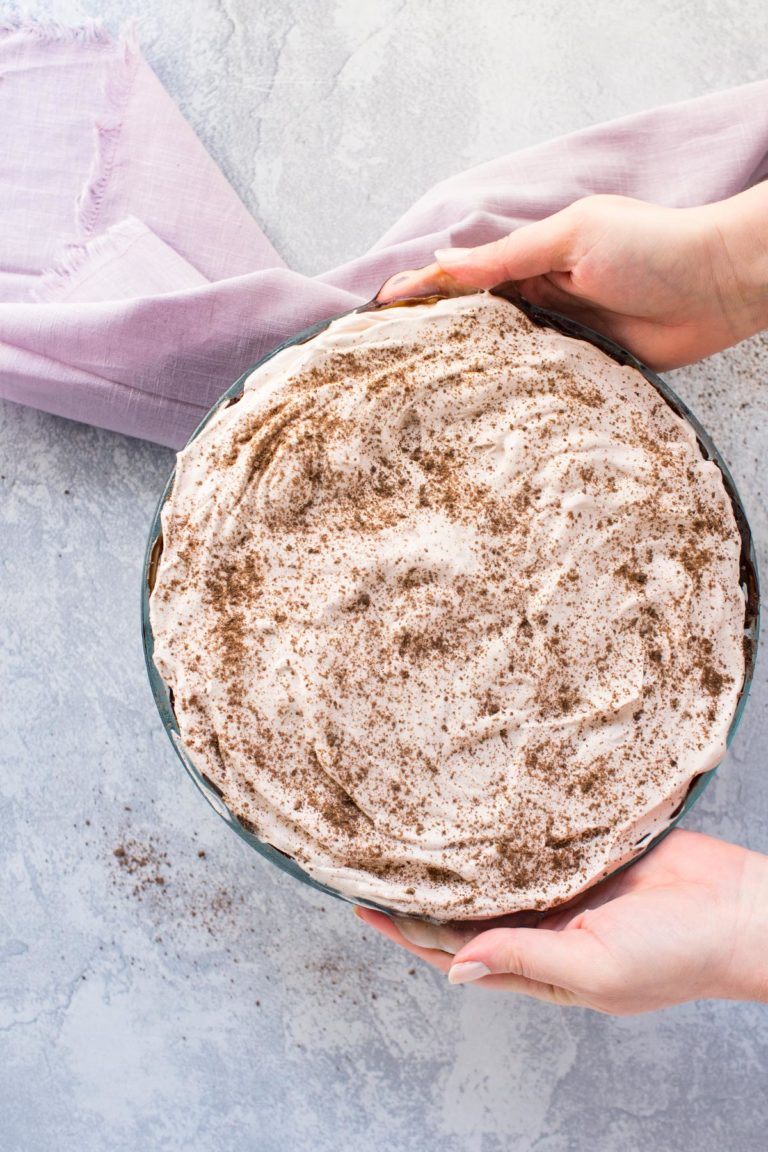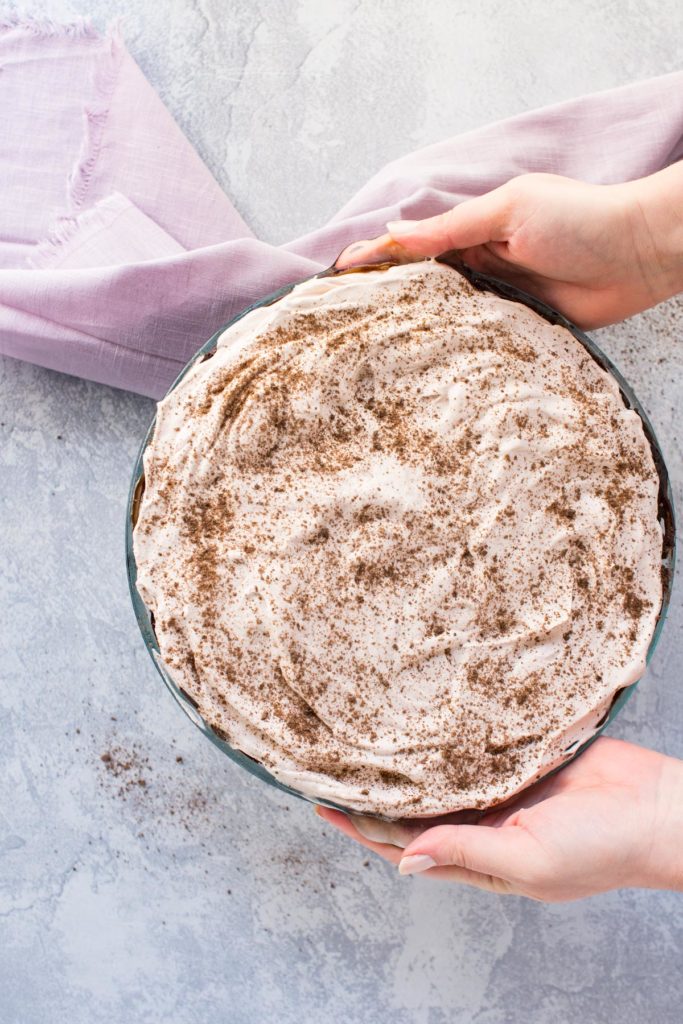 Once you're done with that layer, make the topping layer and sprinkle with a any kind of topping you like. Maybe a little drizzle of hot fudge, maybe a sprinkling chocolate graham cracker crumbs. Then just keep it in the freezer, and it should taste great for at least two to three months. Who am I kidding, this pie barely lasts two days when I make it! It is definitely one of the best easy frozen dessert recipes I have!
I typically store the pie right in the pan, but if freezer space is tight, you can always cut up slices and store them individually in freezer bags.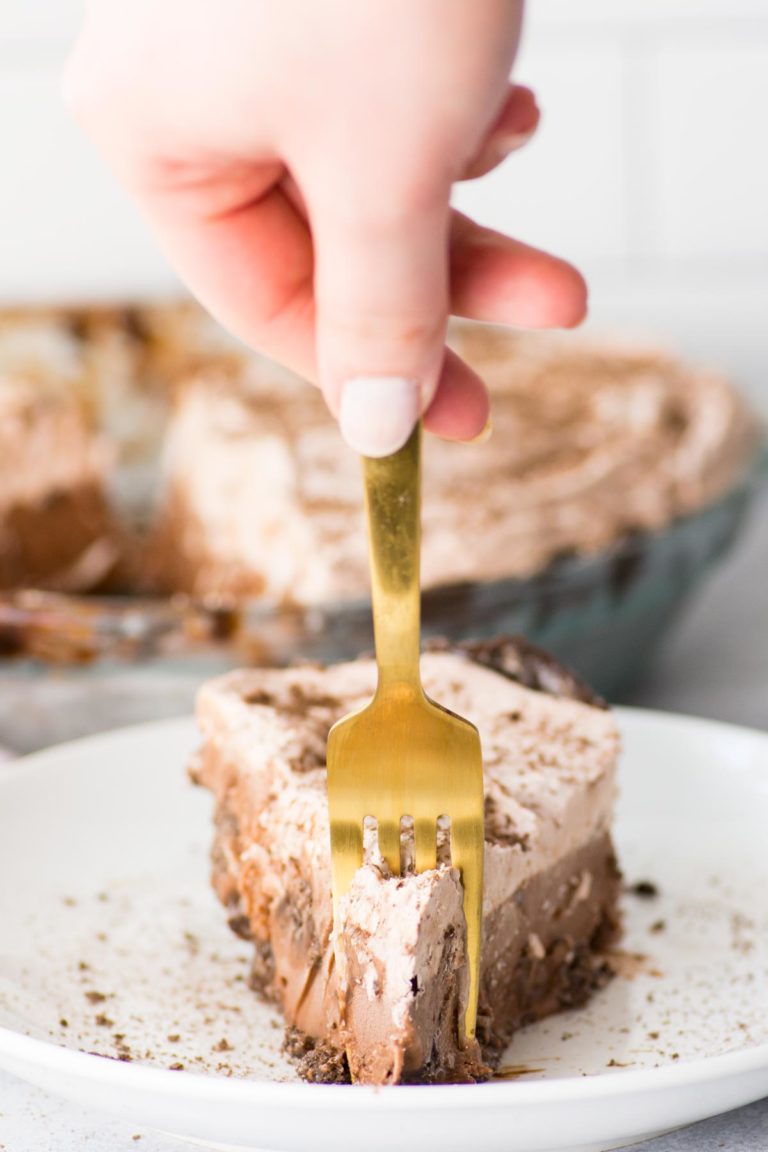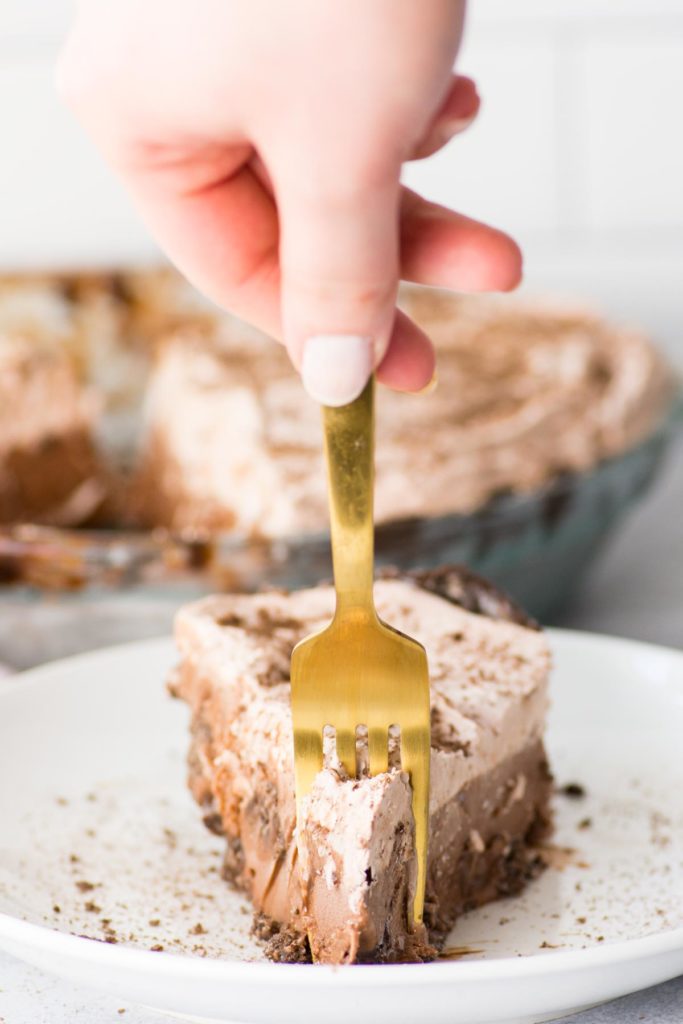 HOW DO YOU SERVE THIS CHOCOLATE CREAM PIE?
Just take the pie out of the freezer, and depending on what temperature you keep your freezer at, let it thaw for 10-15 minutes on your counter. If I can't cut through it using a huge knife using all my body weight, I know it needs to thaw a little longer.. haha. It is so hard to wait. But once you can cut it without feeling you need to start working out again, slice it up. Place it on a plate and leave it as is or add a special fancy touch if you like.
Consider drizzling my homemade hot fudge over the top or sprinkling with a little bit of chocolate graham cracker crumbs. If you want to be real fancy, you can take a potato peeler to a bar of chocolate to make those "chocolate curls" you often get on pies at restaurants!
My favorite way: I love to save out about 1/2 cup of that crust mixture before pressing it into the pie plate. Then I add some of that one top.. because, well, I love that crust sooo much. It's so good!!! Maybe not as pretty as the others, but if it's just me and the pie… I'm all about what tastes good.
WHAT ICE CREAM IS BEST?
I've used generic chocolate ice cream for this pie and it was still good. The malt really picks up the flavors and makes it good. That being said, if you have a favorite chocolate ice cream, use that one. If money was not a consideration I think I'd choose Tillamook Chocolate Ice cream as Tillamook is my fav. But like I said, any good one will do.
Note: While this recipe calls for chocolate ice cream, there's no reason you couldn't play around and do a different ice cream flavor instead. Want to make a mint chocolate ice cream pie? Just use mint ice cream! Prefer the taste of vanilla, peanut butter, or cookies 'n cream? No problem! They should all work the same.
When it comes down to it, there's just no wrong way to enjoy this decadent chocolate ice cream pie! Are you ready for this? Let's get started!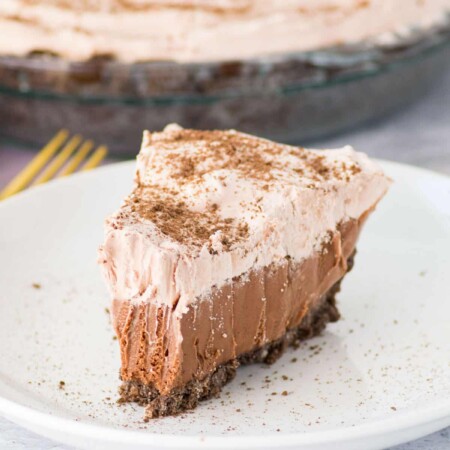 Recipe Card
love it? rate it!
Malt Milkshake Chocolate Ice Cream Pie
Servings 12
This Malt Milkshake chocolate ice cream pie recipe is so decadent with a homemade chocolate graham cracker crust, fudge, chocolate ice cream, and a chocolate malt whipped topping.
Ingredients
Chocolate Crust
1-½ cups chocolate graham crackers crushed (1-½ sleeves)
1 cup cocoa pebbles
⅓ cup sugar
¼ tsp salt
½ cup butter melted
Chocolate Ice Cream Filling
Chocolate ice cream ½ gallon, softened
2 tbsp chocolate malt powder
Chocolate Whipped Cream Topping
¼ cup chocolate malt powder
2 cups heavy whipping cream
Instructions
Crust
Mix together in a large bowl the crushed chocolate graham crackers, sugar and salt. Add in cocoa pebbles and using a cup or the end of a rolling pin lightly crush cocoa pebbles into the graham crackers crumbs. You want to still have some larger pieces while crushing down some.

Add in melted butter, stir to combine. You should have a mixture that will come together when pressed down with backing spoon, so if mixture is a little dry add in a little more melted butter if needed 1 tsp at a time. **

Press crust mixture into bottom of and up sides of one large deep dish pie plate. *** Place in freezer and freeze until solid to the touch, about 30 minutes

Warm up hot fudge and spread over crust. Place in freezer and freeze until solid, about 30 minutes longer.
Ice Cream Filling Layer
Remove ice cream and allow to soften. Once ice cream is softened, add malt powder and mix together until well combined. Transfer into pie pan over pie crust layer. Place into freezer to freeze until hard, about 30-60 minutes.
Chocolate Whipped Cream Topping
Once filling layer is frozen start making chocolate whipped cream layer topping. In a cold medium bowl (I like to placemy bowl in fridge for 20 minutes before using) combine chocolate malt powder and heavy whipping cream. Beat until stiff peaks form. Spoon on top of pie and gently swirl with back of your spoon. Top with any desired toppings or drizzle with hot fudge. Place back into freezer and freeze until solid, about 30-60 minutes.

Once frozen, remove from freezer, cover tightly with several layers of plastic wrap, then cover with a labeled peice of foil and place back into freezer.
TO SERVE
Remove from freezer, remove foil and plastic wrap. Let thaw 15-20 minutes or until you can cut through the pie without feeling like you need to start working out better. Place slice of pie on plate and serve frozen.
Notes
** If you would like to reserve ½ cup of crust mixture to sprinkle over the top do that now. It's totally optional but is my favorite way to serve this pie, because this crust is the best part!! ***If you don't have a deep dish pie plate you can use instead two smaller 9 inch pie plates or even a 9×13 inch baking dish.
Nutrition
Serving: 1g | Calories: 732kcal | Carbohydrates: 80g | Protein: 9g | Fat: 44g | Saturated Fat: 26g | Cholesterol: 128mg | Sodium: 402mg | Potassium: 521mg | Fiber: 2g | Sugar: 60g | Vitamin A: 1560IU | Vitamin C: 1.3mg | Calcium: 214mg | Iron: 2.1mg
If you consider yourself a chocolate lover, then do yourself a favor this summer and whip up a no-fuss, malted milkshake chocolate ice cream pie! You'll thank me later.
Here are a few of my other BEST FREEZER DESSERTS:
The Master Chocolate Chip Cookie Recipe
<< this is the one, the only make-ahead and freeze chocolate chip cookie recipe in the whole world. It just is.
Vintage Icebox Cake Recipe
<< this one is from my great-grandmother's old vintage recipe box. It was really fresh and delicious. It would be perfect for Mother's day or even Easter coming up.
Chewy Ginger Molasses Cookies
<< I crave these mostly in the fall, but can eat them year round too. I love 'em.
More freezer dessert recipes from friends that you will love!
Chocolate Peanut Butter Pie from The Pioneer Woman
Strawberry Lemon Icebox Pie from The Crumby Kitchen
Frozen Peppermint Pie from Thirty Handmade Days