For those of you who might not know what is going on….this summer I attempted to do a 30 day survival challenge of not going to the store that only lasted 5 days. Read all about why I wanted to do this challenge here.
Day one journal entry – (Monday July 8, 2013)
Really excited to try do this 30 day challenge. Nothing seems too different. Knowing that I am not going to the store for 30 days makes me stop and take a look at all the food that I have around. And start getting a little bit protective of some of the foods.
Looking in my fridge I have a gallon of milk. A little bit of regular cheddar cheese along with some sharp cheddar cheese. 1 loaf of white packaged bread. 5 dozen eggs. A pantry full of processed foods that I have been avoiding using up lately (either from my couponing era or my husbands shopping). Some food storage of wheat, rice, beans and a few random items like freeze-dried fruits and meats. No sugar in my immediate pantry at all (unless I have some out in the garage in food storage – need to look when I become desperate). I think when I was gone for the month of June, leaving my husband in babysitting mode, my kids got into the sugar container and ate it. Not kidding. When mom leaves all heck breaks loose. It's a party everyday I think.
The kids ate Lucky Charms for breakfast – which I was not thrilled with, (another one of daddy's purchases when I was away…) but I also knew we needed to use it up too.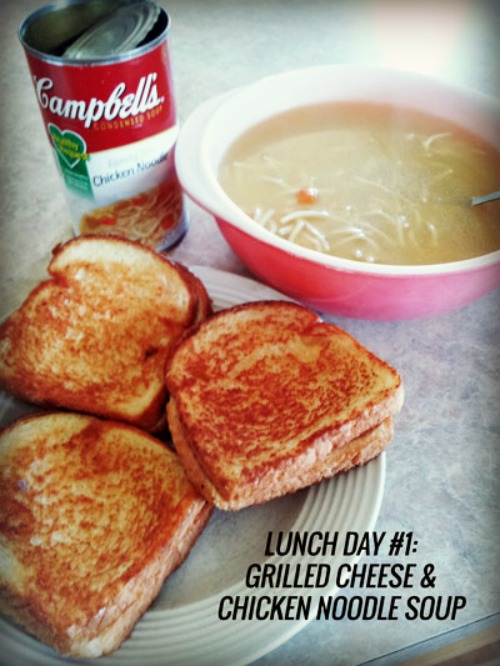 Then for lunch I made grilled cheese sandwiches & chicken noodle soup. Even though there is nothing necessarily healthy in this lunch (white bread, butter, Kraft singles processed cheese, processed soup) I enjoyed every bite of my sandwich. And the kids did too.
For Dinner I had a little more of an adventure. I searched the deep freezer and found a package of bean and cheese burritos. I decided to make sour cream burritos that my mom always made growing up.
Only…I didn't have any sour cream! Drat!
I did however notice some heavy whipping cream that had probably been in my fridge for a month…and wondered if that would work instead. I opened it up and it smelled fine so I used it in place of the sour cream. It was a gamble for sure, but I had to try. And I wouldn't tell my husband at all about this… he hates the idea of using up expired food.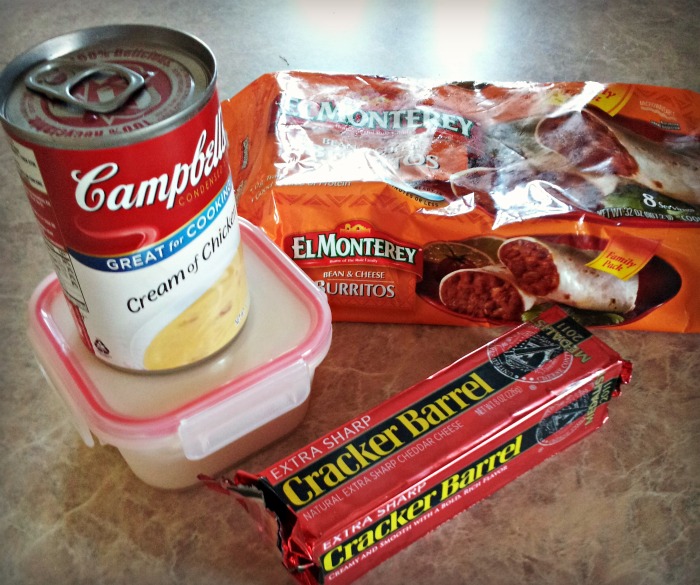 The recipe for these sour cream burritos is this:
Ingredients:
1 package frozen burritos (Bean & Cheese or any flavor)
1 Can Cream of chicken soup
1 cup sour cream – but in this case I used whipping cream
1/2 – 1 cup shredded cheddar cheese
Method:
Mix together the cream of chicken soup and the sour cream (or in this case the whipping cream). Take a scoop of this mixture and spread on the bottom of 9×13 pan. Place frozen burritos in 9×13 pan, spread cream mixture over the top. Sprinkle with a little cheese, cover with aluminum foil and bake for 30-40 minutes at 350 degrees.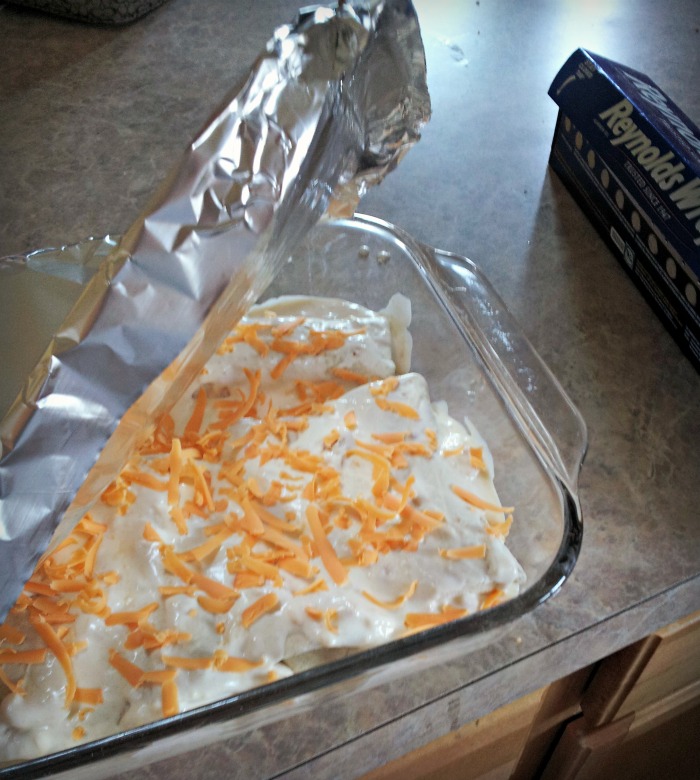 I placed it in the oven and said a little prayer. 😉 Dear Lord, help this food to not kill us if it's expired. Help the cream not to separate or curdle in this dish.
After 40 minutes it was bubbly and beautiful. Nothing was wrong with it at all. And the taste was to die for! I think I will always use fresh cream instead of sour cream. It was so good.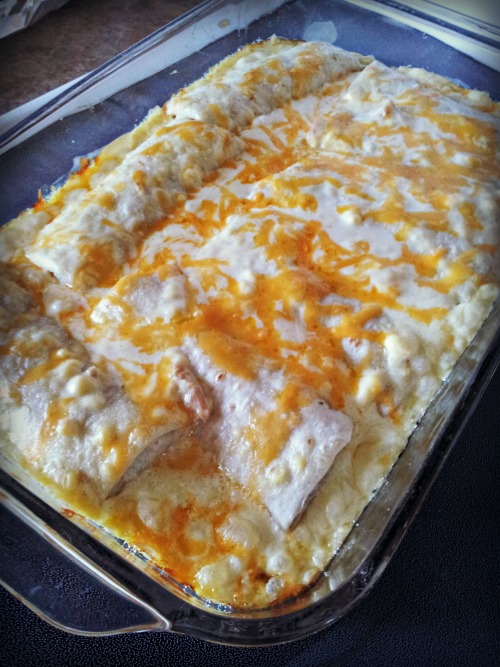 I also cooked my first batch of garden fresh green beans. When we got home we had a bunch of green beans waiting to be harvested. Free food–yes! My only wish was that we had more. I think we all only got like 5-6 green beans each…and for once my picky eaters wanted more.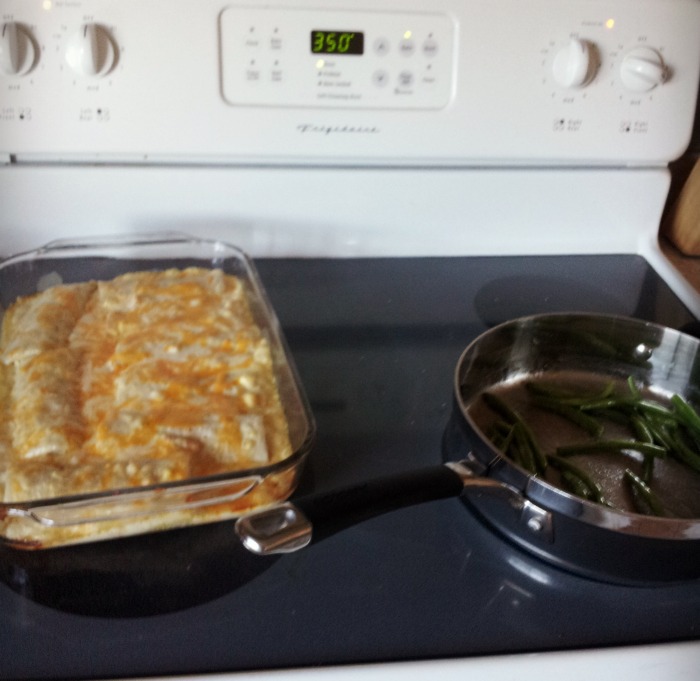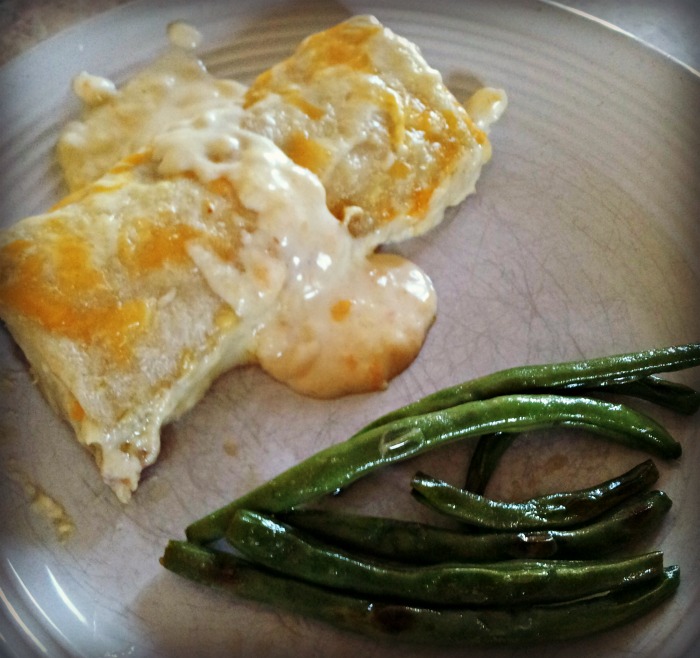 So far on day one…I had to get a little creative but everything turned out alright. Course only time will tell if the cream was expired that we ate…I guess we will know tomorrow.
Read on friends –> See Day 2 of my 30 day survival challenge here