Move over chicken noodle soup because there's another yummy pot of goodness in town! This Loaded Miso Soup is full of protein, veggies, and other satisfying ingredients that will fill your belly up.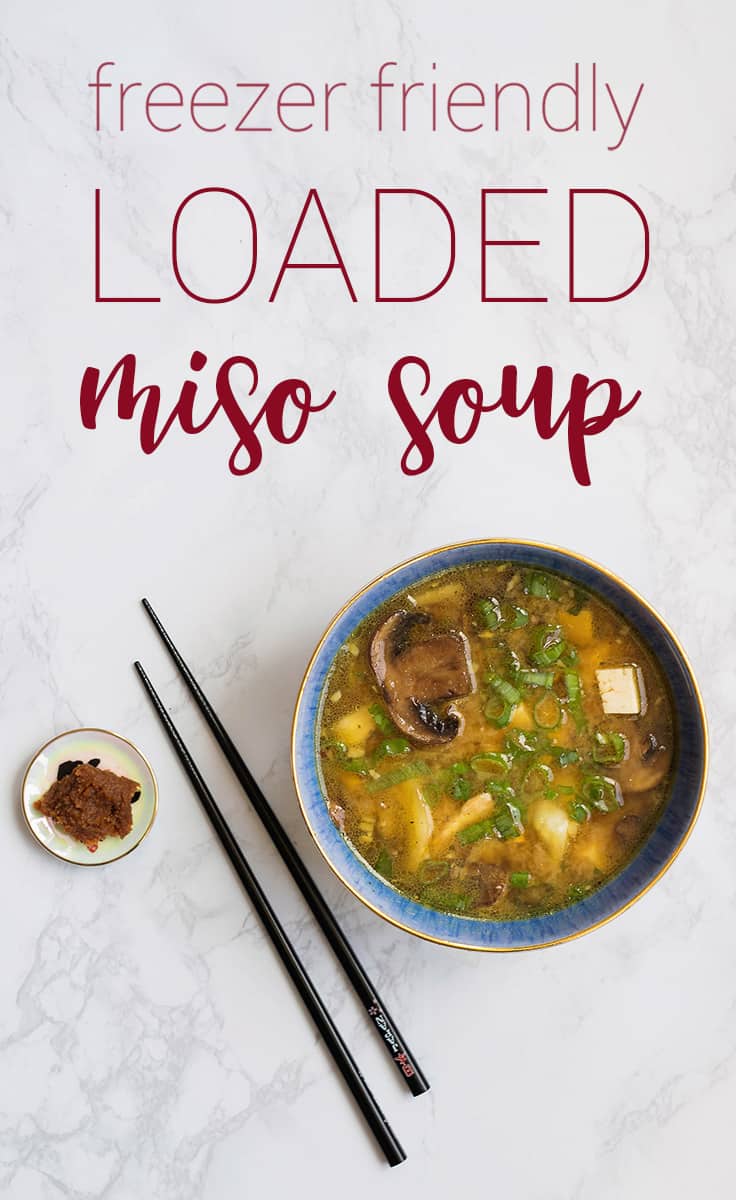 You know that feeling of when you don't feel very good and just want something warm, healthy and comforting to eat? This soup. It's the go-to for whenever we start feeling under the weather.
I like food that warms me all up from the inside out.
Miso soup is one of those meals that half my family loves and half my family hates (yes, I'm talking about you..my picky kids…). It's mostly because of the mushrooms, and the green onions…annd the tofu…haha. It's probably my fault though, I should have introduced tofu to them when they were younger, so they wouldn't be so scared of it. Ha!
But anyways, if you don't have picky kids, and you love Miso soup, you will love love love this recipe! It's simple, easy and filled with all the right flavors.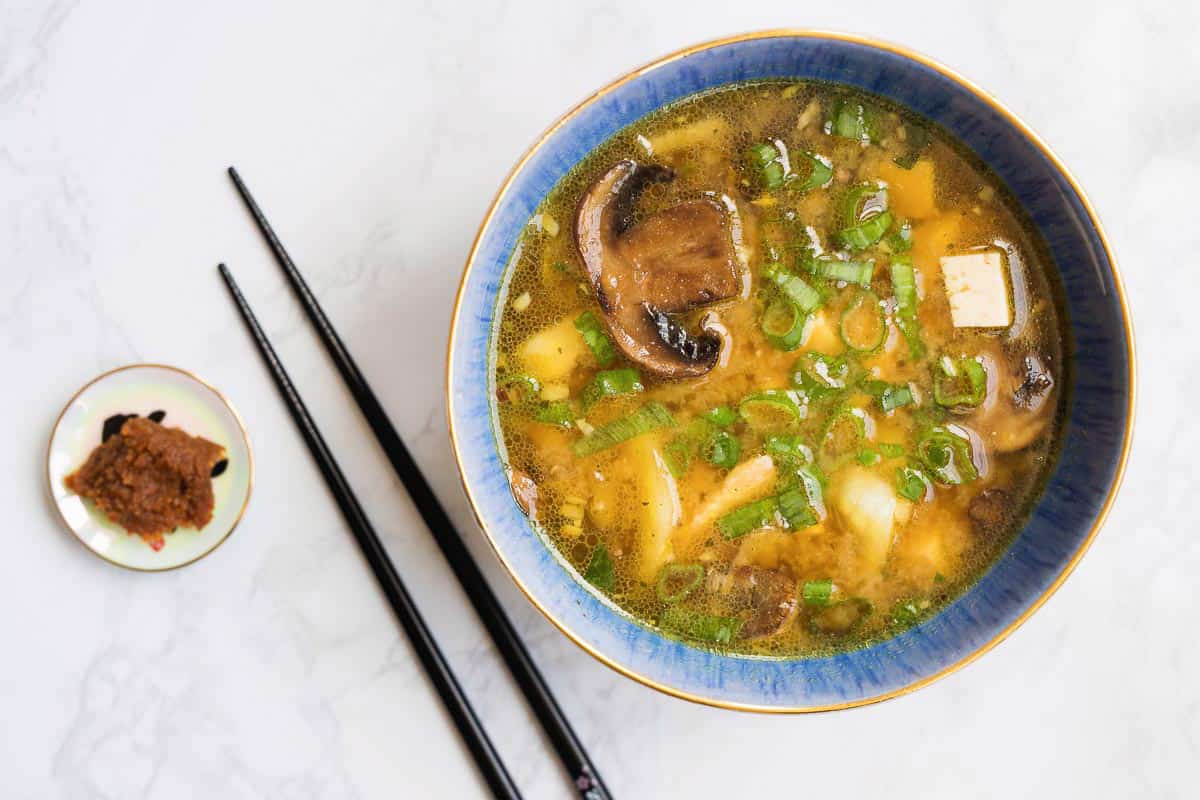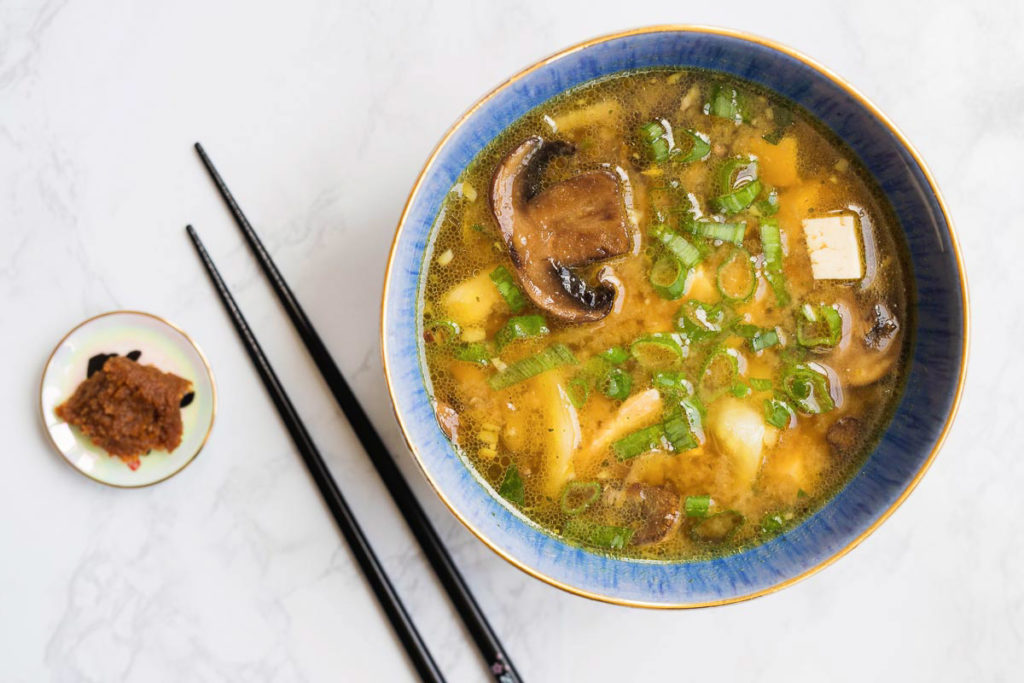 I'm not going to lie, Miso Paste can be a little tricky to find, but you should be able to find it at your local grocery store. Just look in the International Foods aisle in the Asian section. If you can't find it at your local grocery store, you can order it online. The Miso paste is what gives the soup its salty signature flavor, so you don't want to skip it.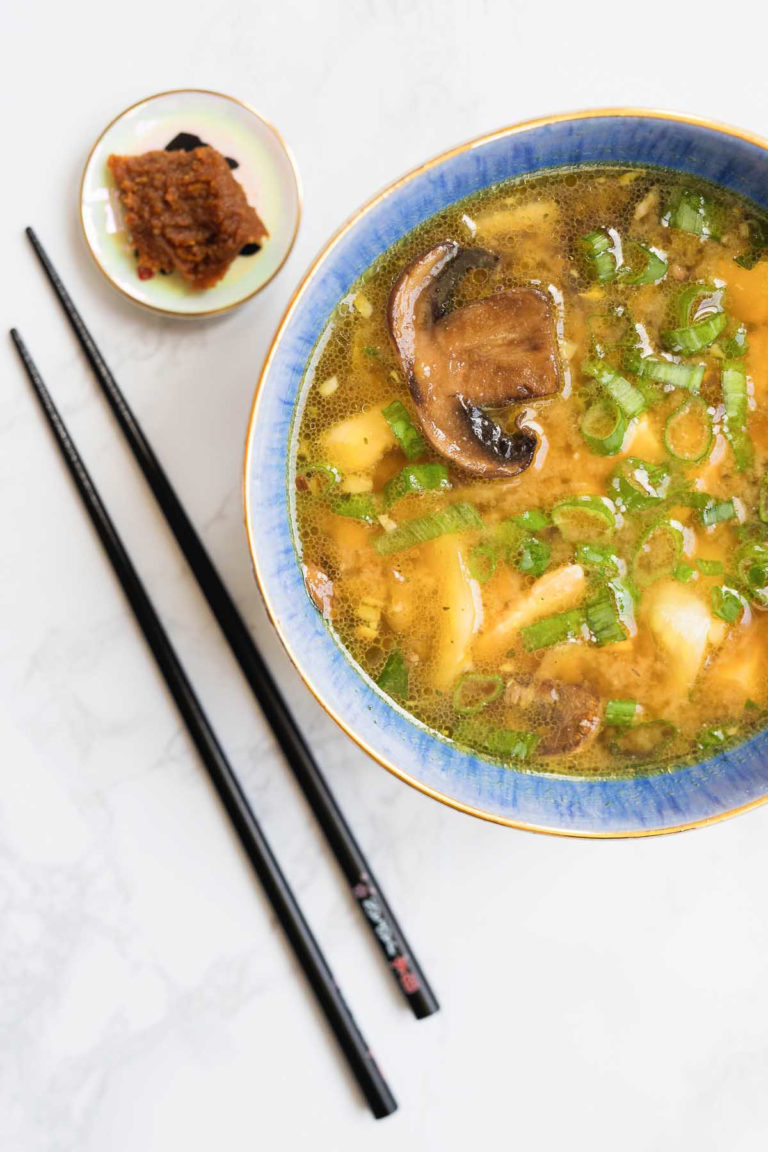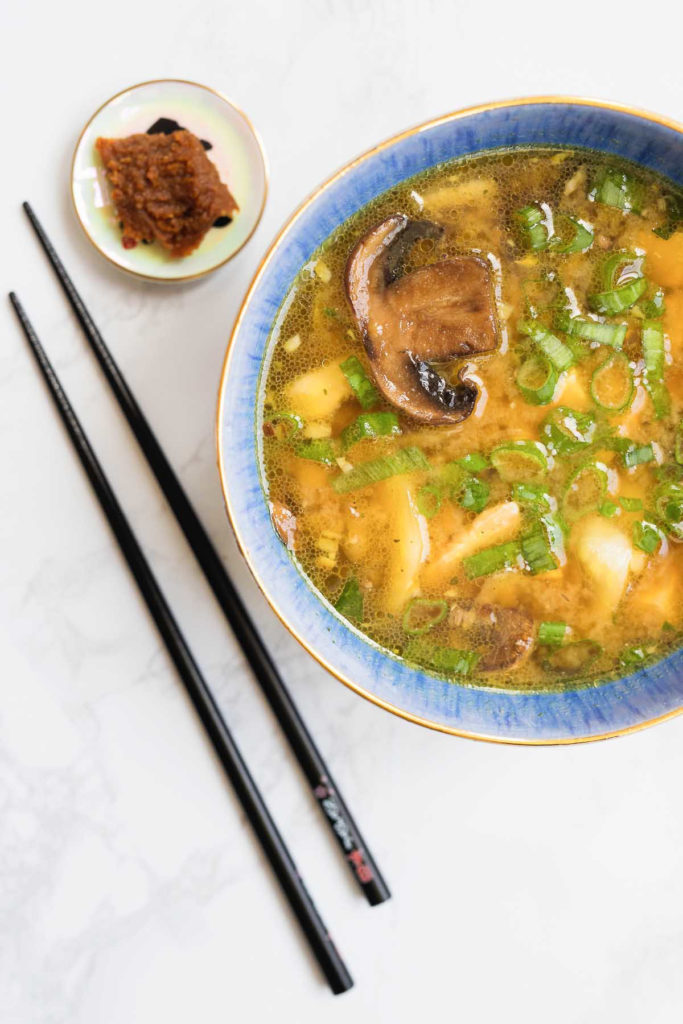 And my favorite!! Make this loaded miso soup ahead of time and freeze it for a cold day! You can store it in a freezer storage bag with the tofu stored and frozen separately. Thaw and bring to a boil for a quick, delicious, and filling meal.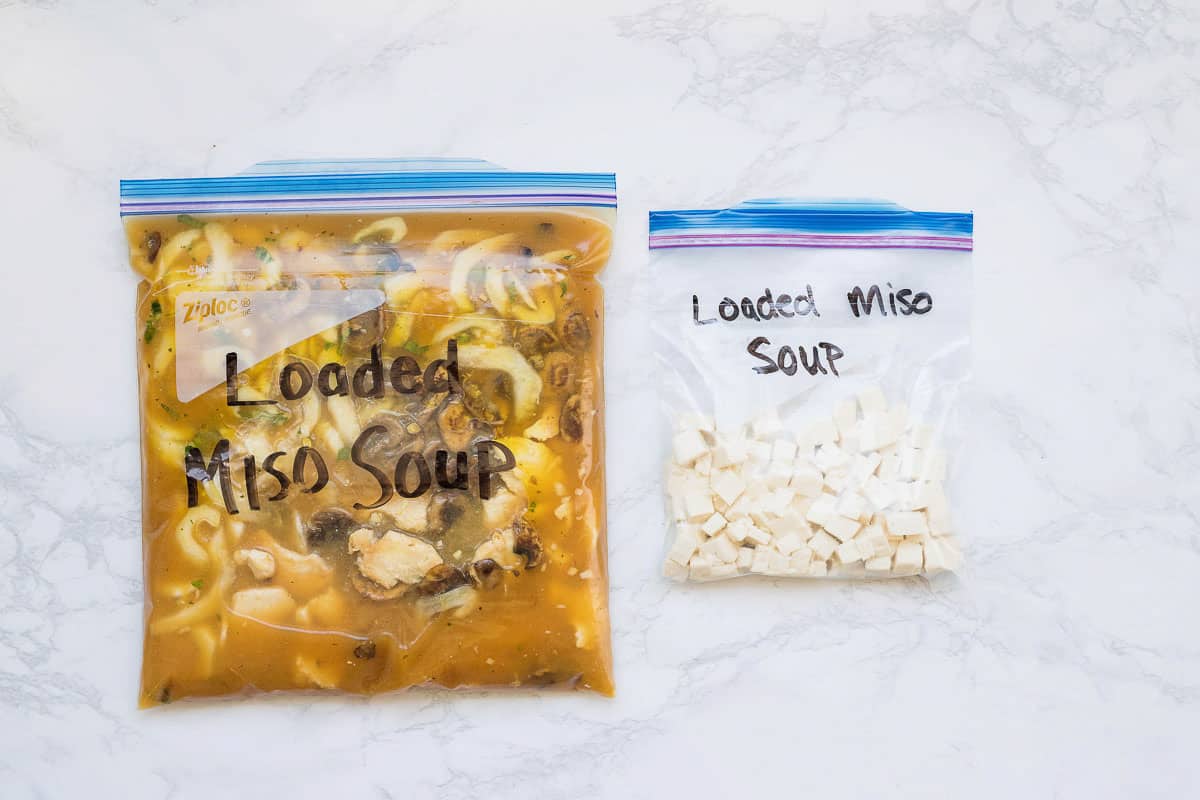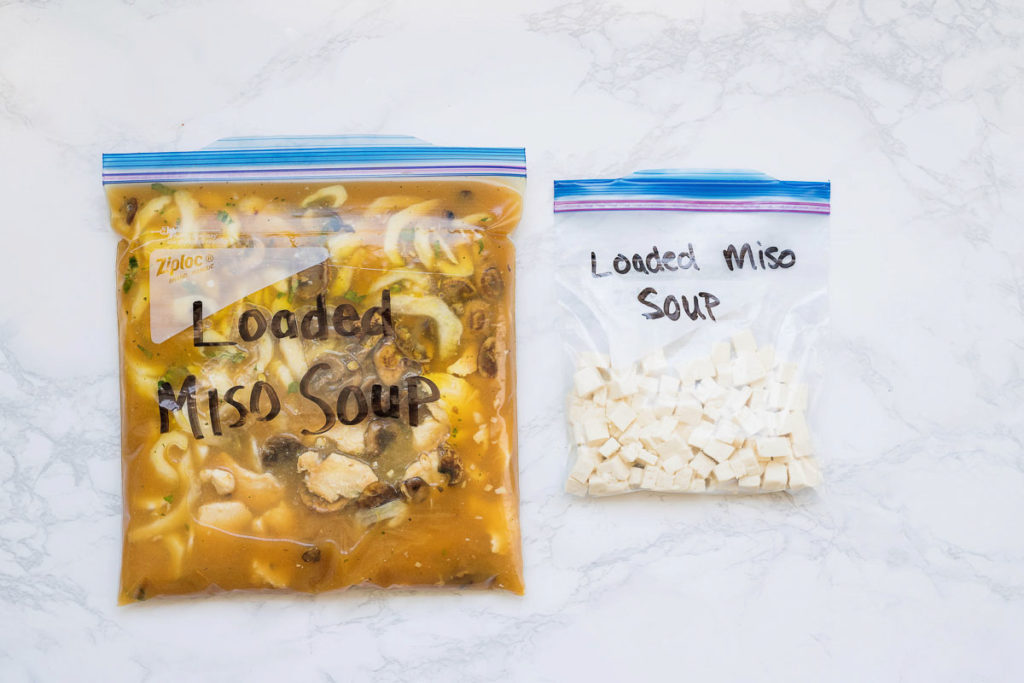 Let me know what you think of this soup by leaving a comment below. Do your kids like it or are they like mine and refuse to touch tofu? Haha!
SOME OF MY OTHER FAVORITE SOUPS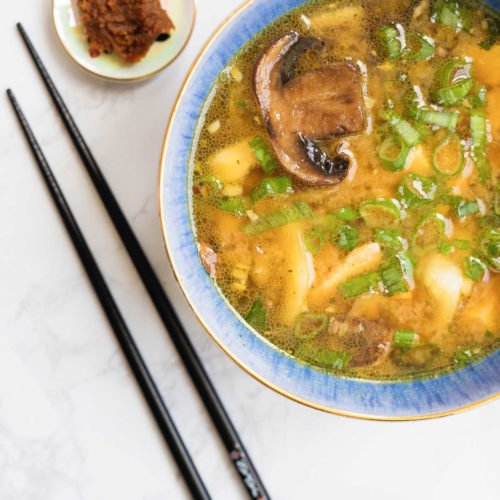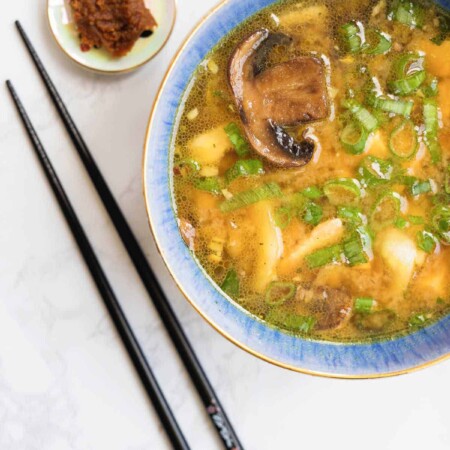 Recipe Card
love it? rate it!
Loaded Miso Soup Recipe
Servings 8
A healthy delicious freezer friendly version of miso soup.
Ingredients
1 lb boneless, skinless chicken breasts
3 tbsp vegetable oil
4 cups baby Bok Choy, shredded
1 cup Oyster Mushrooms, thinly sliced
2 tsp minced garlic
1/4 cup Red Miso Paste
32 oz chicken broth
1/4 cup water
7 oz extra firm tofu
sliced green onions (optional garnish)
Instructions
Trim fat from chicken filets. Slice against the grain into thin slices.

Gently press any excess liquid from tofu brick. Then slice into fours length wise. Keeping the pieces together, turn on it's side and slice into four pieces length wise. Then, Rotate the tofu 90° and slice into 1/2-inch cubes.

Heat oil in a large pot over medium high heat. Sauté chicken slices stirring contantly for 7-8 minutes or until cooked through and edges are beginning to brown. Remove from pan.

Add mushrooms and garlic to the pan. Stir constantly, sauté 5 minutes or until the mushrooms begin to brown on the edges. Remove from pan. Remove pan from heat.
MAKE IT NOW
Add chicken broth to the pot and put on medium-high heat. Add the bok choy, chicken, mushrooms, and miso, stir to break up the miso paste. Bring to a boil, then reduce heat to medium and simmer for 10 minutes. Add the tofu. Cook an additional 5 minutes. Top with green onions if desired for garnish. Serve in bowls.
MAKE IT A FREEZER MEAL
In a large bowl, combine water, broth, and miso, until all miso is thoroughly broken up. Pour into a Gallon freezer bag. Add the sliced bok choy, cooked chicken, garlic, mushrooms, and oil. Seal bag, removing as much air as possible. Freeze Flat. Gently place cubed tofu into a quart sized freezer bag. Seal, removing as much air as possible without squishing the tofu pieces. Freeze next to the soup bag.
THAW
Thaw soup bag and tofu bag in a large bowl in the fridge 24 hours prior to cooking. Or to quick thaw run under hot water until able to break up the bags enough to add to pot.
COOK
Dump contents of gallon freezer bag into a large pot and bring to a boil over high heat. Reduce heat and allow to simmer, uncovered, for 10 minutes. Add the tofu. Cook an additional 5 minutes. Top with green onions if desired for garnish. Serve in bowls.
Nutrition
Serving: 1bowl | Calories: 156kcal | Carbohydrates: 5g | Protein: 16g | Fat: 7g | Saturated Fat: 4g | Cholesterol: 36mg | Sodium: 855mg | Potassium: 401mg | Fiber: 1g | Sugar: 1g | Vitamin A: 2540IU | Vitamin C: 34.2mg | Calcium: 86mg | Iron: 1.5mg
If you are looking for more make ahead and freeze meals check out this post on 15 of my easiest freezer meals of all time.