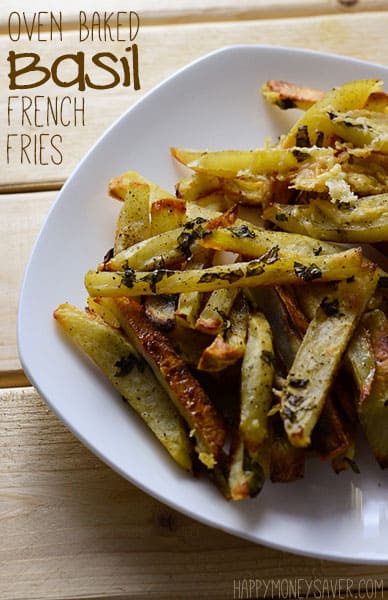 OK, OK, I know it's barely spring, but I'm so totally ready for summer!
This winter has just been absolutely awful, hasn't it? I know God never gives you more than you can handle, but he's surely been pushing it with this snow the last couple of months! We haven't had it as bad here at home as the rest of the country…it's actually been a fairly normal winter. I just can't wait to break out the grill and fire up some family picnic time, and I'm sure a lot of you feel the same! Burgers just aren't the same indoors!
I'm getting a head start on summer food ideas! I made you all a big ol' batch of easy, yummy, homemade French fries!!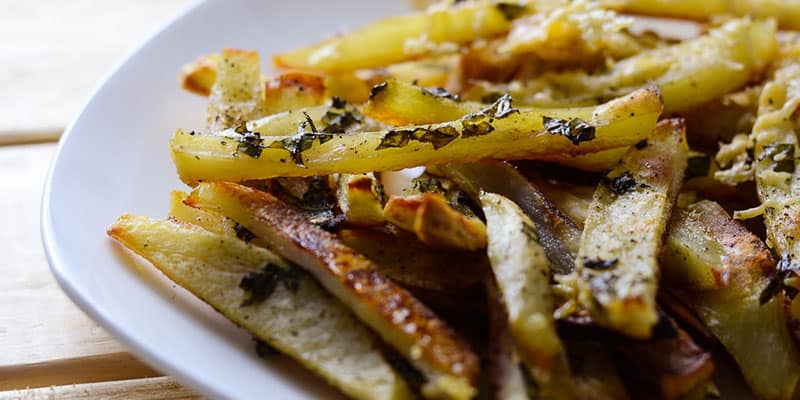 My basil plant is Out. Of. Control. (I think it might be on steroids). You would think that with planting season just starting, I would be starting seedlings and having to use store-bought basil leaves for my cooking, but no! I've been tossing the stuff in everything from sauce to stew, trying to keep it trimmed back to it will continue to flourish.
One night a few weeks back, I had the hare-brained idea to try adding fresh basil to a batch of fries I was pairing with an Italian chicken recipe. It turned in to basil night! Let me just say, if you think French fries can't be a fancy side dish, you are totally wrong, and I'm going to prove it to you!
HOMEMADE FRENCH FRIES RECIPE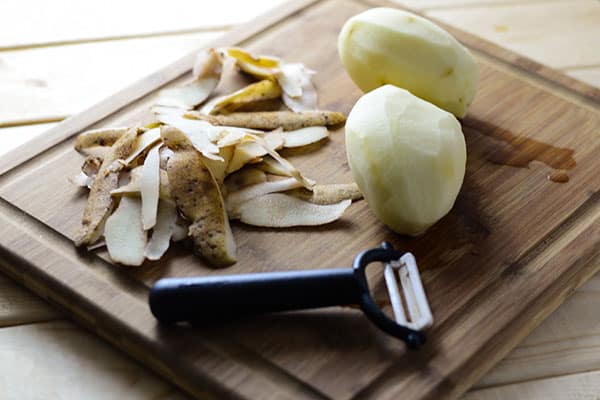 Preheat your oven, first thing! 400 degrees should do it.
Not only are these fries fancier than your normal version, they're super simple! Grab your favorite peeler and take the skins right off your lovely little potatoes. Or leave the skin on, if you prefer! It contains the bulk of nutrients – including fiber, potassium, and vitamin C. Personally, I toss mine with seasoning salt and a little Italian dressing and bake them separately at 400 degrees for 20 minutes or so. They're one of my favorite movie night snacks!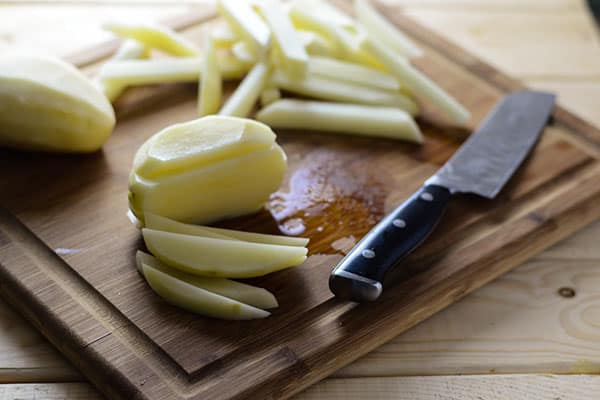 Grab a nice, sharp knife and cut those taters into 1/3- to 1/2-inch sticks. Try to cut them all uniformly, so they bake evenly…although, I love to snack on the little, extra crispy ones when they're fresh out of the oven! I recently stumbled upon this french fry cutter, I just ordered one and I can't wait to get it. It will make this process that much easier!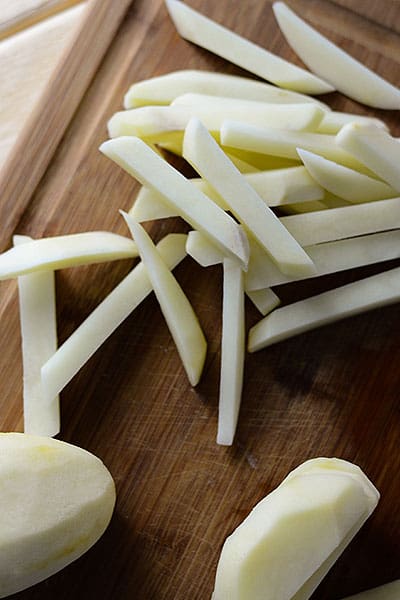 Look how pretty!
As you're cutting, soak the sticks in a bowl full of lightly salted water so they don't turn brown and ugly, which they tend to do when they're exposed to air for too long.
Let those babies soak a few more minutes, and brush some olive oil on a baking sheet. Chop up your basil and butter, and grab your seasonings. Get ready to make the magic happen!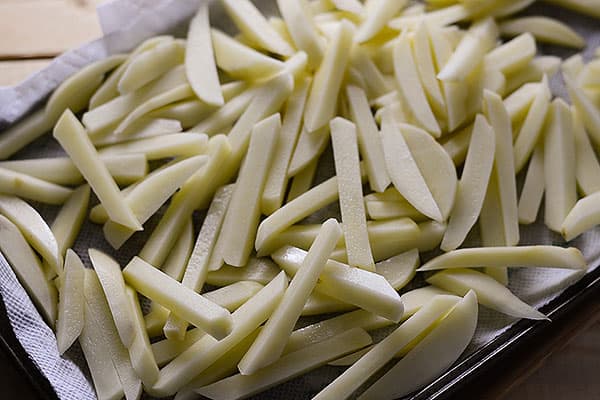 Drain your future fries on a few paper towels, and be sure to blot them as dry as you can before spreading them out on your baking sheet. It's alright if they touch!
Sprinkle them with your salt, pepper, garlic powder, and some love. I mean basil! Yes, sprinkle the basil next. And feel free to use more if you want to!
Then, it's time to drizzle on your olive oil, and scatter your yummy butter. I just can't help it, I love butter! It's not a lot, only a couple tablespoons, but it's just enough to add the touch you're looking for.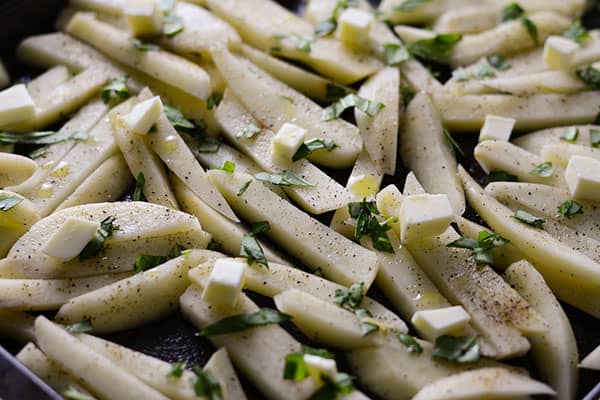 Now comes the hard part – waiting! Pop them in the preheated oven and bake them for 30-ish minutes, until they're barely browned. If you're adding cheese, the 30 minute mark is the time to do it. If not, simply toss the fries a bit, rotate the pan, and let them bake another 15-20 minutes.
And your reward for your patience?
Dinner!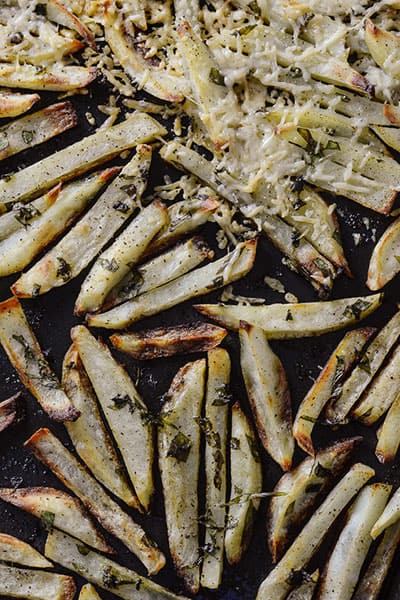 I could seriously just make this homemade french fries recipe for dinner and be happy. Maybe a little cheese sauce?
These are getting me hungry again!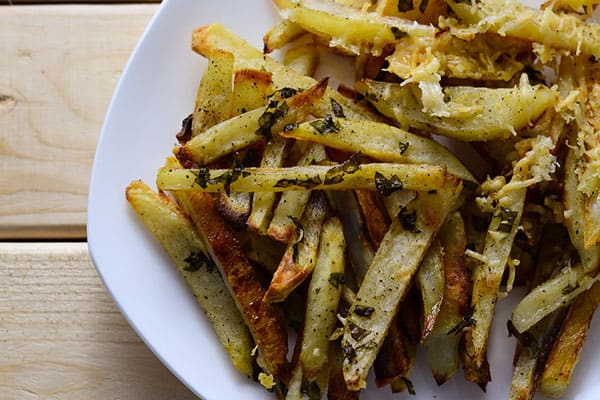 Print this recipe up and get baking!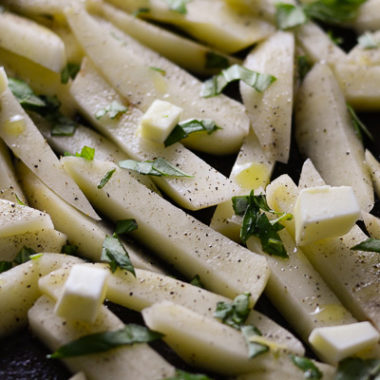 Oven Baked Basil French Fries
Fancy, homemade Oven Baked Basil French Fries are a perfect side dish for anything from Chicken Cordon Bleu to burgers on the grill!
Print Recipe
Ingredients
5-6

inch

Idaho potatoes

peeled & sliced into 1/3 thick fries, soaked in cold water

3

Tablespoons

olive oil

divided

1-2

Tablespoons

salt & pepper

1

Tablespoon

garlic powder

3

Tablespoons

fresh basil

chopped

2

Tablespoons

unsalted butter

cubed

1

cup

shredded or grated Parmesan cheese

optional
Instructions
Preheat the oven to 400 degrees.

Drain the fries and pat dry with paper towels. Use a pastry brush to spread 1 1/2 tablespoons of the olive oil on a rimmed baking sheet and spread out the potatoes.

Season with salt, pepper, and garlic powder, then sprinkle the basil evenly over the potatoes. Drizzle the remaining olive oil over the fries. Scatter the cubed butter around the pan (this helps create the lovely caramelized edges).

Bake 30 minutes, then sprinkle Parmesan on top if desired. Rotating pan, return to oven and bake an additional 15-20 minutes until the potatoes are golden brown. Use a spatula to remove the fries. Sprinkle with additional salt and pepper to taste. Serve hot.
Nutrition
Serving:
323
g
|
Calories:
450
kcal
|
Carbohydrates:
44.8
g
|
Protein:
12.1
g
|
Fat:
26
g
|
Saturated Fat:
11.2
g
|
Cholesterol:
45
mg
|
Sodium:
1978
mg
|
Potassium:
1163
mg
|
Fiber:
7
g
|
Sugar:
3.7
g
|
Vitamin A:
12
%
|
Vitamin C:
89
%
|
Calcium:
24
%
|
Iron:
12
%
If you like this recipe, I am sure you will also love my Easy One Pan Ranch Chicken And Potatoes Recipe. That recipe uses my DIY Copycat Homemade Hidden Valley Ranch Mix which would also be a great seasoning to add to these french fries, so go check them out too!