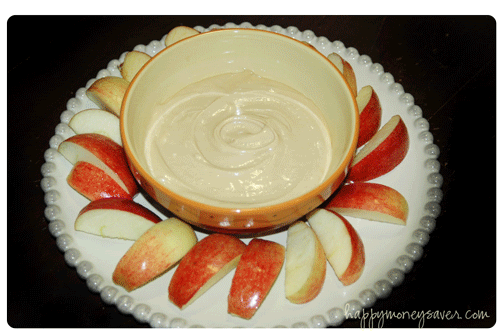 My friend Julie shared this dip with some apples a few days ago with me and I LOVED it. If you know me, you know that I am kind of picky and don't really like trying new things too often. So when I first saw this I was kind of like…hmmmmm should I try it? I am not always a big fan of fruit dips-n-such. Well, I decided to try it and it was so DELICIOUS!! It tastes almost-like-caramel and is perfect with the apple. There was a happy party goin' on in my mouth. So good and a great way to tempt my kids to eat fruit.  Added Bonus: there are just a few ingredients that most of us have on hand.
Ingredients:
1 8oz box Cream Cheese, softened
1 Cup of Brown Sugar
1 Teaspoon Vanilla
Apples
Directions:
Mix the cream cheese, brown sugar and vanilla until well blended and all the sugar grains have dissolved. I just left my kitchen-aid on blending for about 1-2 minutes. Then refrigerate or serve immediately if you have zero patience like me.
Just dip your apples in and prepare yourself to *happy sigh* (yeah it tastes that good).  This is the best apple dip!