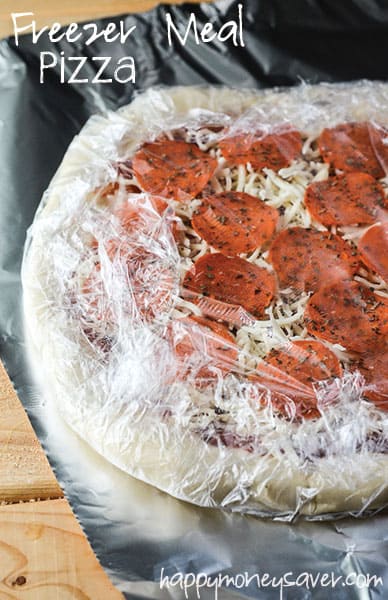 Theres nothing quite like a fresh from the oven homemade pizza, am I right? That soft, chewy crust, warm sauce, and melty melty cheese gets me every time. When you don't know what to have for dinner, pizza is a perfect solution!
Unfortunately, life can make homemade pizza hard to come by. After spending 8 hours at work, who wants to come home and roll out dough?
Delivery is always an option, but it never quite tastes the same as something you made with your own two hands. And the price of frozen grocery store pizza is just out of hand!
The obvious solution to the problem? Homemade freezer pizza!! Of course!
But how? What is the secret to keeping the freezer burn away??
Freezer Pizza
First, you wanna start with a great dough recipe. Pizza dough (and bread dough in general) is super easy and super cheap to make, and you likely already have most of what you need at home to make it. I like to use this recipe, but there are a number of them on the internet that you can use.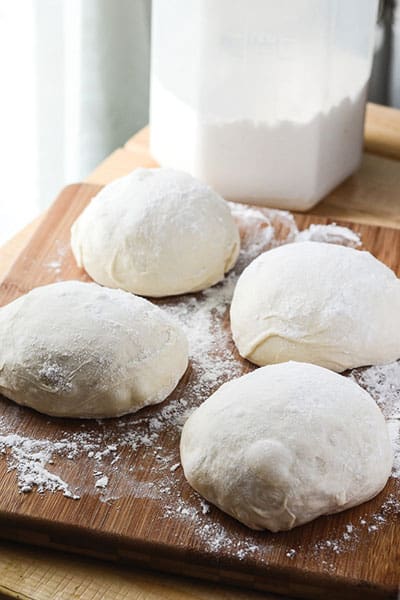 So first, you mix up your dough and press it out, pizza-style. Rimless baking sheets and pizza pans are great for this task, but if you have a pizza stone, use it! They're always wonderful.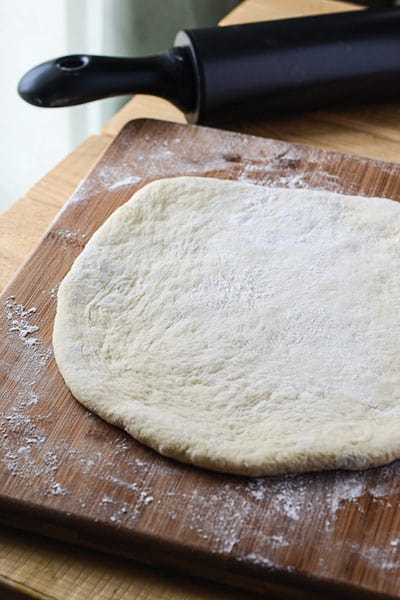 Don't forget to poke it all over with the tines of a fork (or if you do a lot of pizza baking, use a dough docker!), leaving about 1/2 inch to 1 inch on the edges alone to form your crust. This will keep air bubbles from poofing up in the middle and making topping it harder.
(If some do poof up, just press them down while it's still hot – be careful!)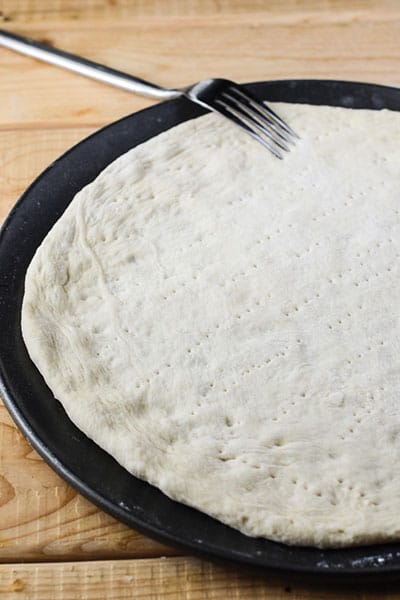 The next step is to bake it! But only a little bit – a 425 degree oven for 3-5 minutes should do, just enough to dry it out and puff it up a bit, so the sauce doesn't sink in and make it all soggy.
Look at that pizza shape!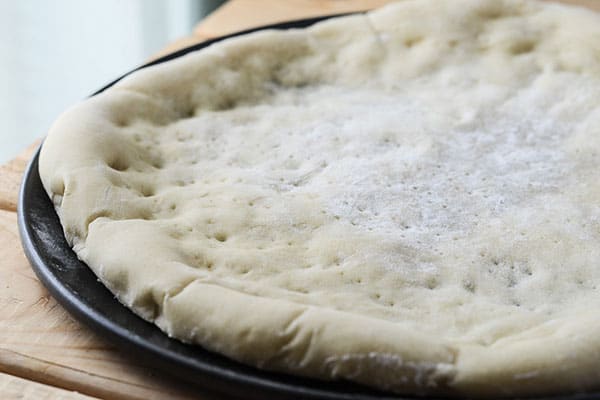 Next is the fun part – toppings! Feel free to grab the kids to help with this, especially if you're making a bunch.
Spread on your sauce (I have a great recipe for it right here)…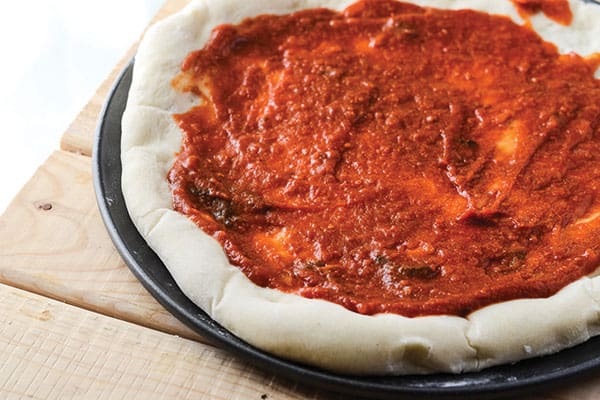 Then your cheese…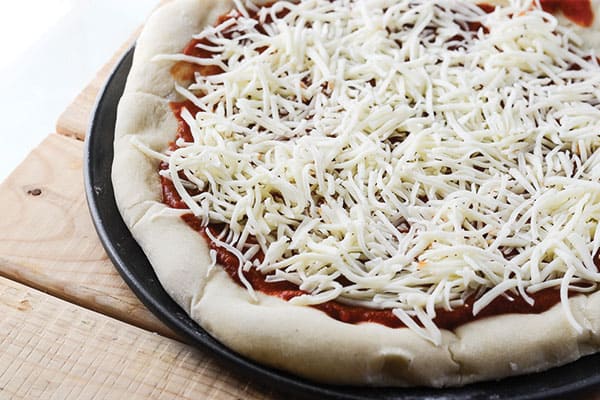 Then whatever meats and veggies you want! Meats should be already cooked, and go for veggies that freeze well, like tomatoes, peppers, and onions (you can always add mushrooms and those other water-absorbing things when you are ready to bake it.)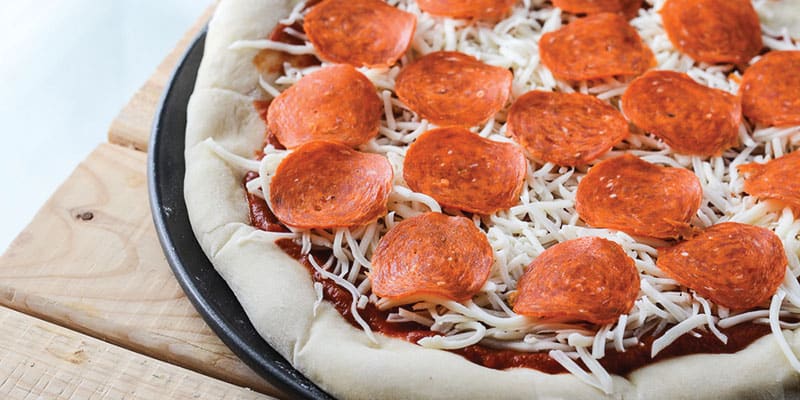 When you're all topped up, toss those babies, uncovered, in the freezer for 2-3 hours, and let them get nice and firmed up. This makes life a lot easier when you're ready to move on to the ultimate secret…
Double wrapping! Wrap your pizzas in a few layers of plastic wrap first, making sure they're completely covered tightly. Then, wrap a couple sheets of aluminum foil around them, creating a magical frost barrier!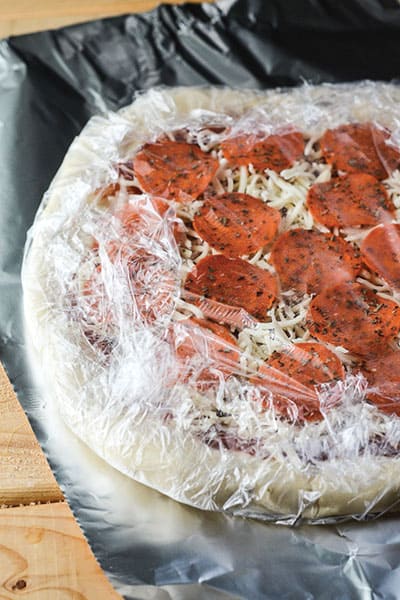 Label them with a permanent marker, so picking dinner is easy for whomever is tossing it in the oven, and toss them back in the freezer.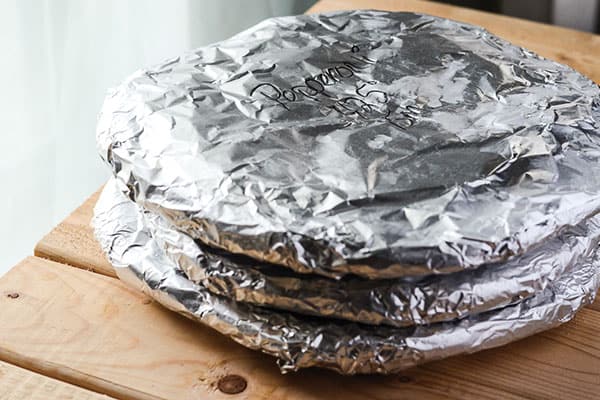 When you're ready to bake them, place them on your pizza stone or pan, and place them in a 425 oven for 13-20 minutes, depending on what's on them and how thick your crust is.
Easy peasy, right?! You could have homemade pizza every night of the week this way! And it's definitely cheaper than delivery!
I threw a recipe card in here for you, although everything with pizza is totally up to your discretion!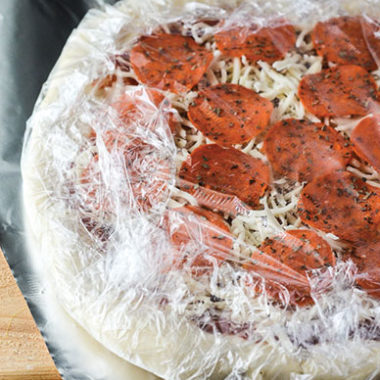 Freezer Meal Pizza
Homemade freezer meal pizzas are a cinch with this quick and easy recipe!
Print
Pin
Rate
Ingredients
1

pound

pizza dough (white

wheat, multigrain)

1/4

cup

pizza sauce (marinara

alfredo, pesto)

1-2

cups

cheese

shredded or sliced (mozzarella, Parmesan, cheddar, fontina, provolone)

1/2-1

cup

meats (pepperoni

Italian sausage, bacon, ham, ground beef, salami, prosciutto)

2-3

cups

assorted vegetables (onions

peppers, mushrooms, tomatoes, garlic, pineapple)
Instructions
Allow dough to rest on the countertop until doubled in size (at least an hour if taking it from the fridge). Roll with a rolling pin and/or press with the palm of your hand, forming it into a 10-12 inch round disc.

Place dough on pizza stone or pan, and poke all over with tines of a fork.

Bake for 3-5 minutes in a preheated 425 degree oven.

Remove from oven and allow to cool 10 minutes, then top with choice of sauce, cheeses, meats, and/or vegetables.

Set each pizza on parchment rounds, stack gently, and place in freezer, uncovered, for at least 2 hours, or until frozen.

Remove pizzas from freezer, and wrap each tightly with plastic wrap, then with aluminum foil.

Label each pizza with flavor, oven temperature, and time. Pop them back in the freezer until ready to use!
Nutrition
Serving:
1
pizza
|
Calories:
2162
kcal
|
Carbohydrates:
198.9
g
|
Protein:
26.9
g
|
Fat:
140.01
g
|
Saturated Fat:
34.9
g
|
Sodium:
2416
mg
|
Potassium:
268
mg
|
Fiber:
16.4
g
|
Sugar:
2.7
g
|
Vitamin A:
100
IU
|
Vitamin C:
8.3
mg
|
Calcium:
60
mg
|
Iron:
12.8
mg