Freezer meals for two are perfect for newlyweds, empty-nesters, and everyone in between. It is a great way to save money and time with perfectly-portioned meals. These recipes also are great for quick breakfasts, lunches, and dinners when everyone needs to eat at different times!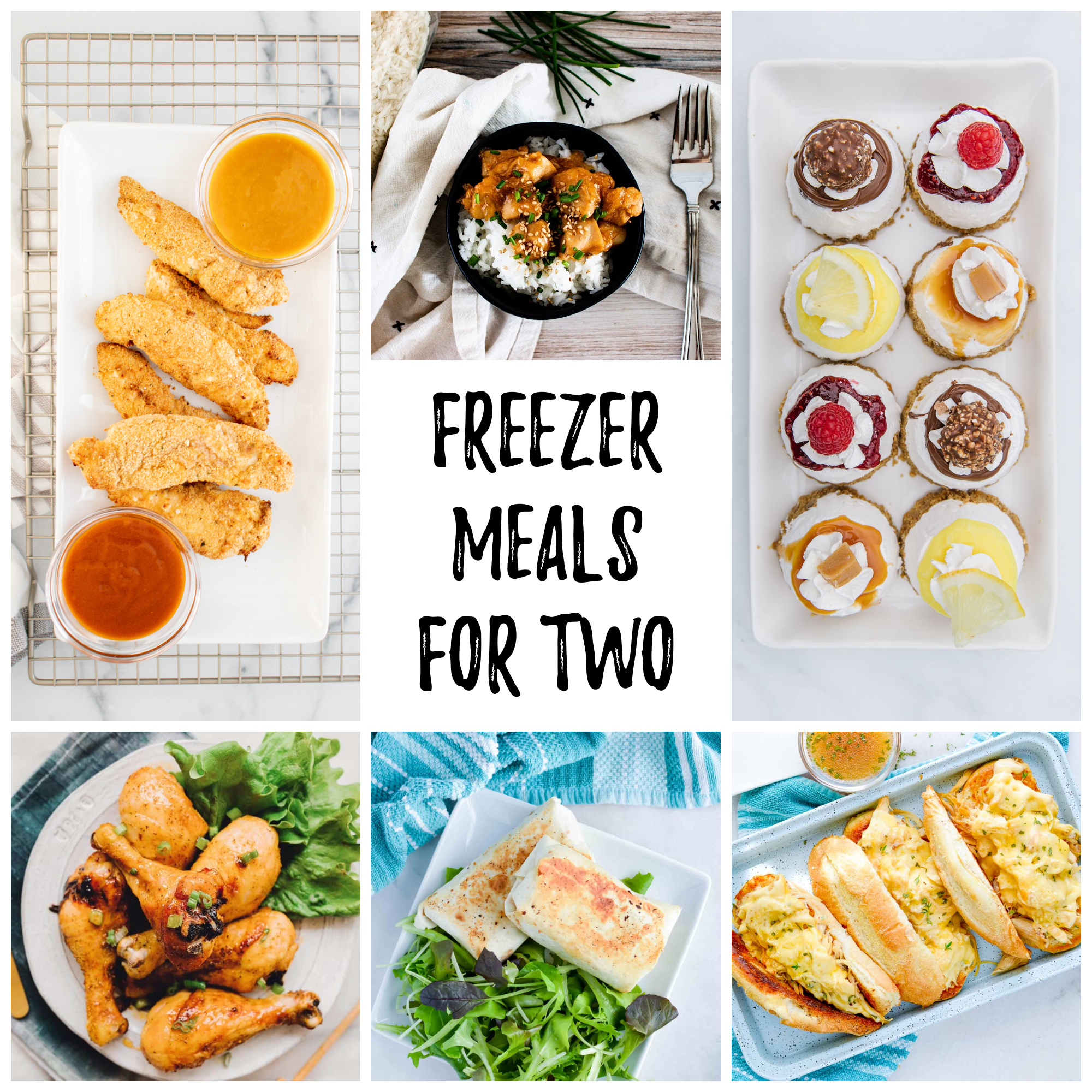 Taking time to cook every single day requires a ton of time especially when you are only cooking for two people but when you have a freezer stashed with perfectly-portioned food, mealtimes are a breeze!
It makes all the difference and it saves you money in the long run. No more wasting food when you make a big pan of lasagna or enchiladas. Freeze it and eat it over the next couple of months.
HOW DO I MAKE FREEZER MEALS FOR TWO PEOPLE?
Many of the freezer meals featured on my site can be made for two! So that takes most of the guesswork out of it for you! When you've found a freezer meal you love and want to try for your next date night or meal for two, look at the servings sizes outlined in the recipe and then divide the recipe into smaller portions, label it, and date it. Simple, right?
Not sure where to start? Almost all of my recipes from my 15 Actually Easy Freezer Meals (Seriously!) can be divided into smaller amounts, making them perfect for freezer meals for two!
TIPS FOR PACKAGING FREEZER MEALS
For casseroles or enchiladas, rather than making the casserole in a large 9×13, get two 8×8 foil pans and split up the meal between the two. Make sure to adjust the baking time accordingly. What's great about foil pans is they're cheap and they can be used time and again, if they're cleaned and cared for properly.

Soups, chilies, and stews are easy when making freezer meals for two because you can split the soup into freezer bags however you want. Split it up into individual portions, split it in fourths, or split it in half—whatever makes the most sense depending on the size of the recipe. You can also use mason jars, plastic containers, glass containers – as long as they are freezer-friendly. It will say on the package!

Crockpot meals are a little more difficult because for a slow cooker to cook the food properly, it needs to be at least half full, though some require that they are three-quarters full (check the cooker's user manual to be sure). If it's not full enough, your food will get dried out and burned. So for freezer crockpot meals for two, make sure you're using the right size of slow cooker, such as a 3.5 or 4-quart slow cooker rather than a 6-quart slow cooker. You could also cook your meal and after it cools, split up the meal into smaller portions and freeze it.

If you are making items like chicken strips or hamburgers, freeze them first in single layers on a cookie sheet for a couple hours and then add then into a resealable freezer bag so they are easy to grab as many as you need at a time.

Breakfast sandwiches and burritos work well when you wrap them individually in foil.
HOW LONG DO FREEZER MEALS LAST?
When it comes to how long your recipe may last in the freezer, each make-ahead freezer meal will have the recommended freezer time in the original recipe. Good news! Most of the freezer meals on my site should last about 3-6 months, but for the absolute best taste, I suggest eating them within 3 months.
FREEZER MEALS FOR TWO
Breakfast Freezer Meals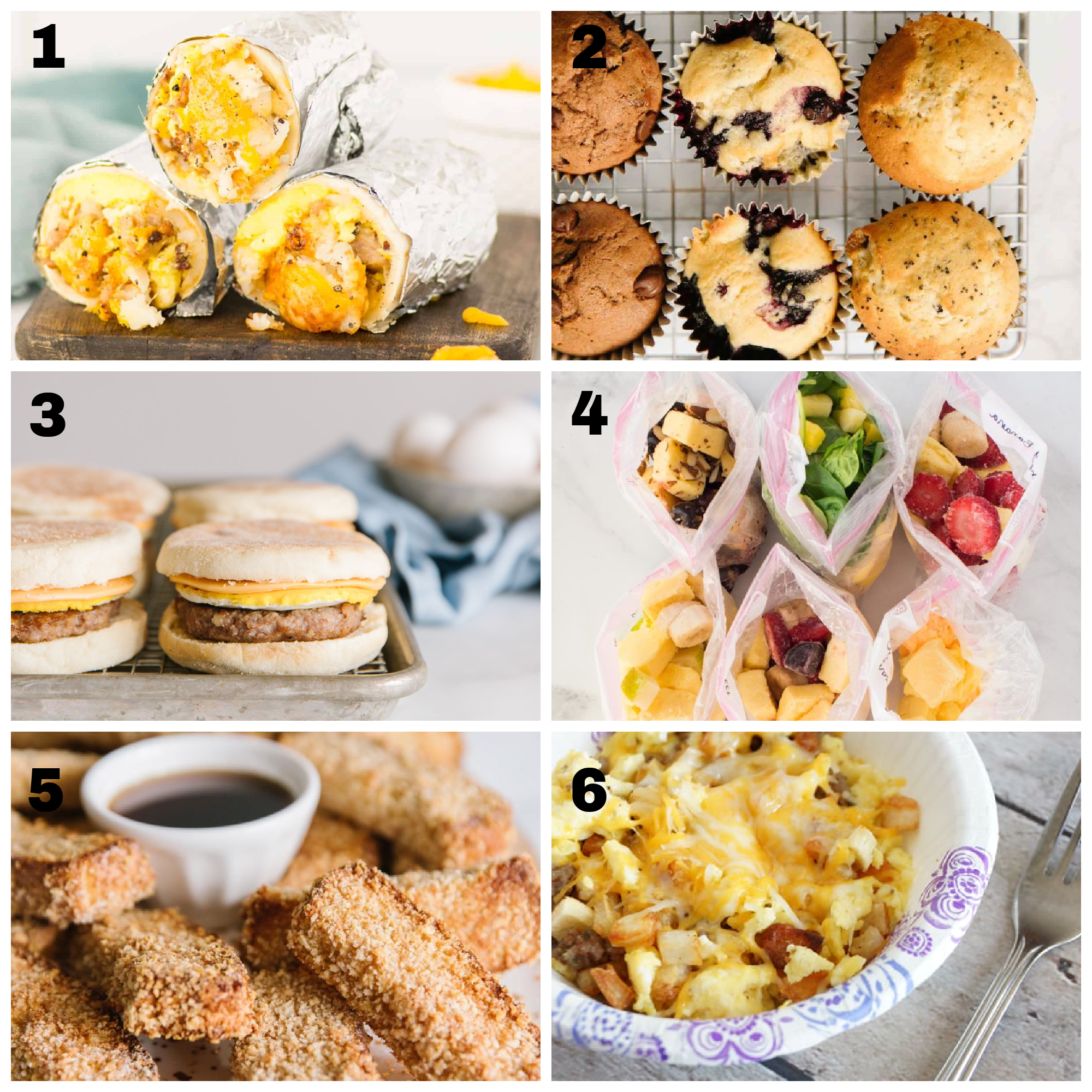 1. Breakfast Burritos
2. Bakery Style Muffins
3. Sausage McMuffin Make-Ahead Breakfast Sandwiches
4. Smoothie Packs
5. French Toast Sticks
6. Breakfast Bowls
Main Freezer Meals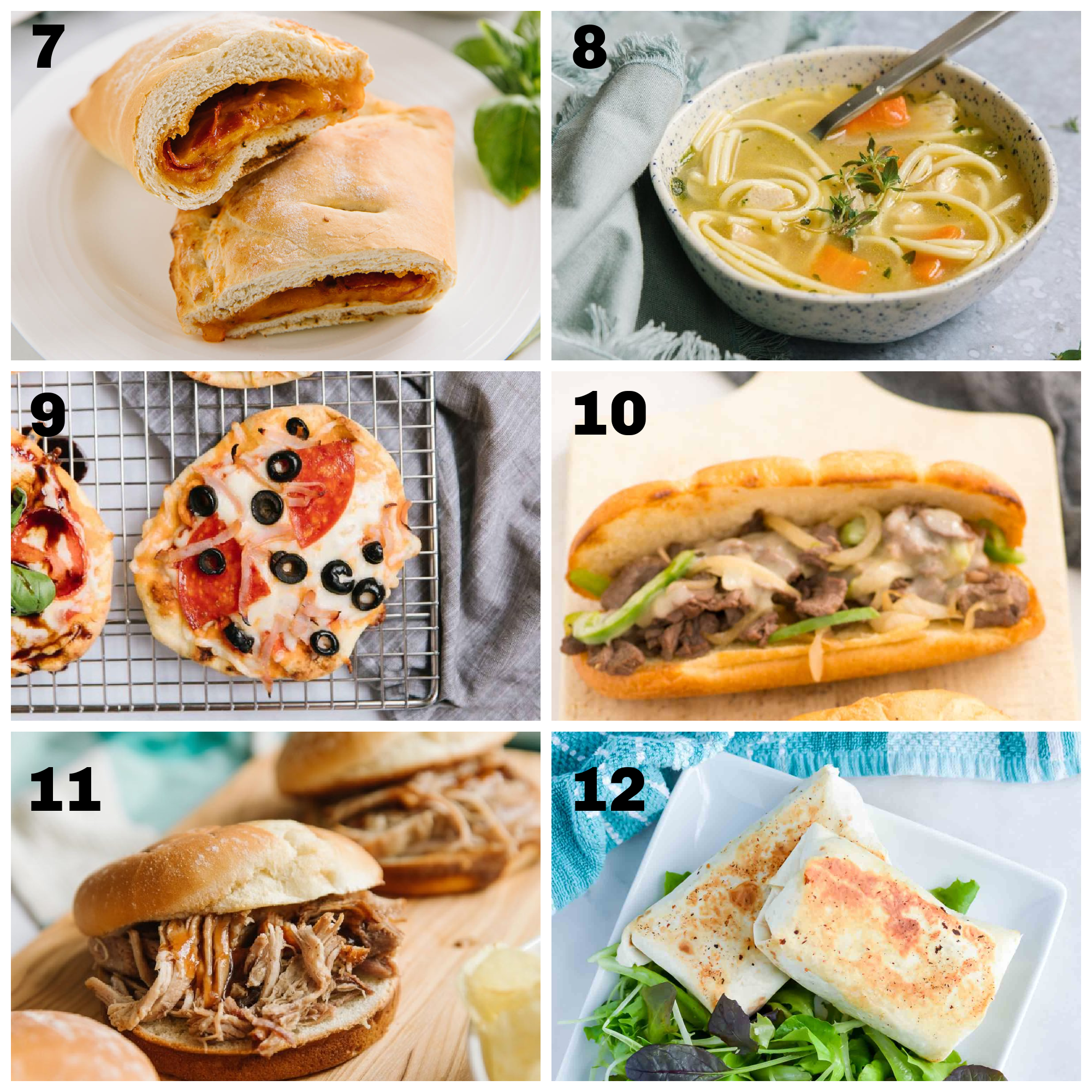 7. Homemade Hot Pockets
8. Chicken Noodle Soup
9. Mini Naan Pizzas
10. Philly Cheesesteak Sandwiches
11. Pulled Pork Sliders
12. Easy Chicken Burrito Recipe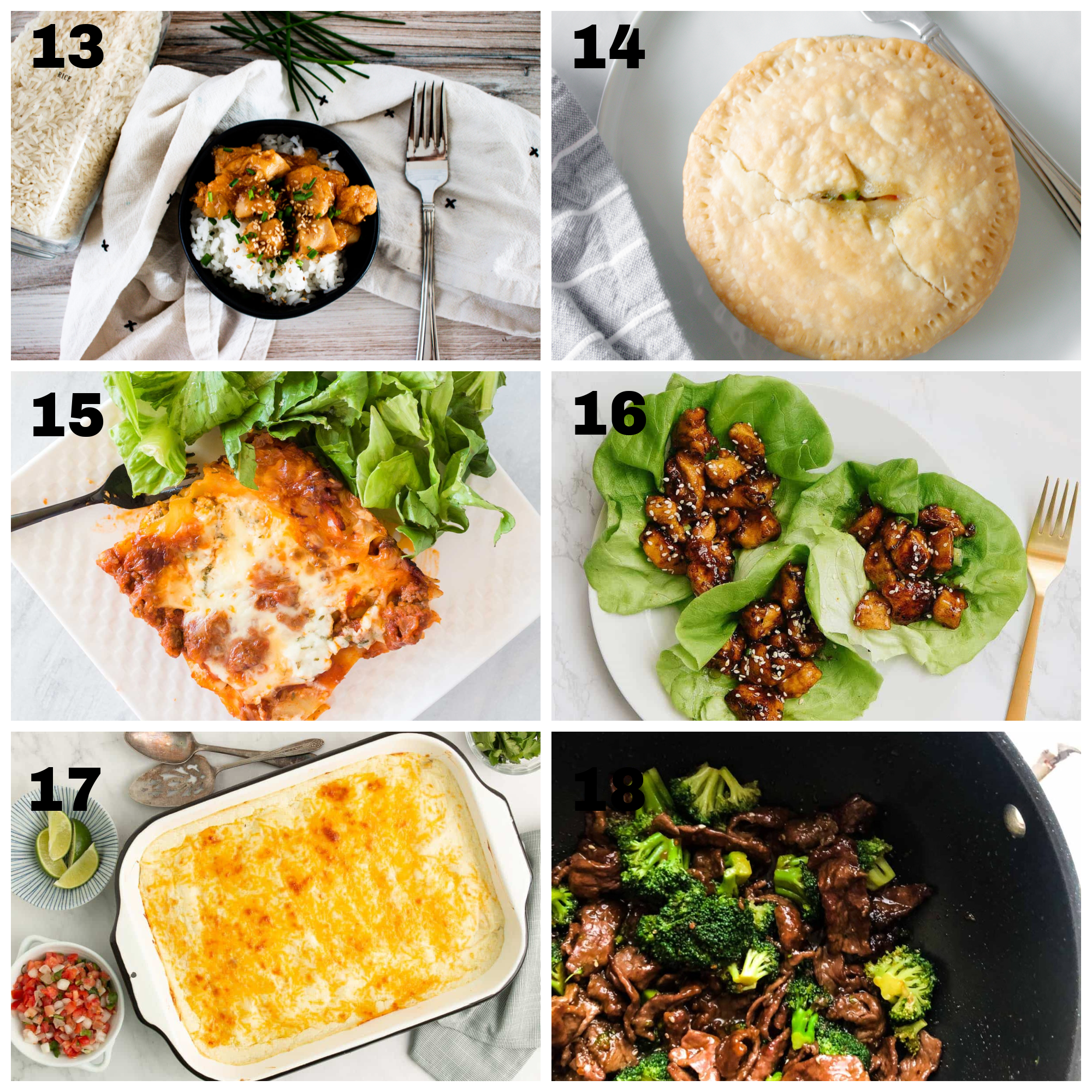 13. Instant Pot Teriyaki Chicken
14. Mini Chicken Pot Pies
15. Homemade Lasagna
16. Sesame Chicken Lettuce Wraps
17. Creamy White Enchiladas
18. Beef and Broccoli Teriyaki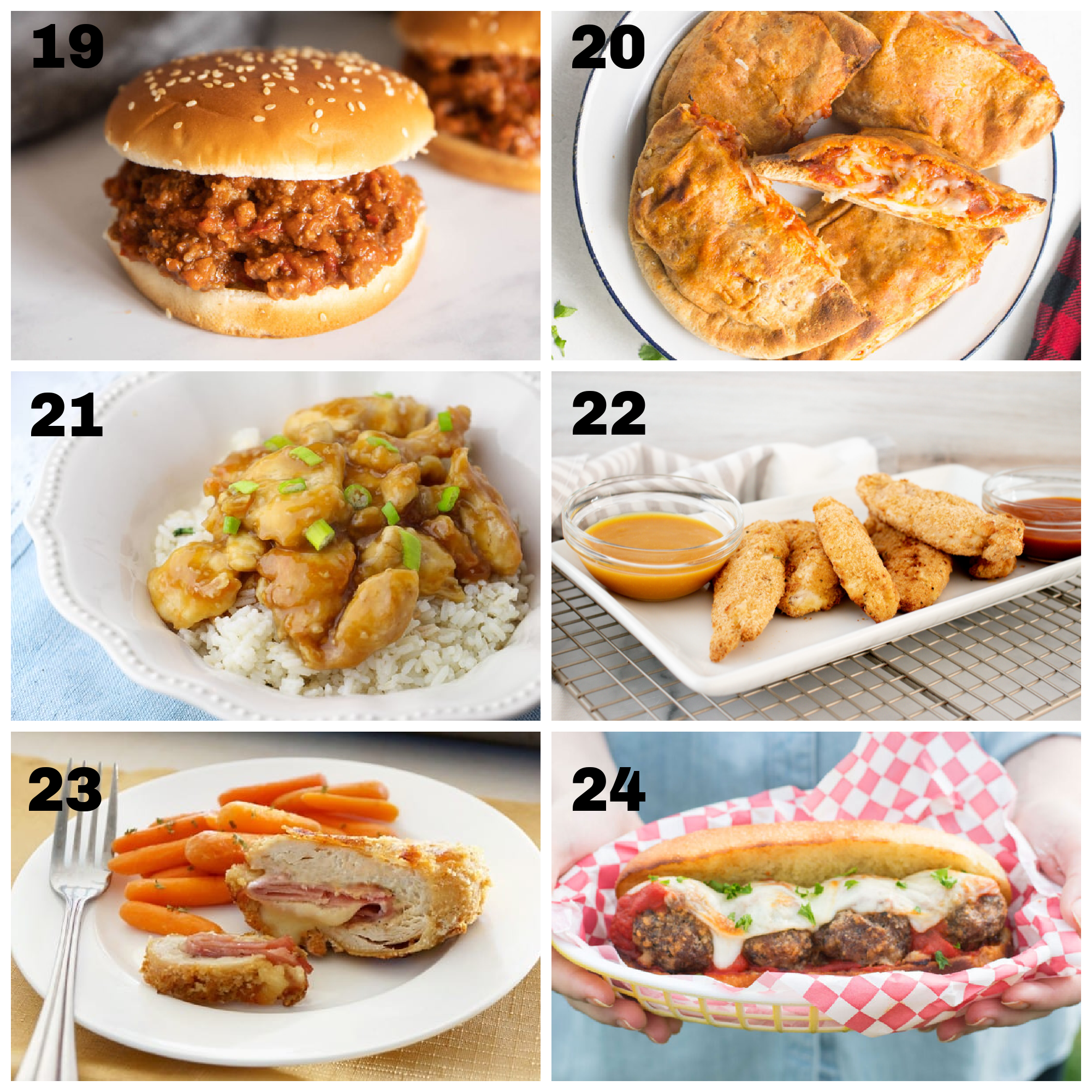 19. Sloppy Joes
20. Homemade Pizza Pockets
21. Orange Chicken
22. Oven-Baked Chicken Strips
23. Chicken Cordon Bleu
24. Meatball Subs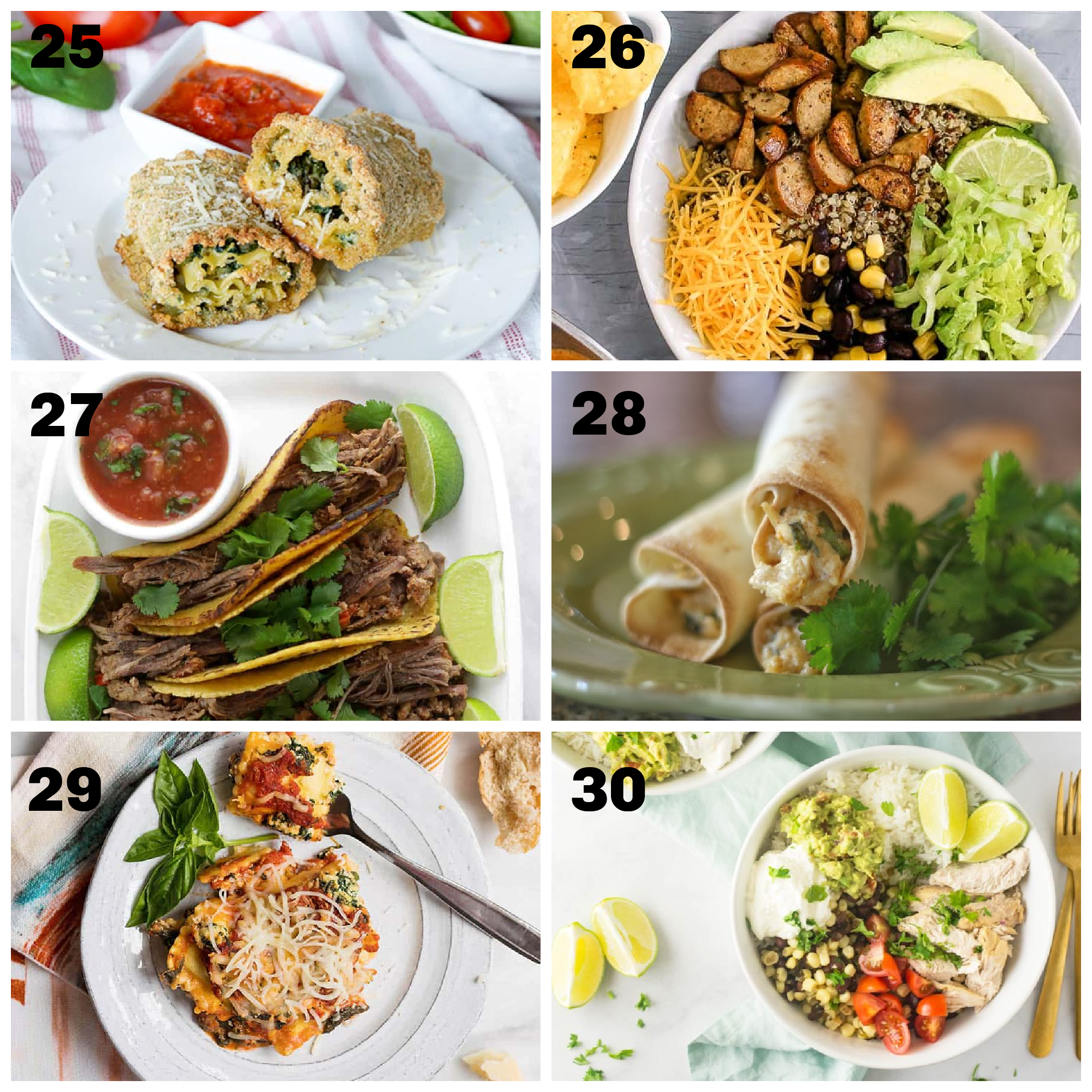 25. Pesto Spinach Lasagna Roll-Ups
26. Quinoa Burrito Bowls
27. Instant Pot Shredded Beef Fajitas
28. Homemade Chicken Taquitos
29. Ravioli Lasagna
30. Cilantro Lime Chicken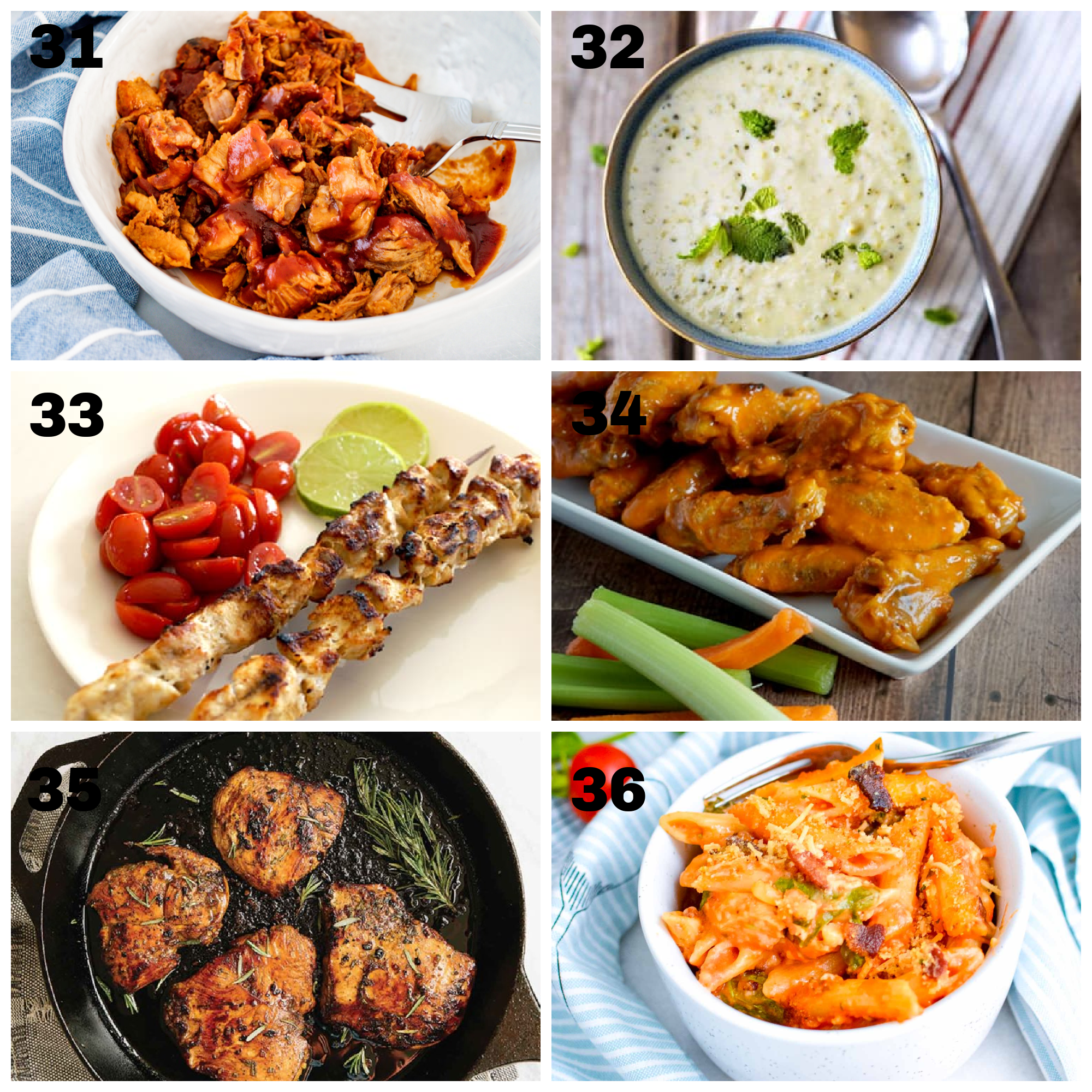 31. Slow Cooker Boneless Pork Ribs
32. Creamy Cheesy Broccoli Soup
33. Garlic Lime Chicken Kabobs
34. Homemade Chicken Wings
35. Balsamic Rosemary Chicken
36. Baked Chicken Pesto Alfredo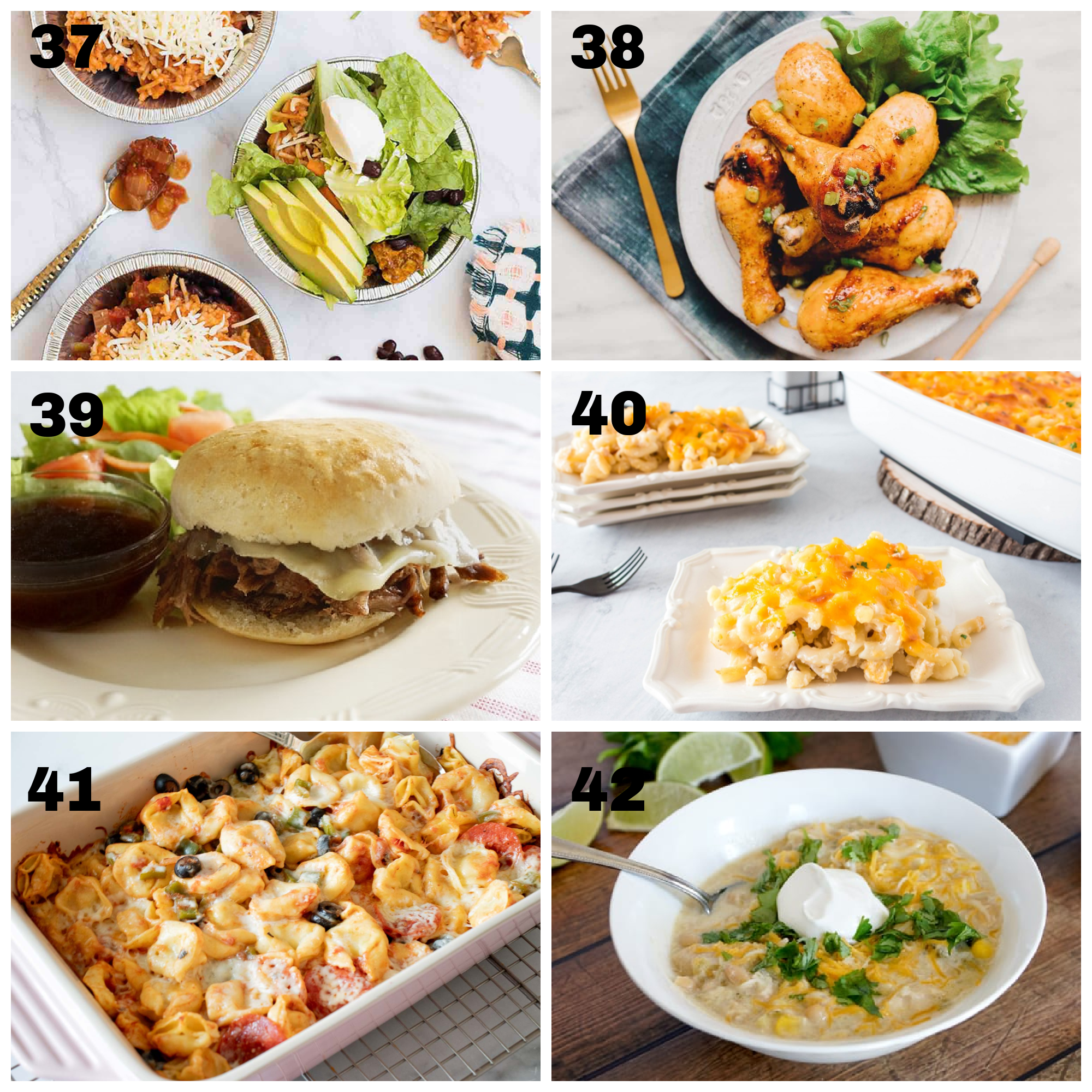 37. Chicken Burrito Bowls
38. Spicy Honey Chicken Drumsticks
39. French Dip Sandwiches
40. Tuna Casserole
41. Cheesy Pizza Tortellini Bake
42. Creamy White Chicken Chili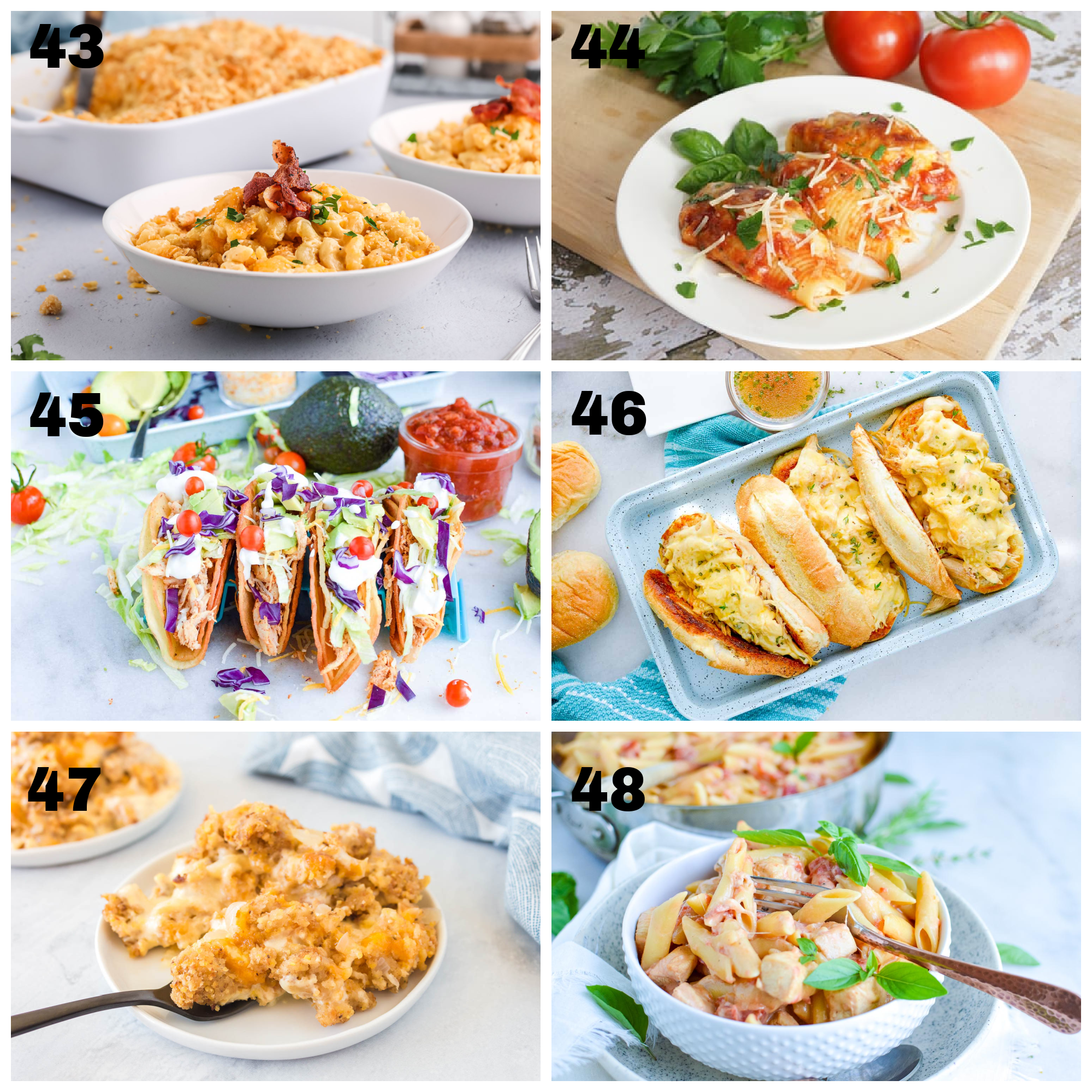 43. Creamy Baked Mac and Cheese
44. Stuffed Shells
45. Easy Shredded Chicken Tacos
46. Chicken French Dip Sandwiches
47. Turkey and Stuffing Casserole
48. Garlic Chicken Pasta
Dessert Freezer Meals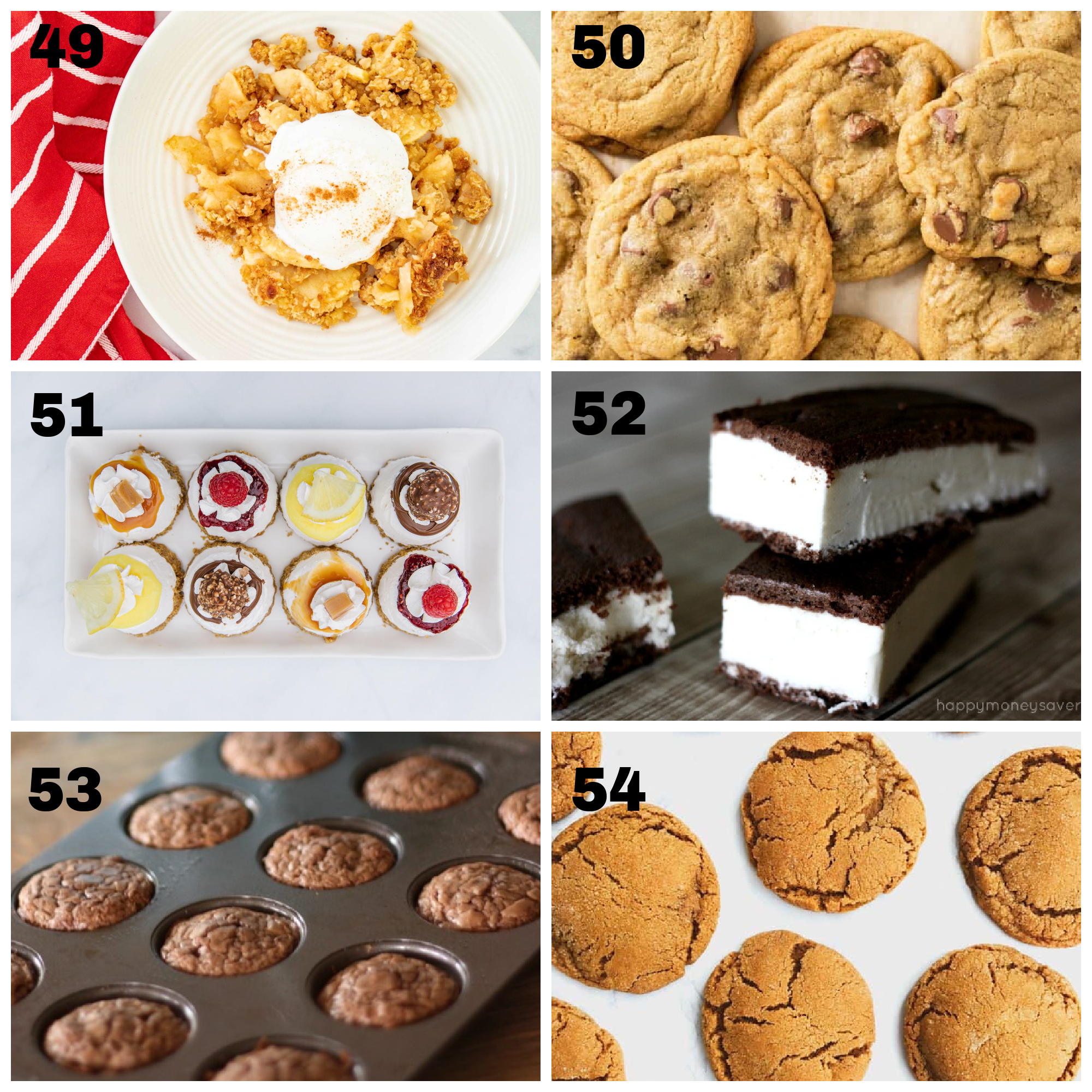 49. Apple Crisp
50. Chocolate Chip Cookies
51. Mini Cheesecakes
52. Homemade Ice Cream Sandwiches
53. Brownie Bites
54. Ginger Molasses Cookies
What are your favorite freezer meals? Do you have any recommendations for those making freezer meals for two? I'd love to hear about it in the comments on Instagram.
LEARN MORE FREEZER MEALS TIPS