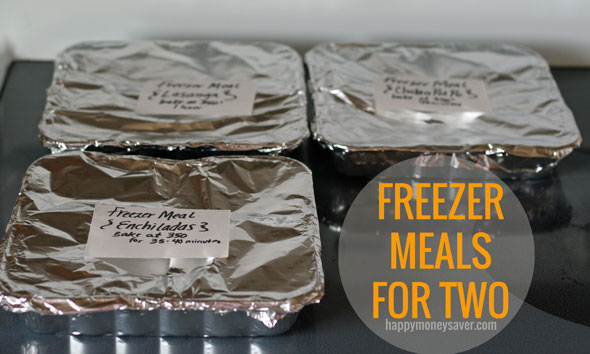 Freezer meals are a great way to save time during a hectic work week, but what if you just need meals for two of you? Here are some tips I pulled together to help the newlyweds, empty-nesters and everyone in between.
How Long Will Freezer Meals Last?
Generally, as long as you've wrapped and stored the meal properly, freezer meals last at least 3 months and up to 6 months and still taste great. Note that this has to do with quality. Basically food in the freezer can last indefinitely as long as the temperatures in the freezer remain low enough, but if food isn't stored properly or is in there too long, when you thaw it and cook it, it might have a weird texture or strange taste to it and, well, it's just plain icky.
Cooking Freezer Meals for Two
The nice thing about freezer meals lasting so long is you don't have to worry about cooking only "recipes for two" like you do for typical meals. Take any recipe that has been deemed "freezer-worthy" and make it. If the recipe makes too much for just two people (including leftovers), split up the recipe into smaller portions. Just make sure to label the food with what it is and the date you made it.
Freezer Casseroles for Two
For casseroles, rather than making the casserole in a large 9×13, get two 8×8 foil pans and split up the meal between the two. Make sure to adjust the baking time accordingly. What's great about foil pans is they're cheap and they can be used time and again, if they're cleaned and cared for properly.
Check out my Homemade freezer friendly Lasagna recipe.
Freezer Soups for Two
Soups, chilies and stews are easy when making freezer meals for two because you can split the soup into freezer bags however you want. Split it up into individual portions, split it in fourths or split it in half—whatever makes the most sense depending on the size of the recipe.
Freezer Crockpot Meals for Two
Crockpot meals are a little more difficult because for a slow cooker to cook the food properly, it needs to be at least half full, though some require that they are three-quarters full (check the cooker's user manual to be sure). If it's not full enough, your food will get dried out and burned. So for freezer crockpot meals for two, make sure you're using the right size of slow cooker, such as a 3.5 or 4 quart slow cooker rather than a 6 quart slow cooker.
Or using fresh ingredients, slow cook your meal, then after it cools split up the meal into smaller portions and freeze. My rule of thumb for freezer meal cooking is something should only be frozen once, so don't use already frozen ingredients to begin with.
What are your favorite freezer meals? Do you have any recommendations for those making freezer meals for two? I'd love to hear about it in the comments.
Some other freezer meal helps you might like: