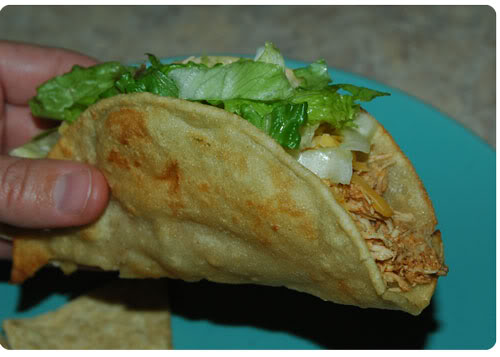 Recipe: Chicken Tacos
Here is one of the meals we eat all the time, and now that we have been able to score FREE tortillas lately we have been eating them a lot more frequently! I will share my family favorite homemade fresh salsa recipe in the future.
Here are the Ingredients:
4-6 Boneless, Skinless Chicken Breasts
Corn Tortillas
Shredded Cheese
Shredded Lettuce
Taco Seasoning
Sour Cream, Salsa, and other taco toppings you like
Olive, Vegetable or Canola Oil
Directions:
Toss your chicken breasts into your crock pot in the morning so they can slow cook all day. Add 1 cup of water or chicken broth along with the chicken. Slow cook 6-7 hours or on high 3-4 hours. Drain chicken reserving a little liquid. Add 1 packet of taco seasoning (I just sprinkle some in from my Costco container though).
For tortillas (and the part that makes these tacos irresistible…)add oil to small frying pan (about 1/4 inch). Heat to medium-high. Put the tortilla in the oil, it should sizzle and cook very quickly. When it is golden or crispish, flip it over and fold in half. Then hold up the top half of the tortilla out of the oil. After that side is golden, flip it up where the golden side is up out of the oil and the other side is cooking. When that side is done place let drain on paper towels.
Then after all your tortillas are ready, it is time to create your tacos and dig in. Just add chicken, cheese, tortillas and other toppings you like. Enjoy!