Take the stress out of your next camping trip with these delicious make ahead camping meals. Plan and prep the yummiest breakfast, lunch, dinner and even dessert options before you even leave your house.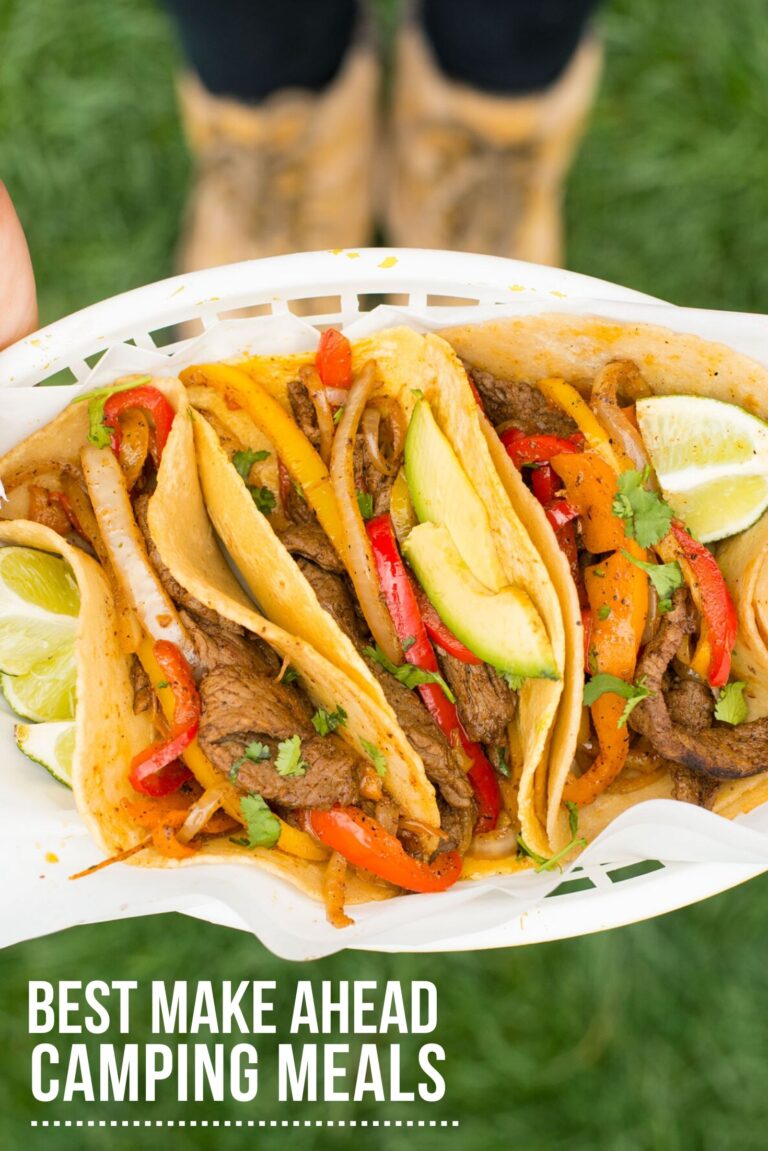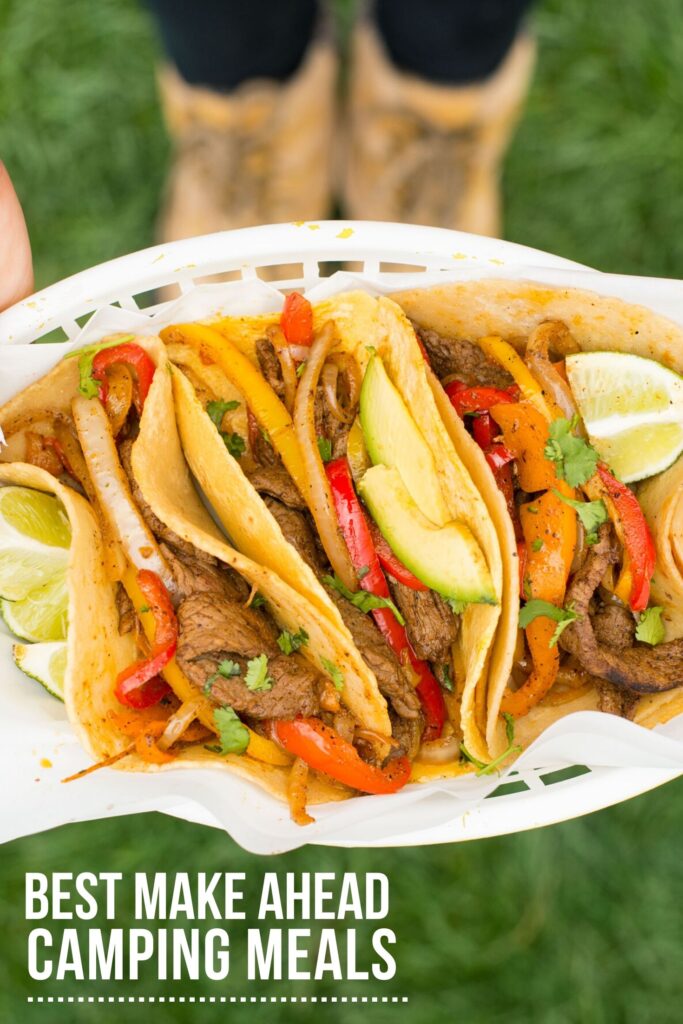 I have a few rules when it comes to camping meals. Any meal I pack has to:
Be affordable
Easy to prepare
Easy to clean up
Oh, and it also has to taste AMAZING!
But that doesn't mean anyone has to slave over a hot fire for hours making a meal. With a little preparation before you leave on your trip, all of your meals will be planned and ready to cook for the entire camp out.
From breakfasts of cornmeal pancakes and savory breakfast burritos to dinners of steak fajitas and pineapple chicken kabobs, these make ahead camping meals will make the camping trip stress-free! End the night around the fire indulging on warm apple crisp foil packets or cherry hand pies! This will be a camping trip to remember!
Meals are not the only things that I prepare before I go on a camping trip. Here are some of my favorite camping tips and resources to help you get ready for the big camp out!
CAMPING RESOURCES
So if you are planning to sleep under the stars or in an air-conditioned RV, leave the prep work for meals at home and get ready to camp!
BREAKFAST CAMPING RECIPES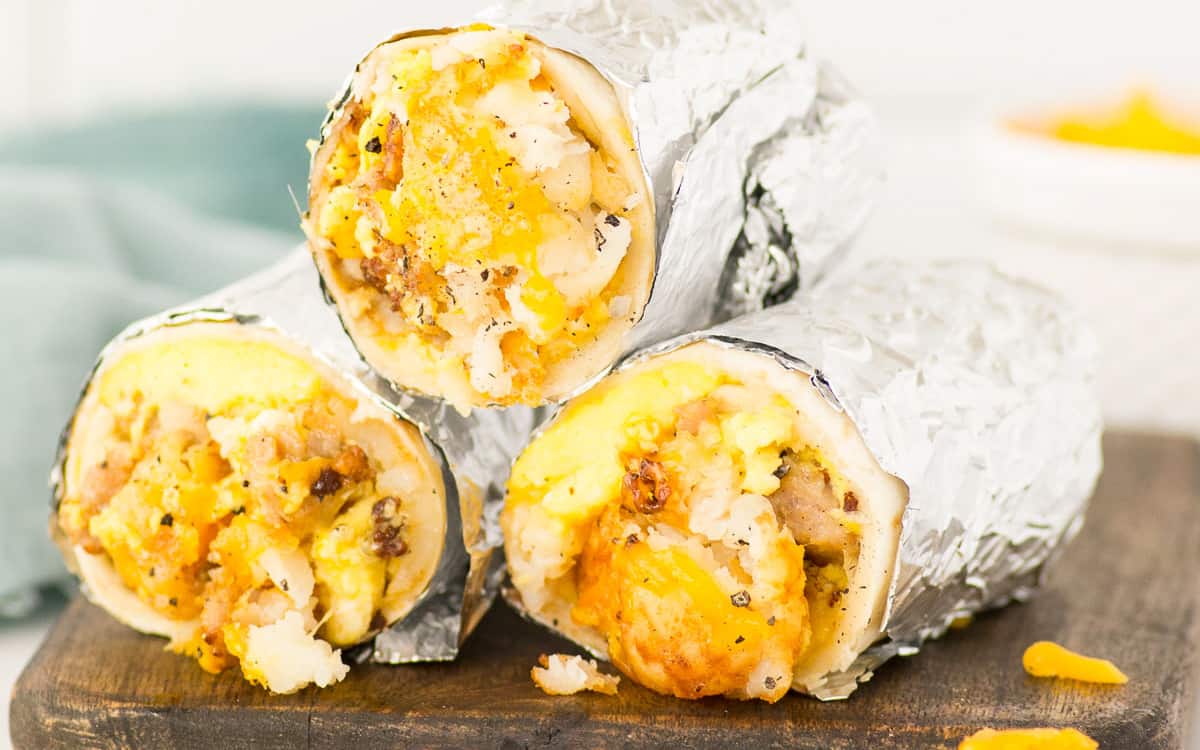 1. Breakfast Burritos: Filled with eggs, cheese, sausage, and potatoes wrapped in a tortilla, this breakfast recipe will satisfy even the biggest appetites. (via Happy Money Saver)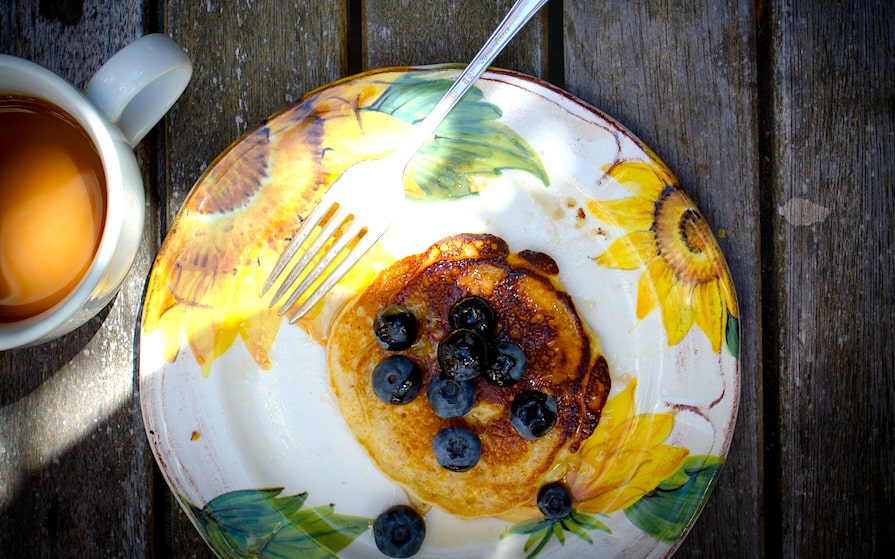 2. Homemade Cornmeal Griddle Pancakes: Waking up to a hearty breakfast of rich homemade cornmeal pancakes is a great start to a camping day! (via Chez Us)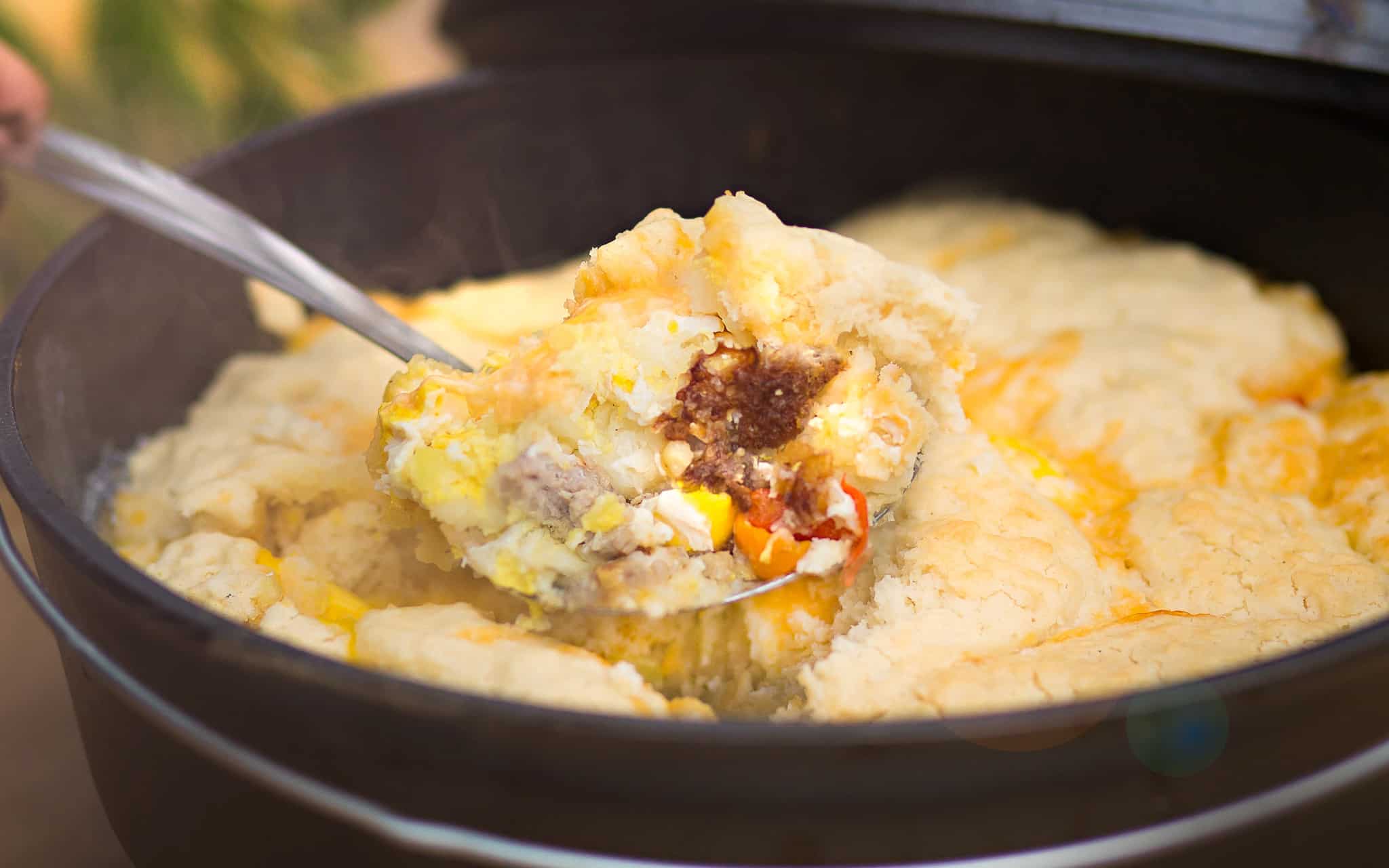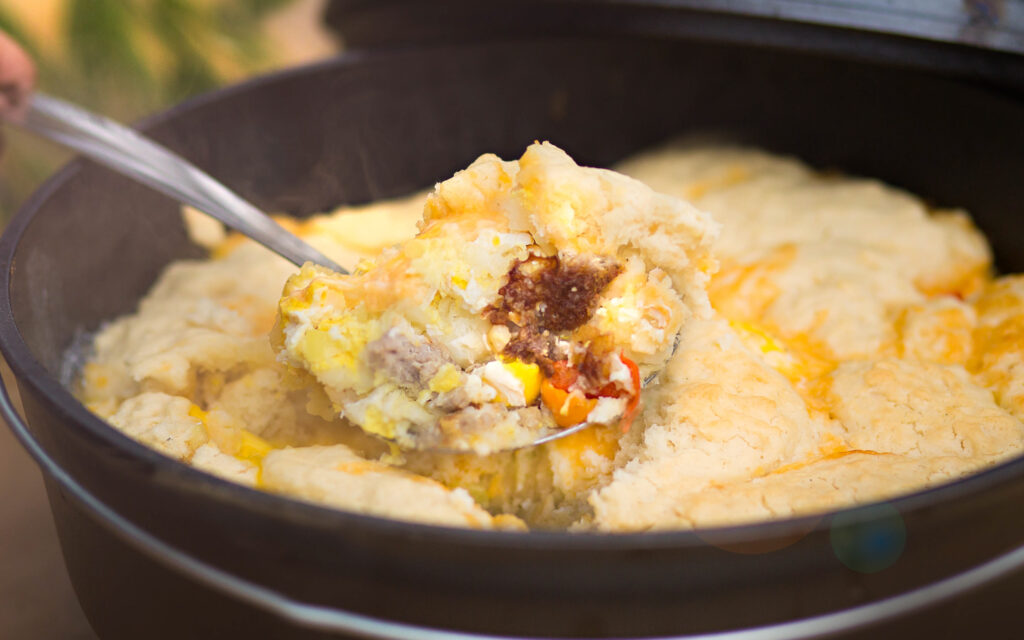 3. 5 Layer Dutch Oven Country Breakfast: Sausage, eggs, and potatoes topped with biscuits cooked in a Dutch oven large enough to feed the whole family. (via Happy Money Saver)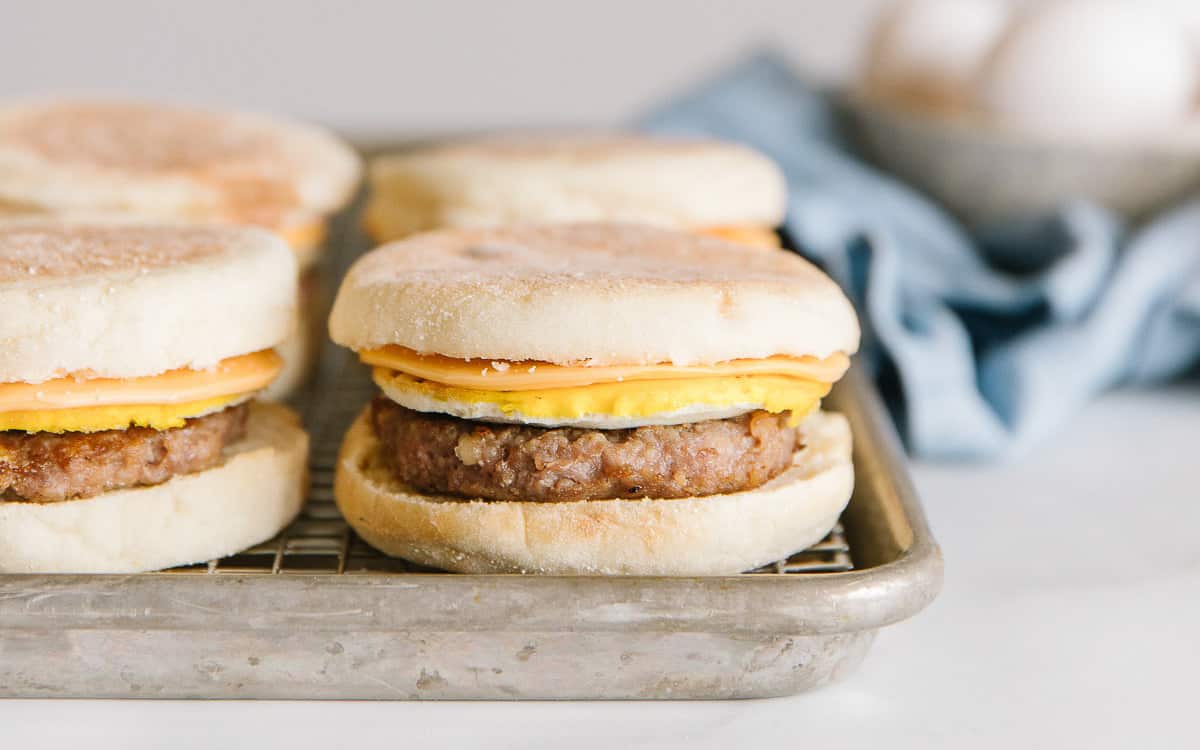 4. Sausage McMuffin Freezer Sandwiches: Toasted English muffin, fluffy eggs, melted cheese and savory sausage packed in a sandwich your family'll love! (via Happy Money Saver)
CAMPING LUNCH RECIPES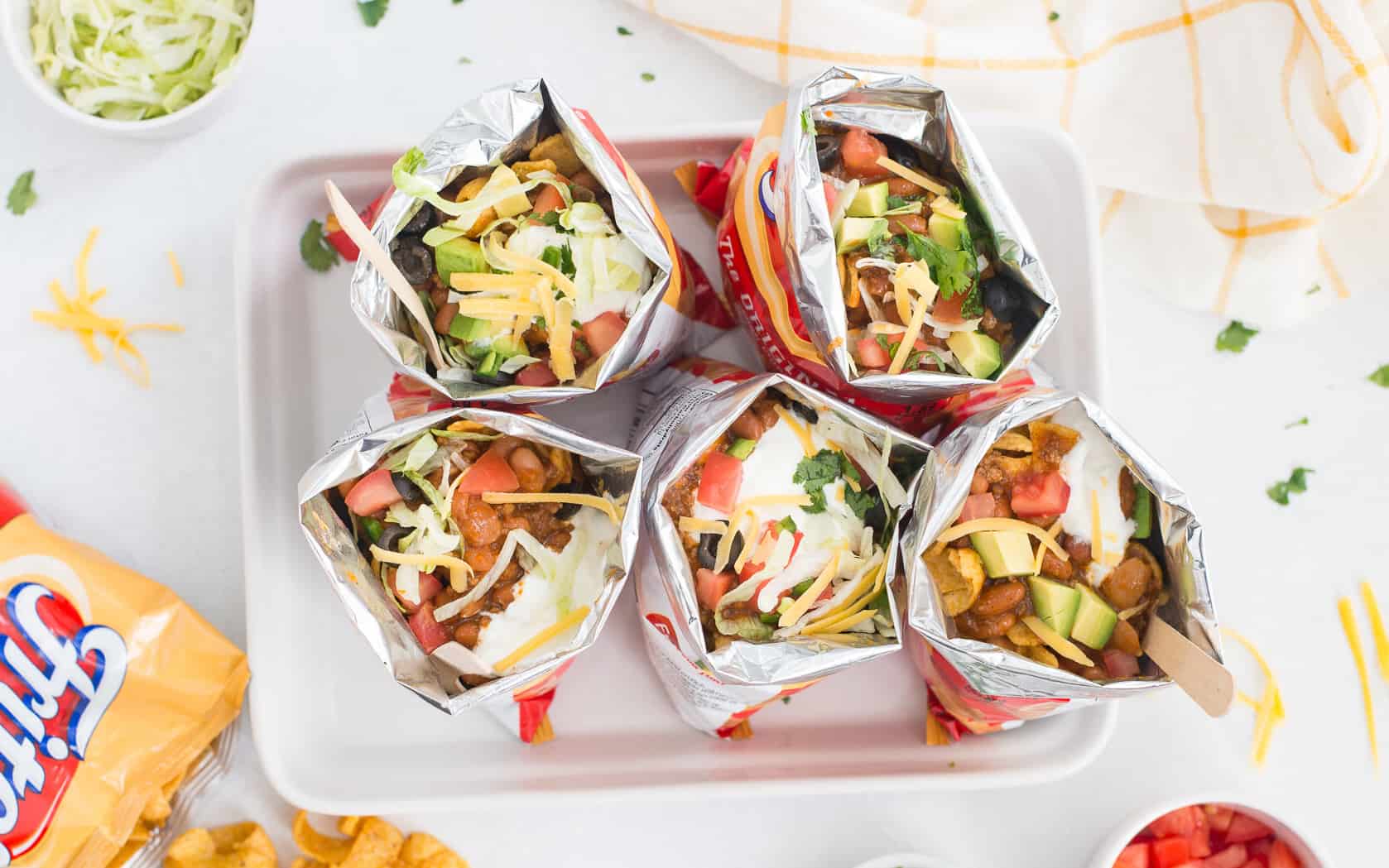 5. Frito Bandito: Easy camping meals for family start with a bag of Fritos with chili and topped with fresh taco ingredients. (via Happy Money Saver)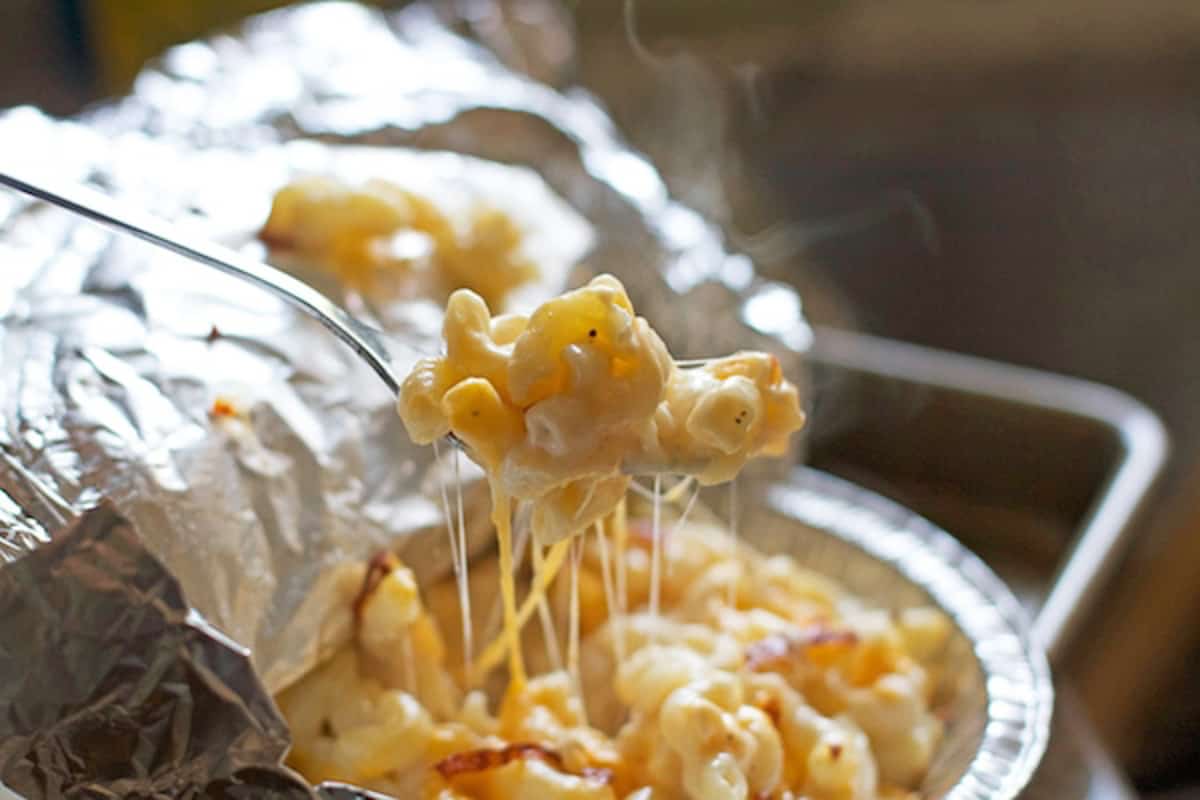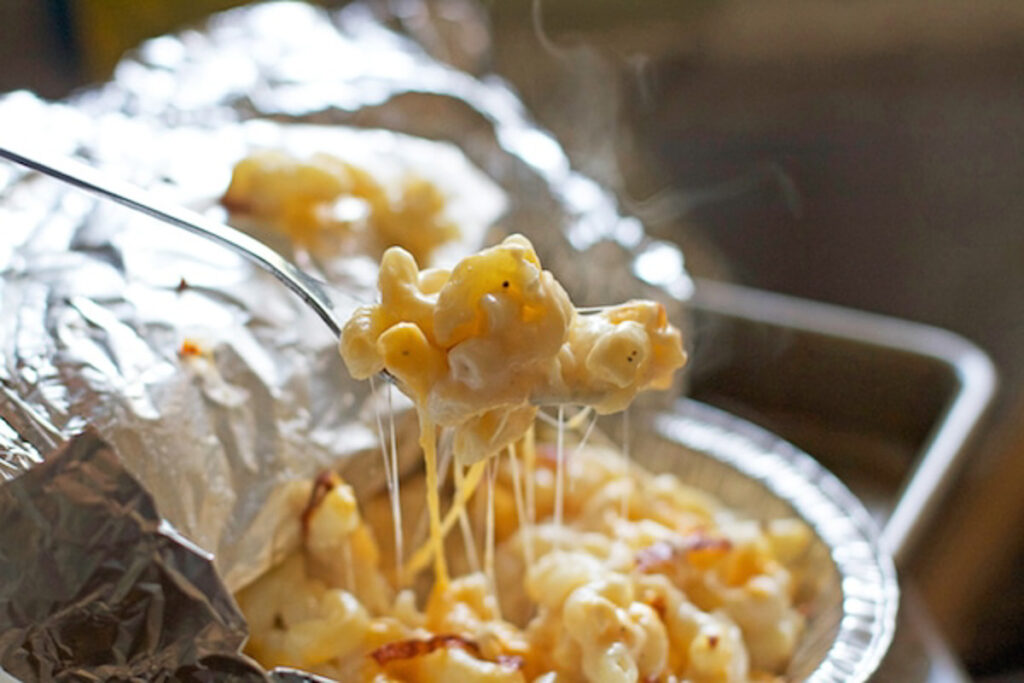 6. Campfire Mac and Cheese: The ultimate comfort food just became our favorite camping meal featuring pasta with cheddar, mozzarella, and Parmesan cheese. (via Lauren's Latest)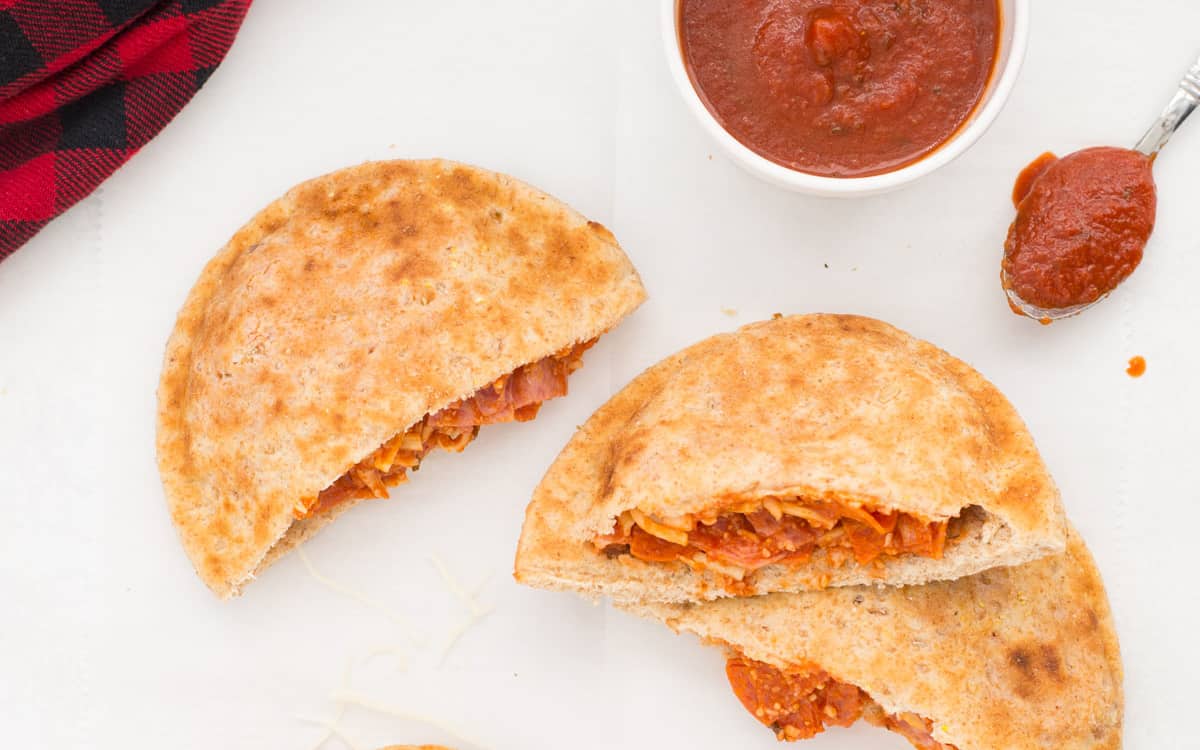 7. Pizza Pockets: One of the best easy camping meals for family is pizza pockets with crispy crust, melty mozzarella, and yummy toppings! (via Happy Money Saver)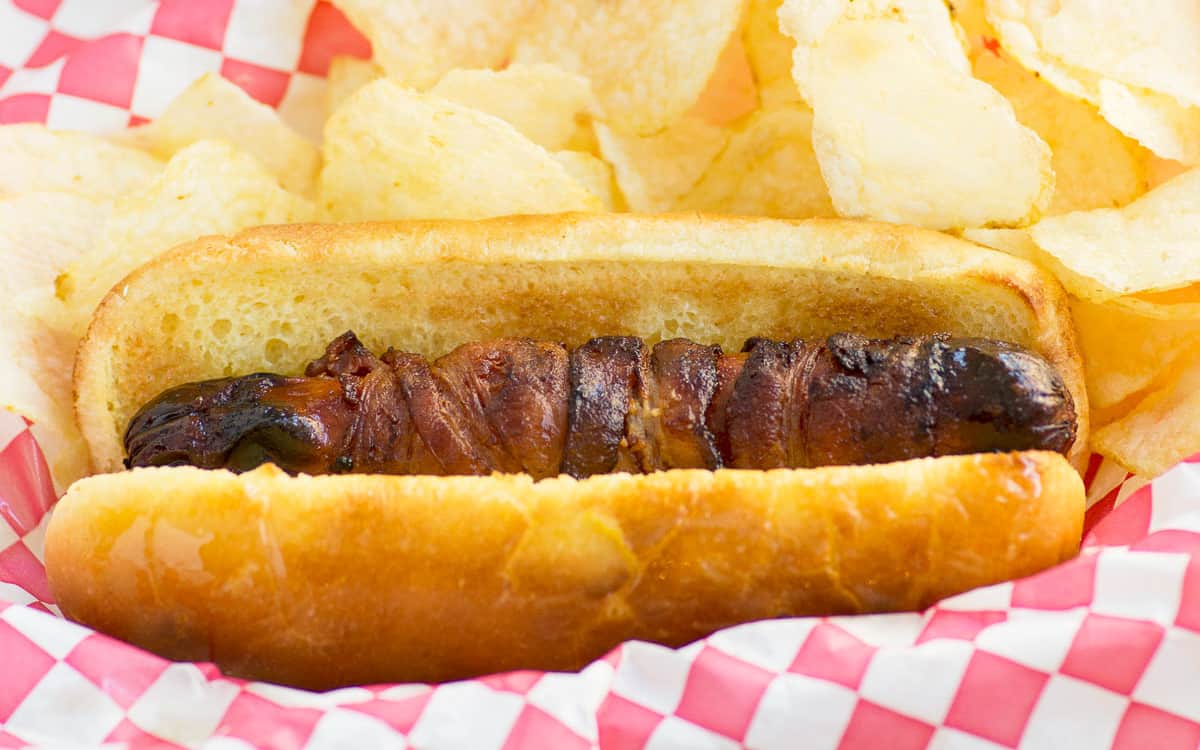 8. Bacon Wrapped Hot Dogs: Hot dogs taken to the next level! Wrapped in bacon and cooked over the campfire, you'll never want plain hot dogs again! (via Happy Money Saver)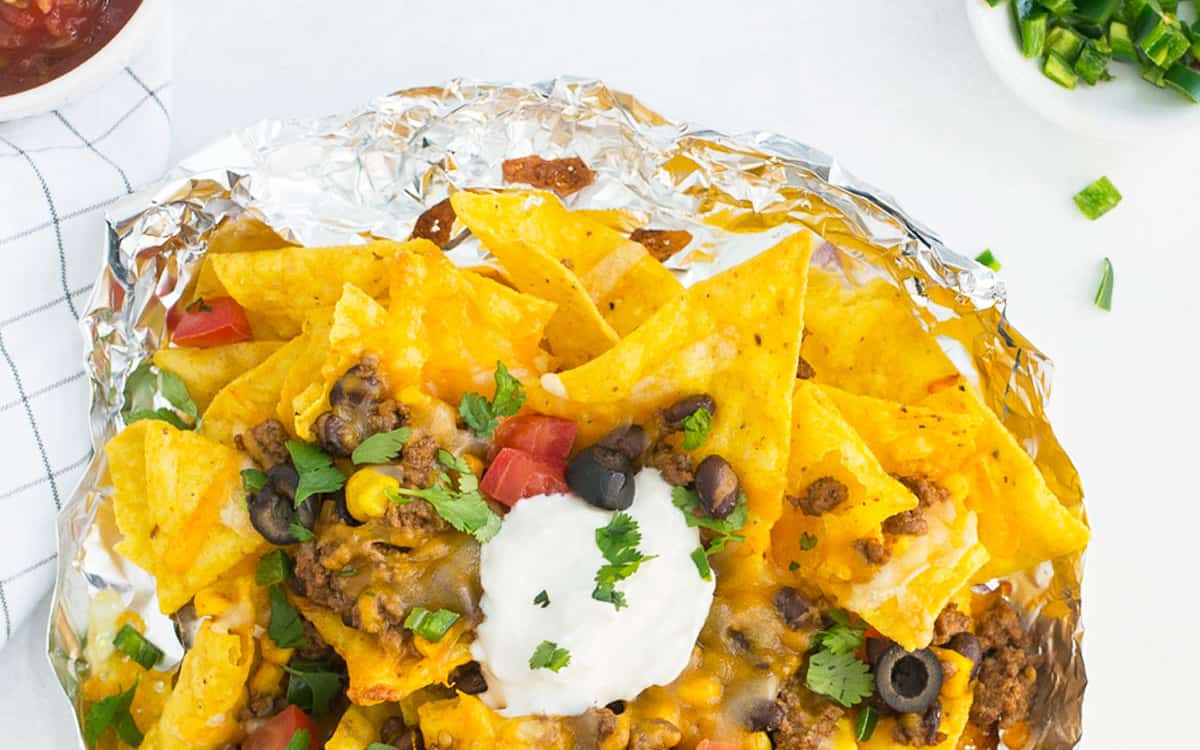 9. Foil Packet Nachos: Didn't think I'd suggest nachos for a camping trip, did ya? These beefy cheesy nachos are my go-to for a quick and yummy camping lunch. (via Happy Money Saver)
CAMPING DINNER RECIPES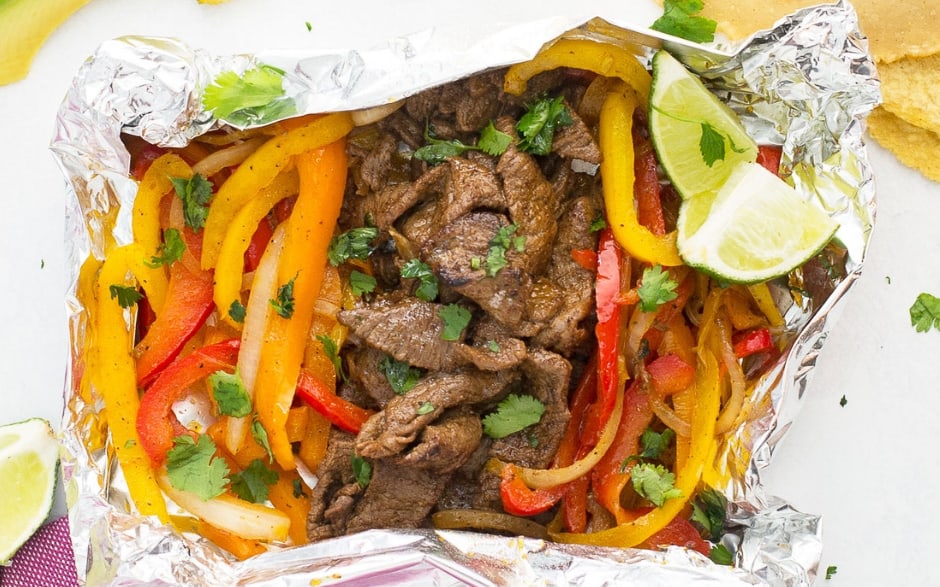 10. Steak Fajita Foil Packets: Juicy steak with peppers and onions make the BEST camping meal that is full of flavor! (via Happy Money Saver)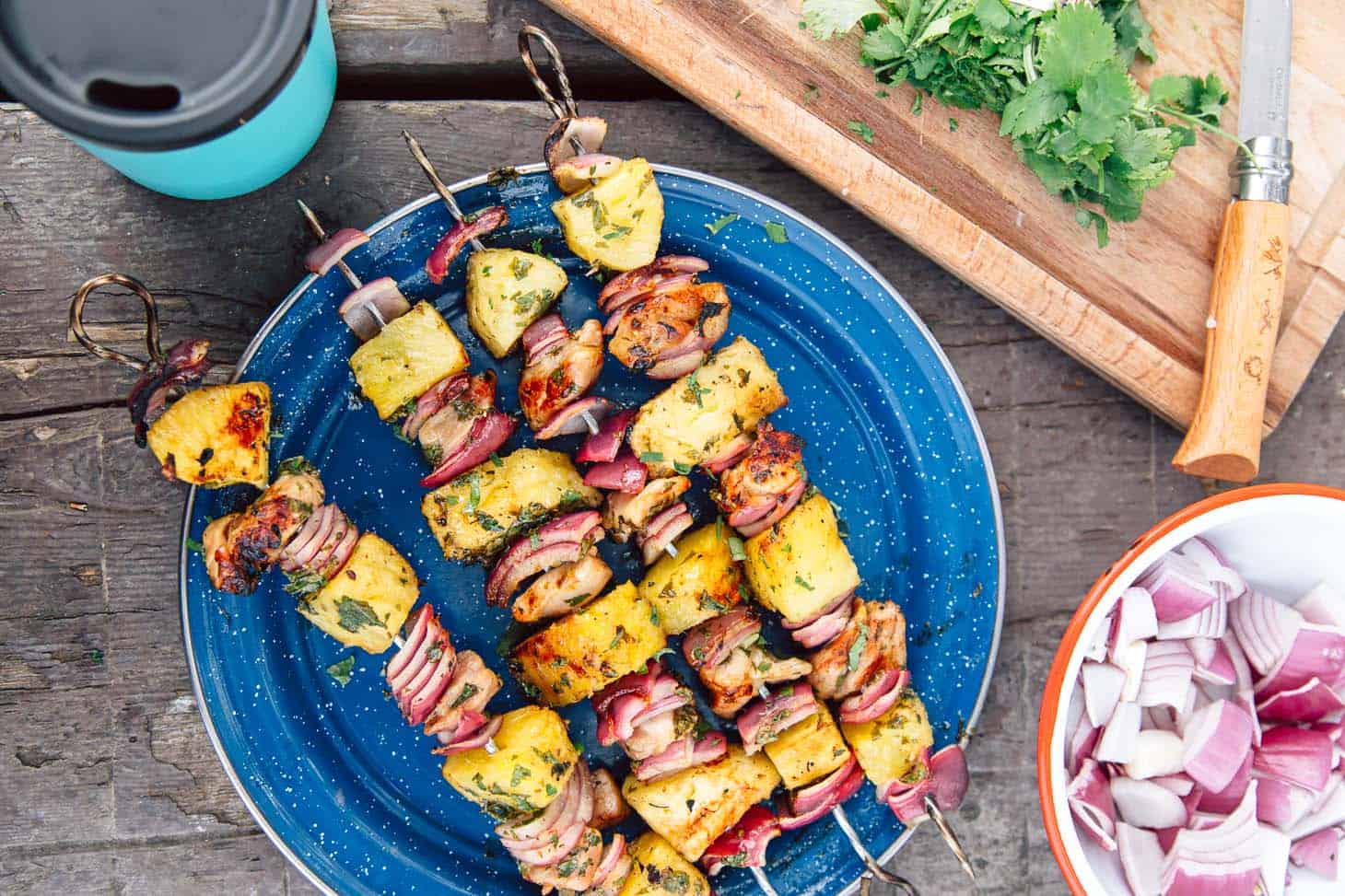 11. Pineapple Chicken Kabobs: Easy make ahead camping meal filled with charred pineapple and marinated chicken, perfect for campfire grilling! (via Fresh off the Grid)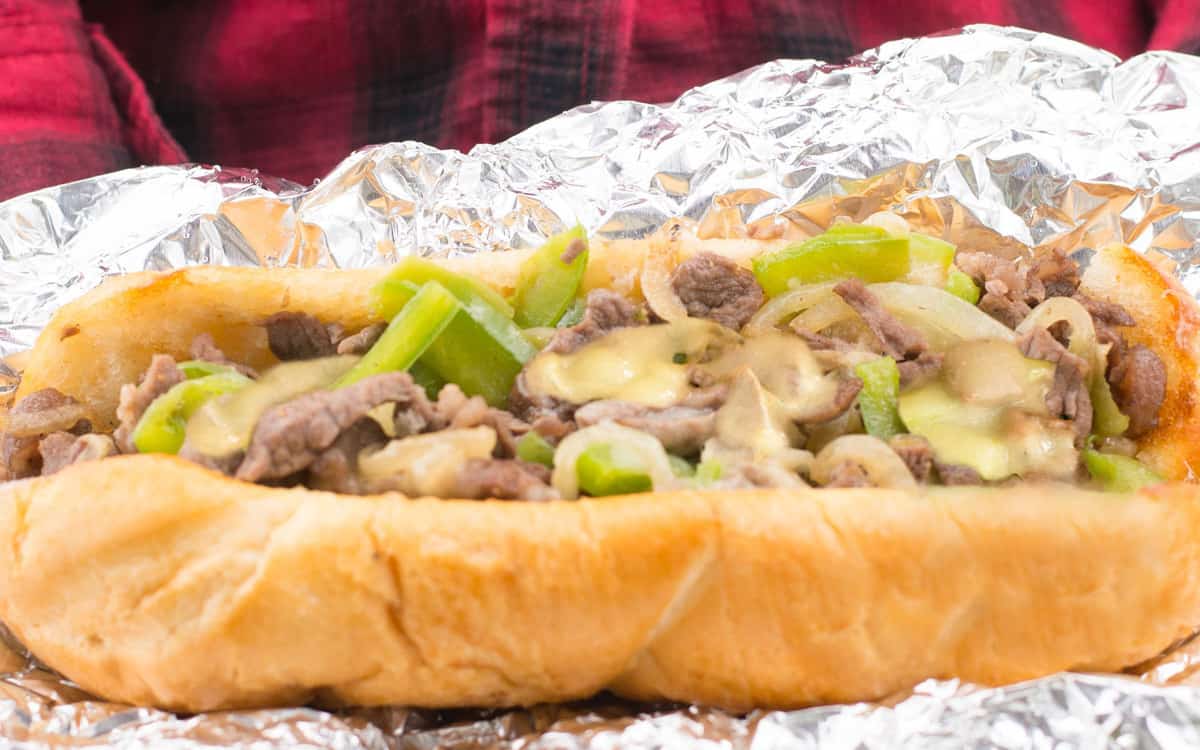 12. Philly Cheesesteak Sandwich: Melted cheesy goodness on top of tender meat loaded with peppers and onions on toasted bread for great camping meal! (via Happy Money Saver)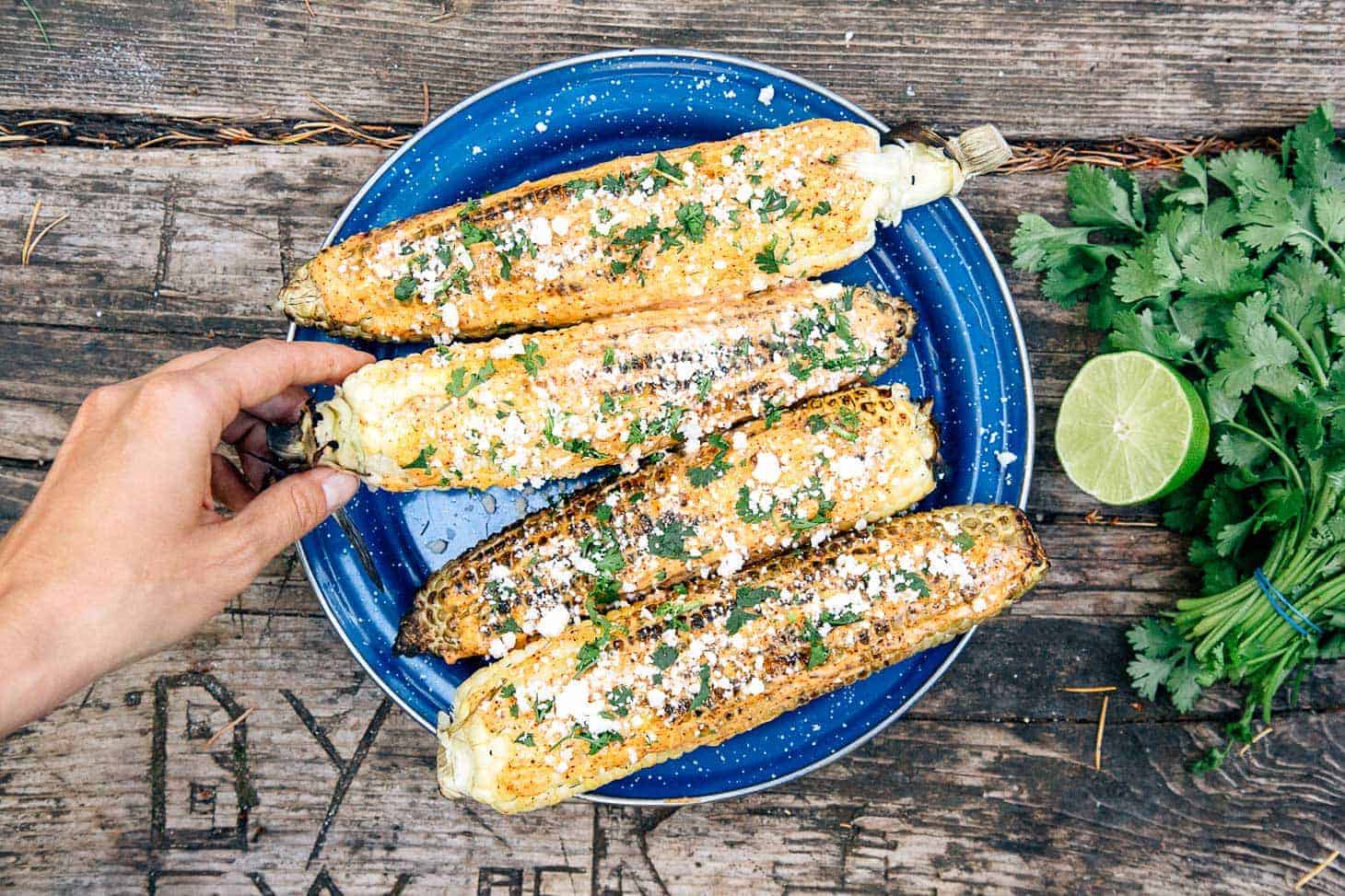 13. Grilled Mexican Street Corn: The combination of the sweet char-grilled corn with the salty cheese and spicy chili powder for the perfect side dish. (via Fresh off the Grid)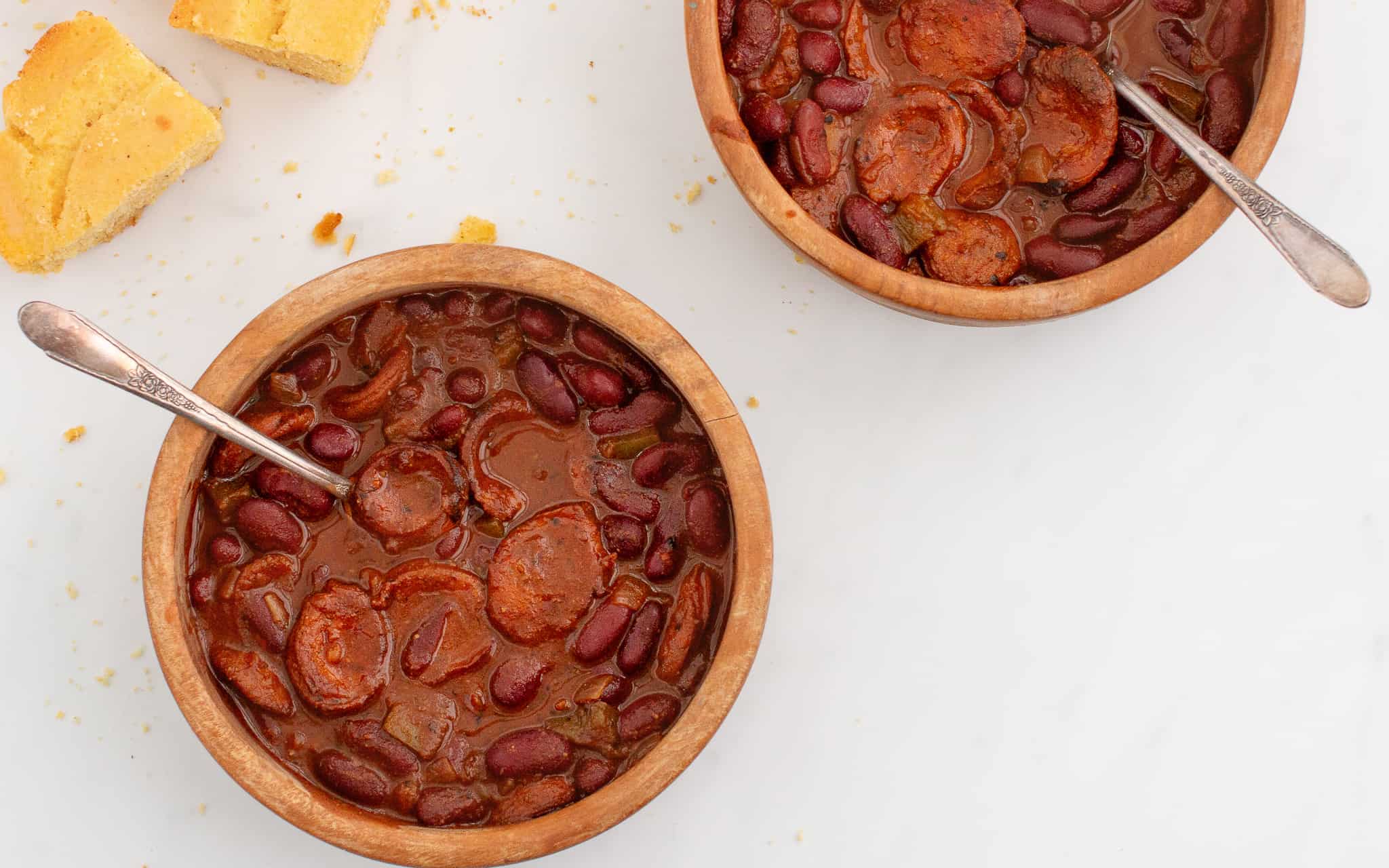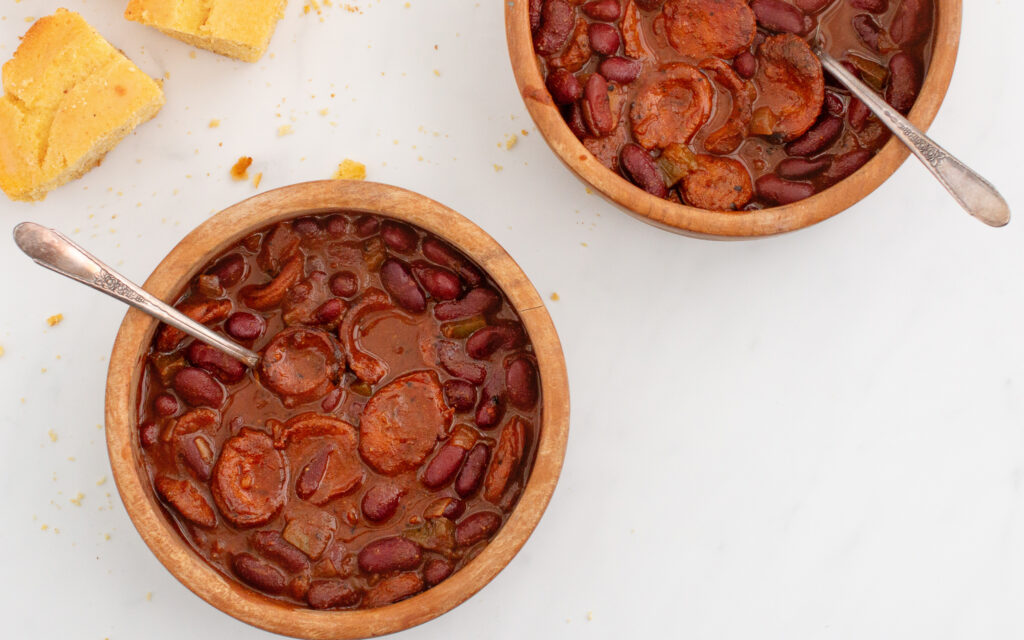 14. Chili with Smoked Sausage: No camping trip is complete without a dutch oven full of chili bubbling over the fire! (via Happy Money Saver)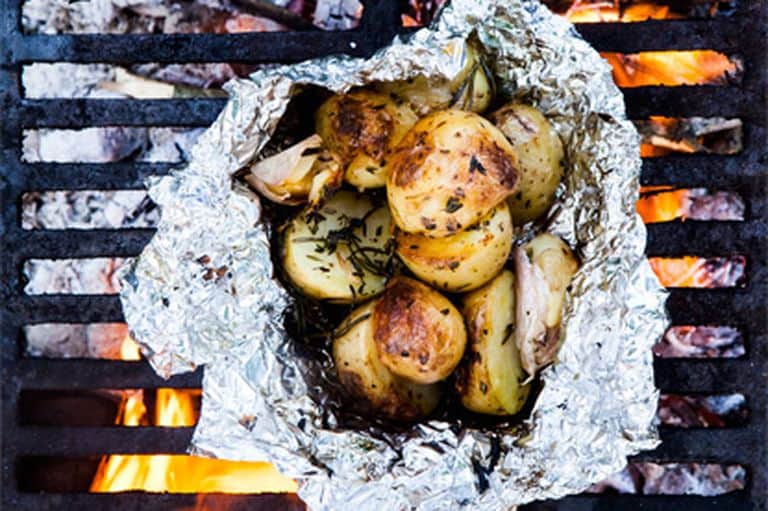 15. Campfire Potatoes: When you're out in the woods and craving something homey, these garlic-and-herb infused campfire potatoes are a classic summertime side dish. (via Food 52)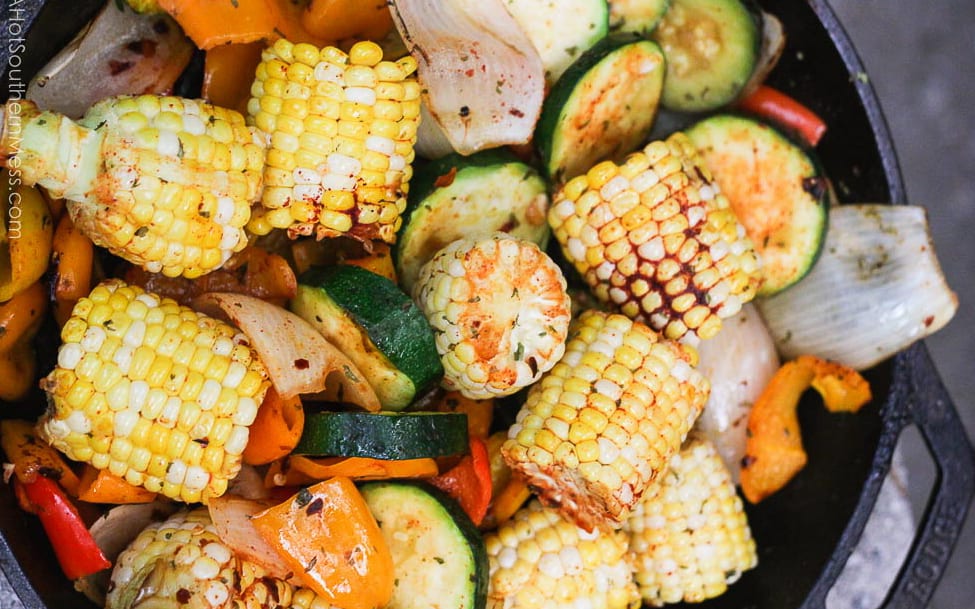 16. Campfire Veggies: The perfect side dish when camping is fresh sweet veggies in a cast iron skillet drizzled with olive oil, sriracha and red pepper. (via Bless Her Heart Y'All)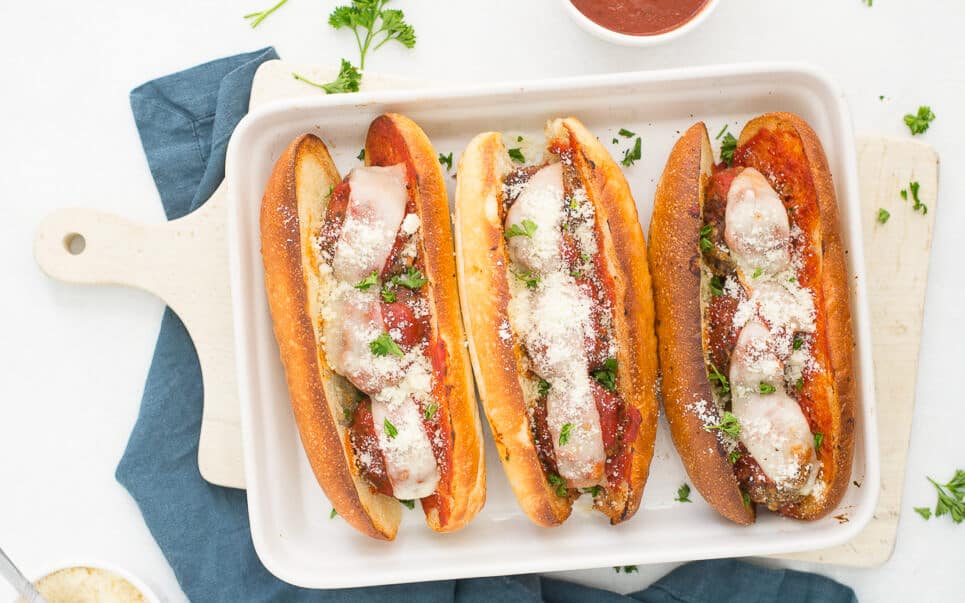 17. Meatball Subs: Meatballs in marinara sauce topped with cheese on toasty bread. It's kid-friendly and takes less than 20 minutes to make over the campfire! (via Happy Money Saver)
CAMPING DESSERT RECIPES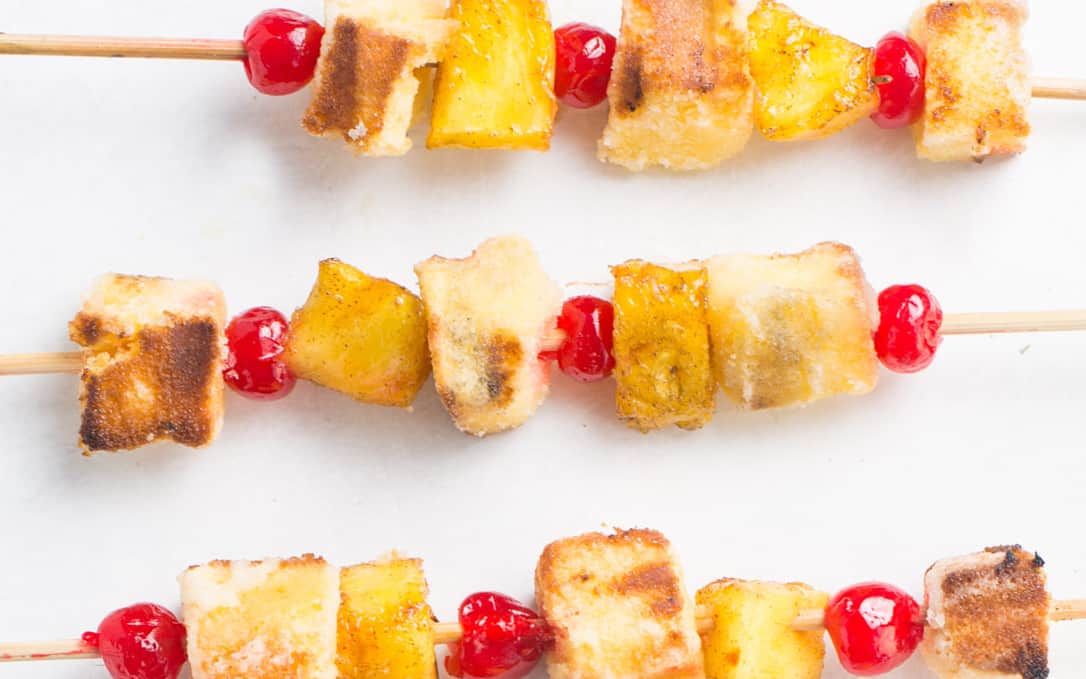 18. Pineapple Upside Down Cake Kabobs: Every great meal deserves a sweet ending! These fruit and cake skewers might replace s'mores on your trip. (via Happy Money Saver)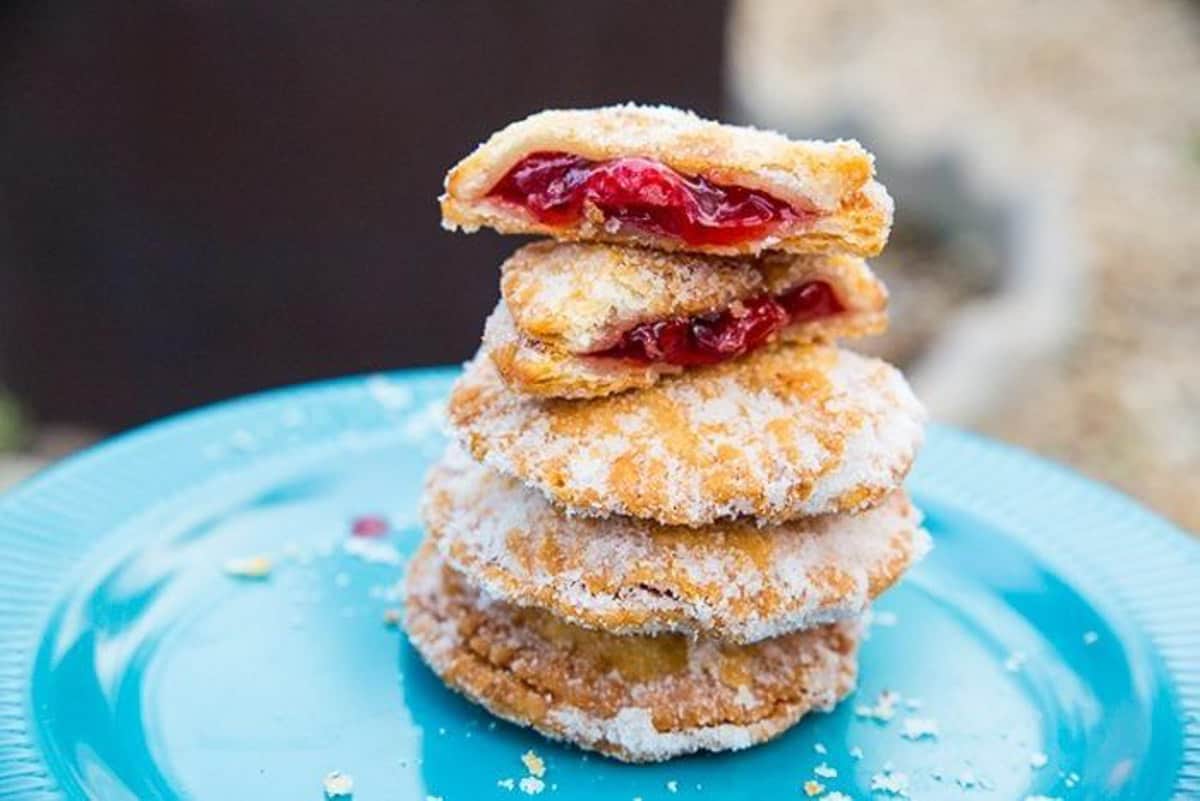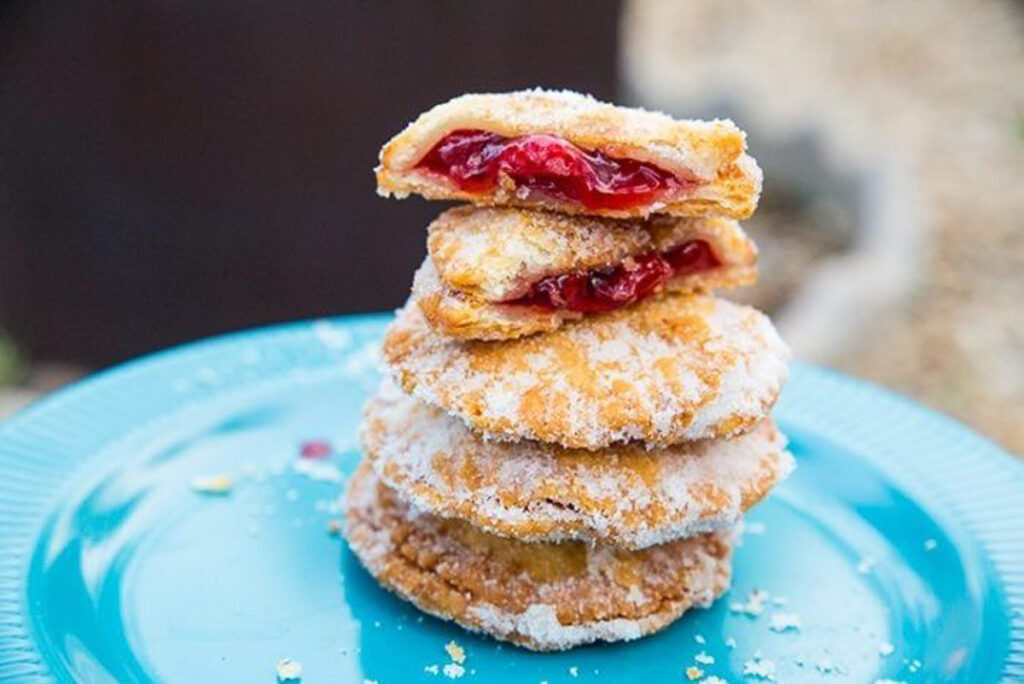 19. Cherry Hand Pies: Cherry pie filling wrapped in a flaky pie crust – sign me up? Made on top of the fire in a heavy skillet, you can beat this camping dessert! (via The Kitchen Magpie)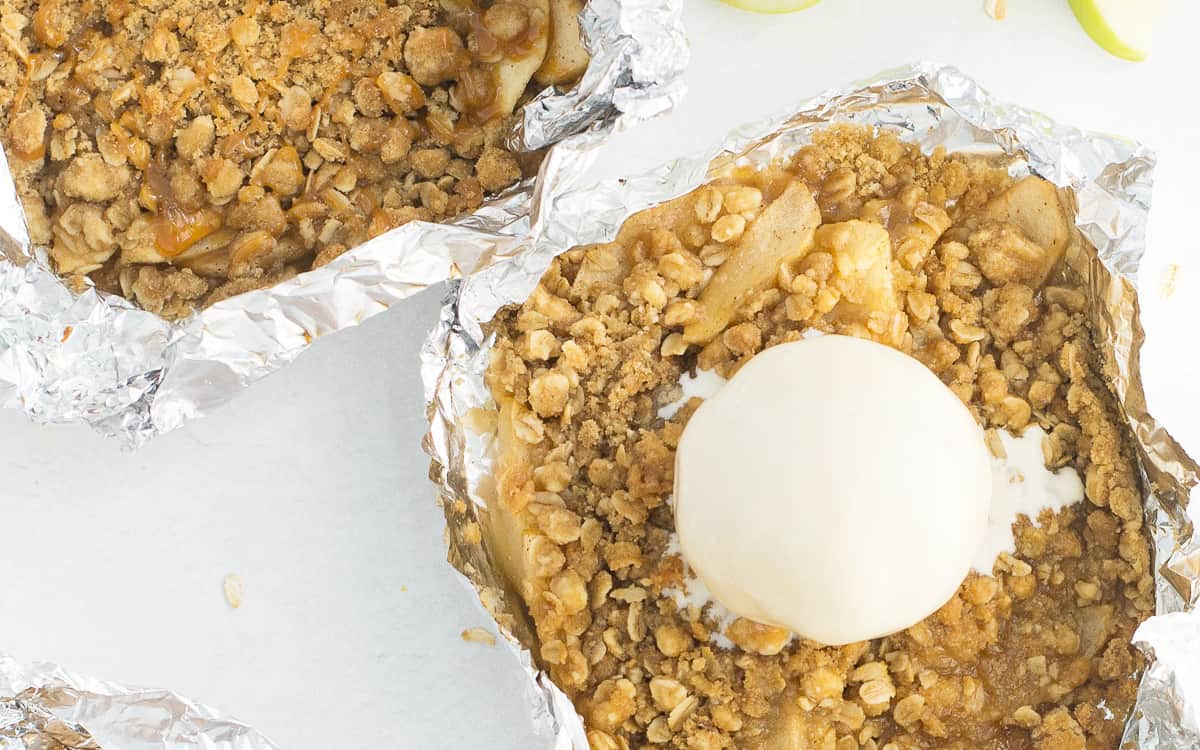 20. Apple Crisp Foil Packets: Loaded with tender apples topped with oatmeal streusel, making it the perfect finishing touch to any summer camping night. (via Happy Money Saver)
Here are More Great Camping Recipes You'll Love!
Breakfast Camping Recipes
21. Campfire French Toast
22. Mason Jar Campfire Pancakes
23. Campfire Skillet
24. Campfire Breakfast Toad in the Hole
25. Hot Ham and Cheese Croissants
Lunch Camping Recipes
26. Grilled Hot Pastrami Sandwich
27. Dutch Oven Cheesy Garlic Bites
28. Camping Quesadillas
29. Campfire Pizza
30. Foil Pack French Dip Sandwiches
Dinner Camping Recipes
31. Shrimp Boil Foil Packet
32. Dutch Oven Thai Campfire Chicken
33. Grilled Pineapple Chicken Foil Packets
34. Bacon Ranch Grilled Potatoes
35. Campfire Beef Stew
Dessert Camping Recipes
36. Cinnamon Roll Monkey Bread
37. Campfire Cones
38. Eclairs on the Grill
39. Campfire Popcorn
40. Pound Cake and Berry Skillet Dessert
Don't forget to comment below if you try these recipes on your next trip – I would love to hear what you think! Happy Camping!