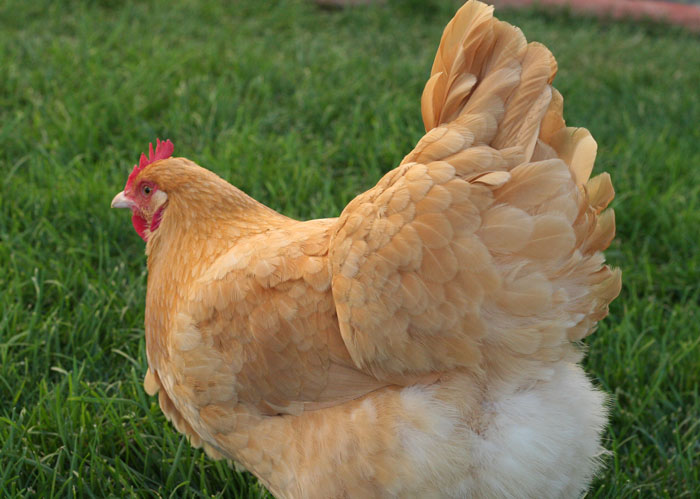 Okay.. today I'm doing a post for my small but loyal group of crazy chicken lovers so for today the rest of you get to put up with another one of my random pointless chicken posts. 🙂
Lately I have been too busy to even enjoy my chickens. I traveled twice to Boise, both times coming back to a tornado of a house to clean. [HUSBAND HACK – IT WASN'T THAT BAD AND SHE DID LEAVE ME ALONE WITH THE KIDS FOR 9 DAYS] This and trying to catch up on blogging, facebook, kids school conferences, church responsibilities, and more has left little time for my chickens. I have my kids gather the eggs, and I clean out the coop once every few weeks (or when the poop gets out of control). But I haven't been able to sit and just watch them – which is one of my favorite joys in life. Unless you have chickens you might not understand what I am talking about. I mean..have you seen chickens just come running to you? It's friggin hilarious.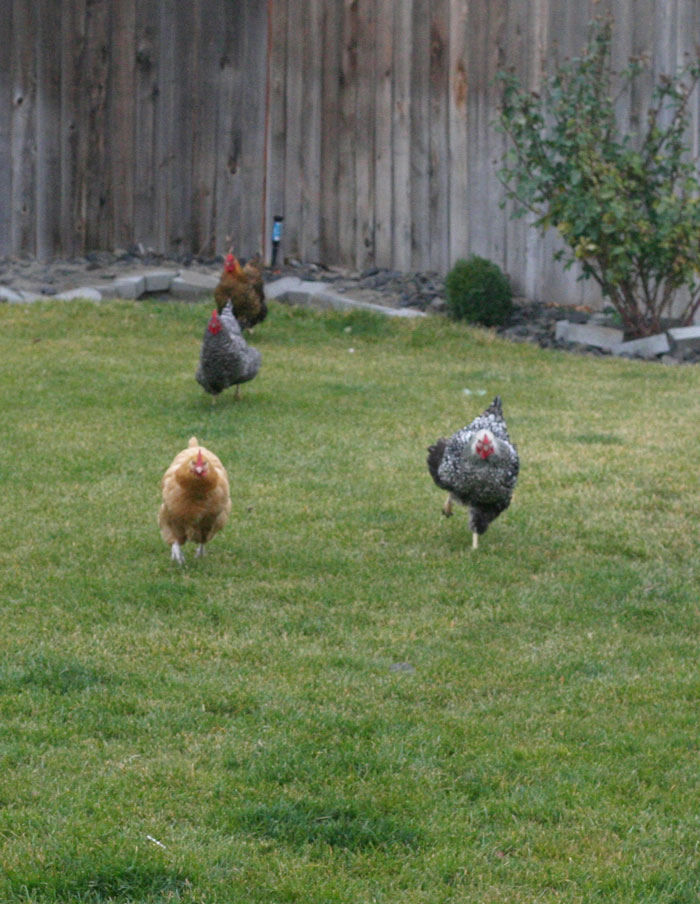 Here they come a running! My biggest concern now is dealing with the cold weather for the first time.
I haven't added any heat to the inside of their coop yet…but I have plans to take their heat lamp and add a regular light bulb to the inside of it. I fear adding the actual heat bulb would be too hot for them…as they seem to be doing great right now with nights getting into the low 40's. Problem is I need to cover the light up so they don't think it's daylight at night time. OR a nice gal told me yesterday to use a red bulb (thanks!!) Either way, I have just gotta figure this out soon.
The truth is…these chickens have grown some new feathers for the winter. Either that or they are just getting really fat. Who knows..they may have gotten a little overfed while I was gone. Hee hee.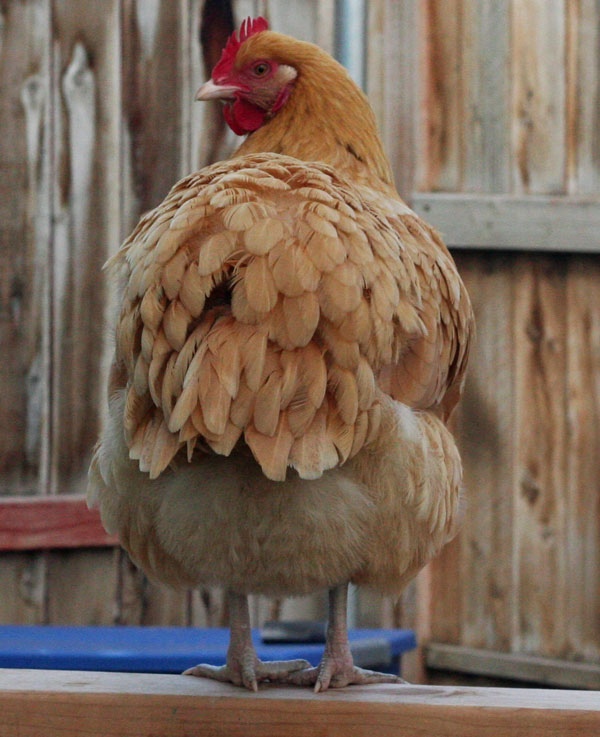 By the way Miss Ginger is still the favorite.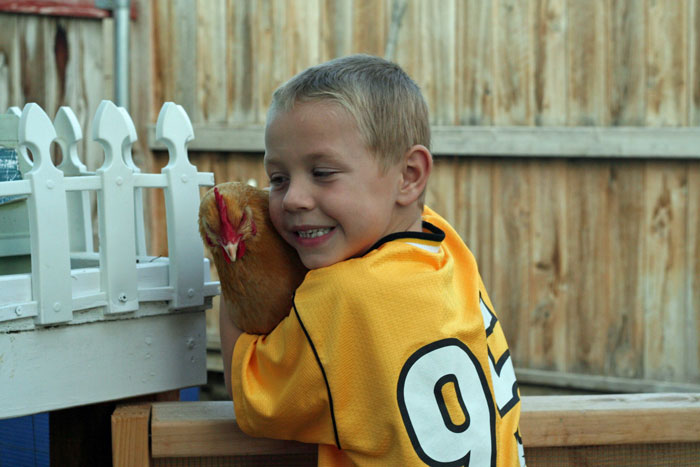 She is just the sweetest chicken and comes right up to us.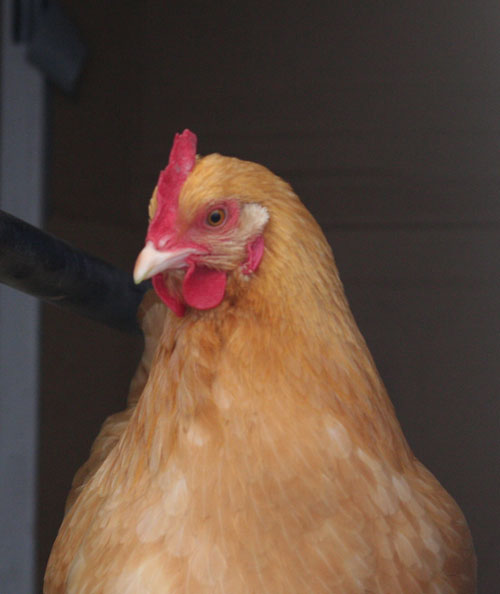 She makes the cutest chicken faces…I mean come on…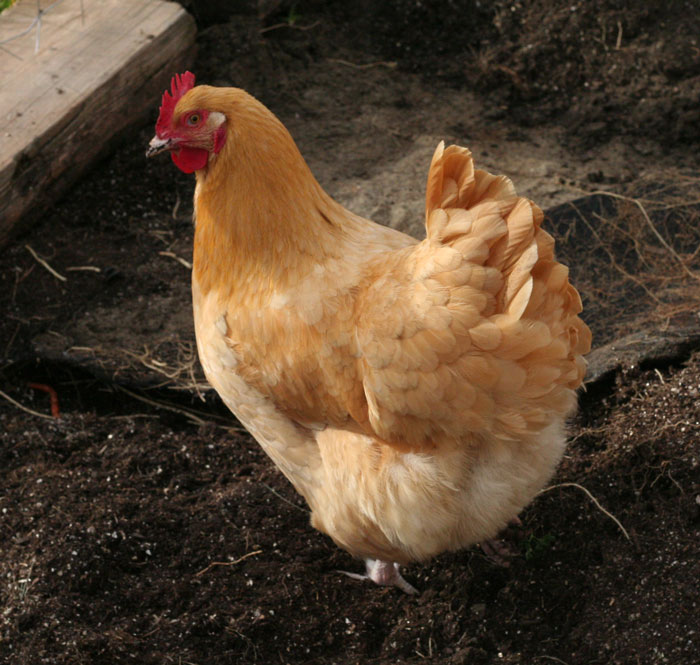 She is totally a "pet" and has earned her way into our hearts. I don't think we could ever eat her after she stops laying. In fact I don't even want to think about that. I don't know what I will do with these chickens after they are done laying. If I get my homestead I will just let them free range till they die I think…[HUSBAND HACK – YEAH RIGHT. THE ONLY THING THEY'LL EARN IS A WAY INTO MY BELLY]
As for the other chickens Miss Lacey is the head honcho.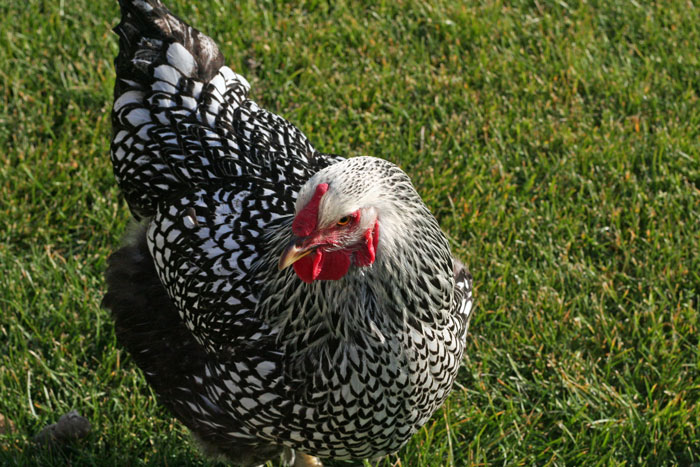 She has to carry the burden of being a leader..thus the mean-I'll-peck-your-eyes-out look. It does mean she gets to eat first every time there is something new to eat. Then Ginger and Goldie are about equal on the pecking order, so they get to eat with Lacey most of the time.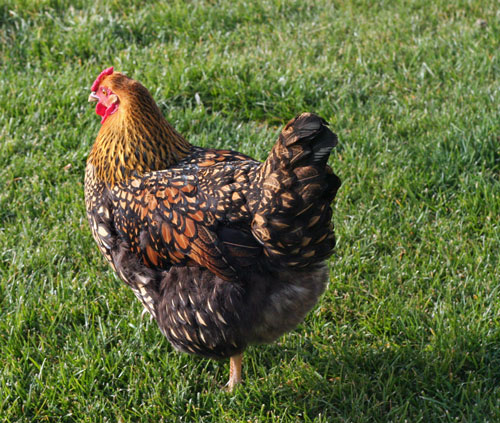 But poor poor Pepper is still at the bottom of the pecking order.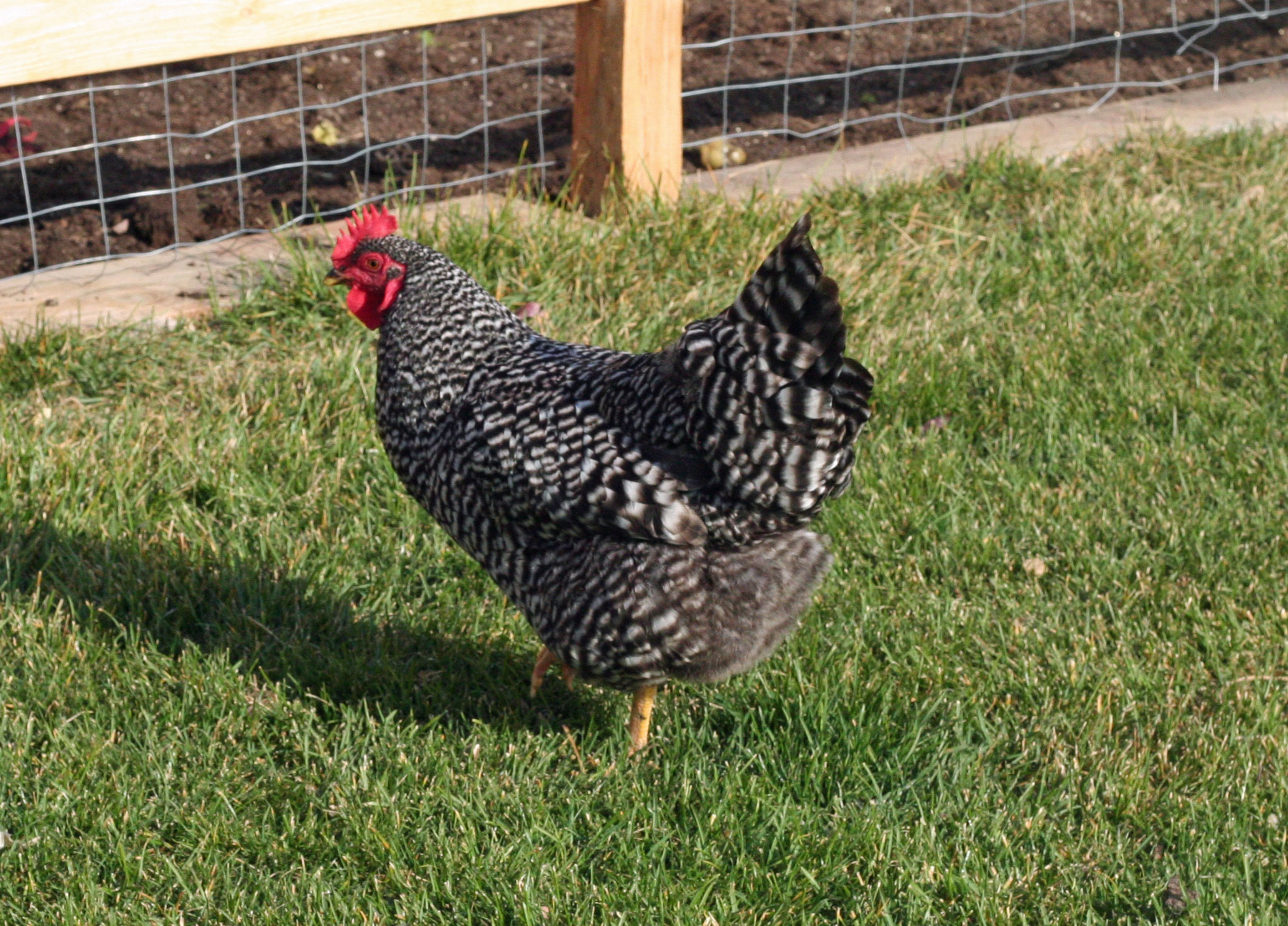 She is constantly trying to eat when they all do, but she has to sneak it and face the wrath of being pecked.
At my house I am totally the mean police so it really bugs me to see the chickens pecking on Pepper. But chickens don't really understand being naughty. I can shout at them to stop and they don't even understand at all. So I often just throw some extra treats for Pepper to eat away from the others.
Some facts about my little urban chicken flock:
My four chickens are around 8 months old now.
They all come out of the coop in the morning when the sun starts to come up – around 7:30am.
When it gets dark they all march up into the coop at around 6:00-7:00pm.
They are all still laying eggs even Pepper who was recently broody. I usually get 2-3 eggs a day.
They all still love eating grass in the yard, bugs, all kinds of food scraps and enjoy being out of the coop.
I am starting to not enjoy cleaning the poop out of the coop as much. Newness wearing off.
Thanks for letting my share. For those of you with chickens…what are you doing to them warm this winter?
You might also be interested in these other posts about Chickens & Homesteading: