This post isn't about all those sweet and nice gifts you would give at a white elephant exchange, these are silly ones. Ones with toilet humor and fart jokes. A few might not be family-friendly, but the majority are. These are the most hilarious white elephant gift ideas to get people laughing.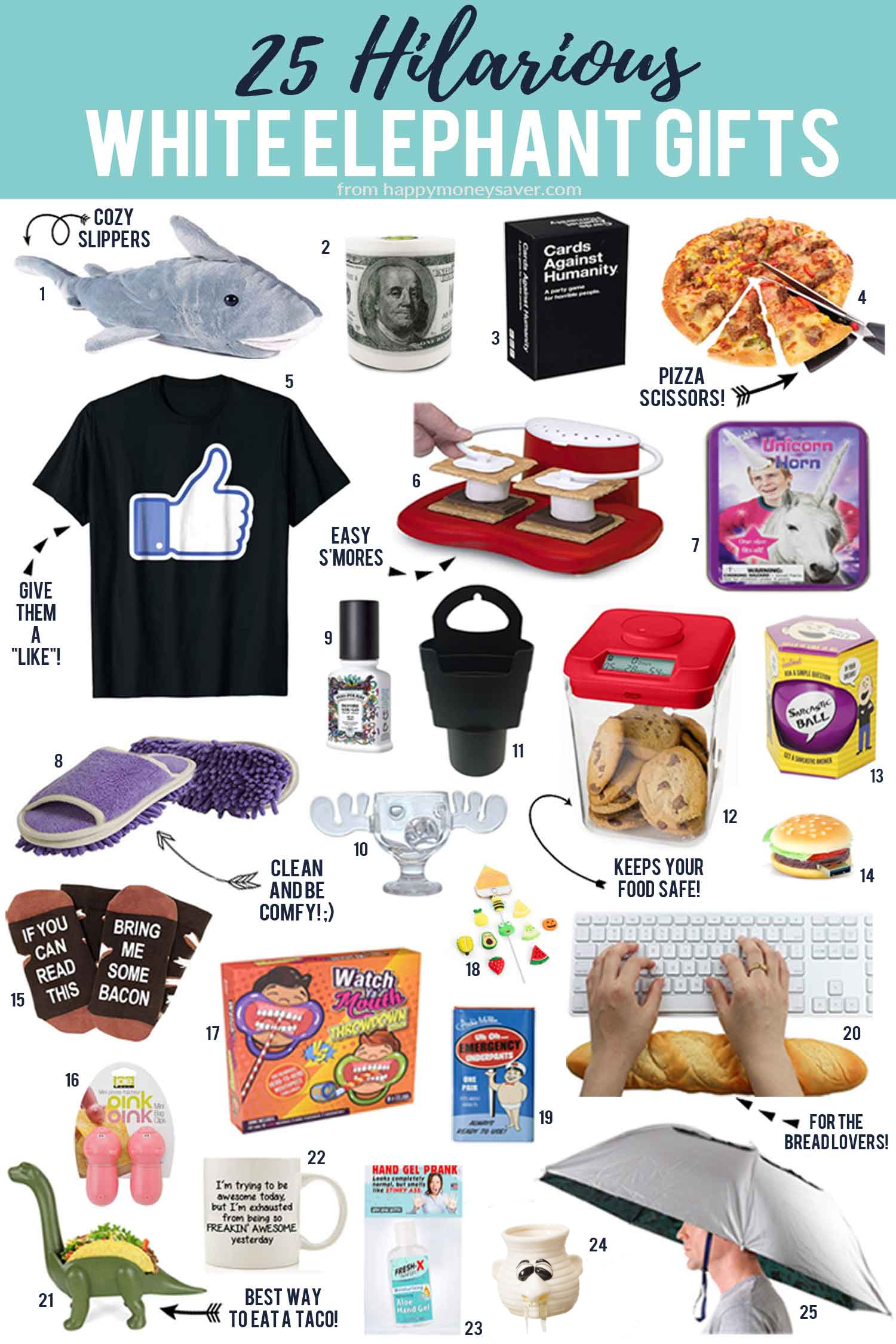 Yep, it's getting to be that time of year again. It's the season of buying gifts for those you love, freaking out, and realizing you only have xx amount of days until Christmas.
It's the time of year we eat too many goodies and wear ugly sweaters. And..it's the season of holiday parties which means White Elephant Gift exchanges.
Now before I begin sharing my top 25 best white elephant gift ideas, I wanted to tell you that I haven't had this much fun writing a post in a while.
I have been laughing so hard imagining my friends opening up one of these gifts. Some of these I just want for myself, so I can play practical jokes on my family members. Yeah, I won't be winning any mother of the year awards any time soon…hee hee.
25 HILARIOUS WHITE ELEPHANT GIFT IDEAS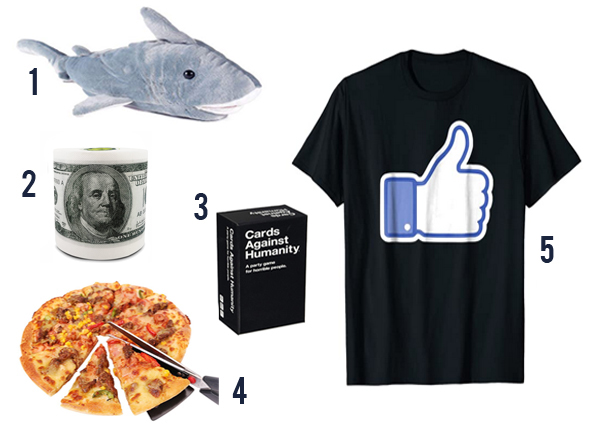 1. Cozy Shark Slippers – Cute and cozy slippers with a side of scary! 😉
2. Dollar Bill Toilet Paper – A fun way to prank someone who loves their money – ha!
3. Cards Against Humanity – This is one of the most fun games for adults to play. Anyone who gets this will love it!
4. Pizza Cutting Scissors – Cut pizza with scissors for a more effective slice!
5. Facebook 'Like' T-Shirt – Let's be honest, we all love a good "like"! Perfect for the person who's always on Facebook.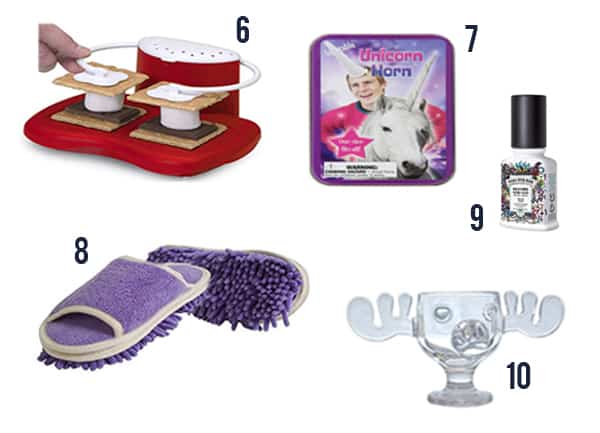 6. Microwave S'mores Maker – Make quick and delicious s'mores, no fire required!
7. Unicorn Horn – Make all of their real-life unicorn dreams come true with this inflatable unicorn horn!
8. Dust Mop Shoe Slippers for House Floor Cleaning – You can accomplish 2 things at once with these shoes- keeping your feet warm and mopping your floors!
9. Poo-Pourri – Everyone needs to carry this around with them and use it before they go, or make your own here!
10. Officially Licensed National Lampoons Christmas Vacation Glass Moose Mug – Let them feel like they're a part of a classic Christmas movie!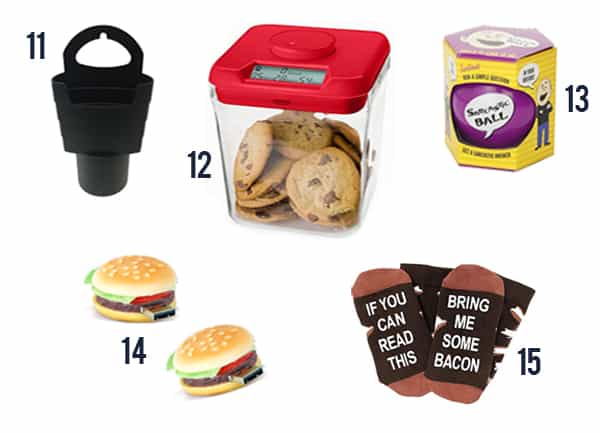 11. Car French Fry Holder – This will be the best gift for all foodies. No more fries falling into the side of your seat!
12. Kitchen Safe – Never let anyone eat your cookies while you're sleeping again!
13. Magic 8 Ball – A fun game for every person of any age!! 😉
14. Hamburger Flash Drive – Who wouldn't love a mini hamburger to store all of their files on?
15. "If You Can Read This… Bring Me Bacon" Socks – These socks will make them laugh!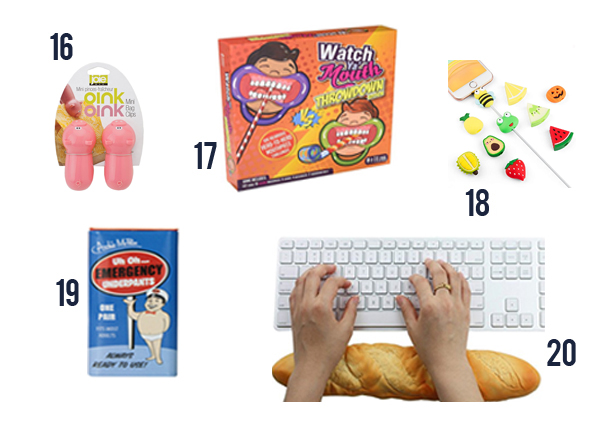 16. Oink Oink Piggy Bag Clips – Keep your chip bags happily closed with these fun piggy clips!
17. Watch Ya Mouth Game – The absolute most fun card game that'll have you all laughing for hours!
18. Cute Fruit Cable Protectors – Protect your phone cords with these adorable cable protectors!
19. Emergency Underpants – You never know when you'll need these!
20. Bread-Shaped Keyboard Wrist Pad – The perfect gift for carb lovers!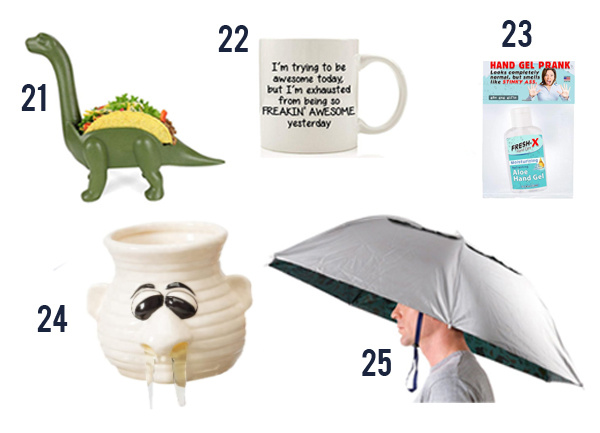 21. Dinosaur Taco Holder – Take eating tacos to a whole new level!
22. 'I'm Trying to be Awesome Today…' Mug – For the person who's ALWAYS busy being awesome.
23. Stank Hand Sanitizer – They'll think they're keeping sanitized and cleaning their hands until they realize it's a gag gift and this "hand sanitizer" smells awful – now THAT'S a gag gift!
24. Fun Snot Nose Egg Separator – No better way to separate your egg whites than with this hilarious snot nose egg separator!
25. Umbrella Hat – Free up your hands by not having to hold an umbrella! This really is pretty cool!
So there you have it! 25 of my favorite hilarious white elephant gift ideas I could find.
Got any other favorites you want to share? Or homemade funny ideas you have seen or done before? I would love to hear about it.
---
HOLIDAY GIFT GUIDES
CHRISTMAS GIFTS
STOCKING STUFFERS AND GAMES
WHITE ELEPHANT GIFTS