This list of the best 15 family board games was lovingly and carefully put together by handpicking only my favorite, tried-n-true, actually fun board games. Pick any of these and you're sure to have a fun family night!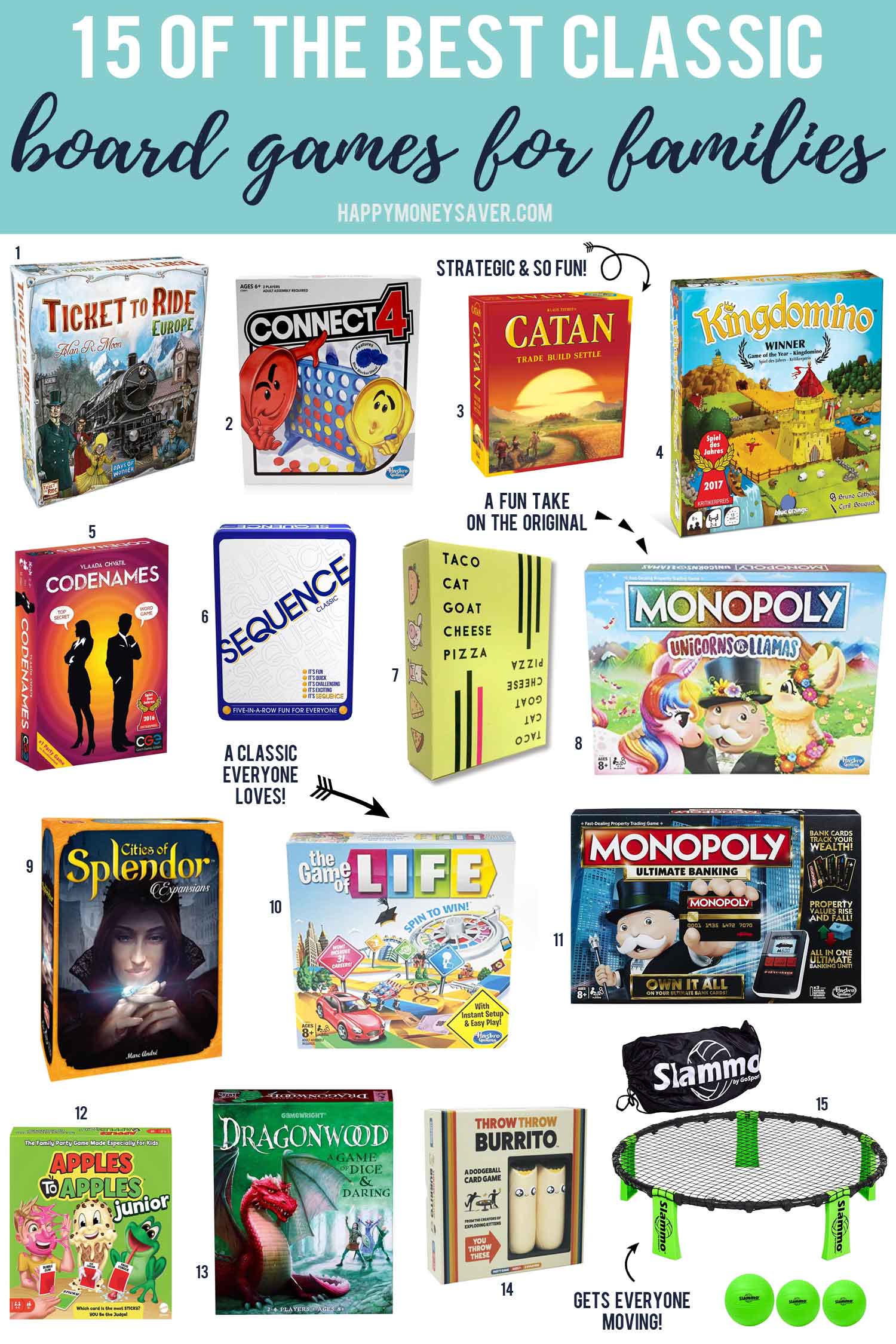 You guys, I'm such a gamer. I can't help it! I was born this way. I just love them so much.
In fact, when anyone, anywhere busts out a board game or a card game (see my list of my favorite card games here…) I'm at that table ready to rock n 'roll!
And I have lots of favorites I especially play with my family. We laugh, we fight (some people are just sore losers…ahem..) but we DO have fun. And any time I can spend time with my family playing games is making some of the best memories.
To be considered the best family board games they needed to be:
Games that my kids (and let's be honest, my husband…) ask to play more than once. Because there's nothing worse than spending $20-$40 on a board game that sits on your closet shelf and no one wants to play it.
Family board games that are fairly easy to learn and set-up (for example while as a kid I loved the mousetrap game, but I don't have it in me most nights to spend 30-40 minutes setting up that beast.)
Fun! The game needed to be really really fun in some way. Whether it's a funny board game that makes your family laugh, or an exciting or challenging game to keep everyone on their toes. As long as it's fun!
That the game isn't too long to play. I usually can't give up 3 hours to play one game, so those kinds of games aren't on this list.
It's also gotta be a game that at I'd have fun playing with adults or small children. Yet still family-friendly, keepin' it G rated, baby!
When you just need some good, family fun, these classic board games are all great options to pull out and enjoy with your loved ones!
Top Family Board Games List (2021)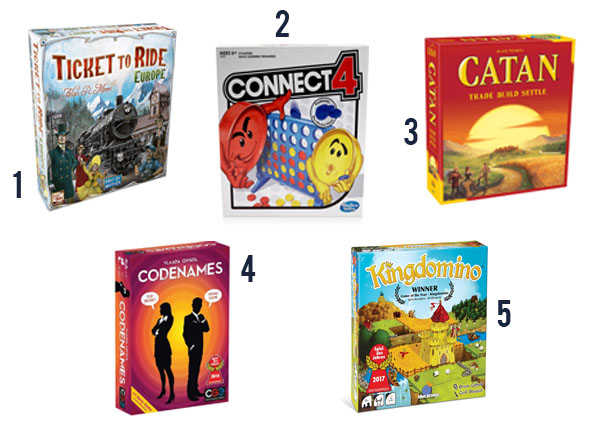 1. Ticket to Ride – I put this one at #1 for a reason! It is one of my absolute favorite games of all time. I love everything about this game. Strategy and luck are involved in winning this game. When I asked my kids what their favorite board game of all time was…it's this one!!
2. Connect 4 – This one is a huge favorite with my kids. It's classic, timeless, and actually really really fun! Plus it's usually a pretty quick game too.
3. Catan – This game can be a bit long and maybe more complicated than some of the others, but it had to be included in this because its' one of my personal favs. I'd recommend ages 8 and up for this one.
4. Codenames – This game is a hoot!!! And is perfect for bigger groups too! This game is played in teams and will have everyone laughing and strategizing all night long.
5. Kingdomino – a super fun twist on Dominoes, it's SO easy to play! I just bought this one in 2020 and it's quickly become a family favorite. There is some strategy in it.. and only one winner. But it's fun to play whether you win or lose!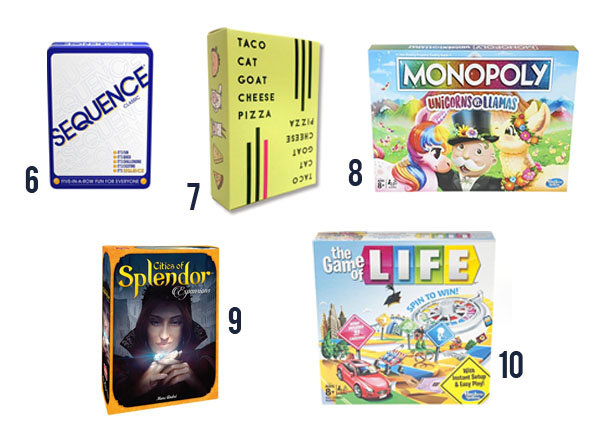 6. Sequence – a fast-paced, EASY game where the objective is to be the first to get five on the board in a row! A must-have game in your stash.
7. Taco Cat Goat Cheese Pizza – I know, I know… the name of this game sounds rather absurd but trust me, it's SUCH a fun and addictive mind game! You'll love it.
8. Monopoly Unicorns vs. Llamas – an adorable animal-filled version of the classic board game. You can always just get the classic version of monopoly instead if you like. But if you're anything like me, having a new fun look and feel to a classic game is so much fun!
9. Splendor – This game is probably my #2 favorite game of all time. It's just plain ole' simple and fun. Not complicated. And is different than any game I've ever played.
10. LIFE – This classic board game had to be included. My family still begs to play this one all the time. It NEVER gets old!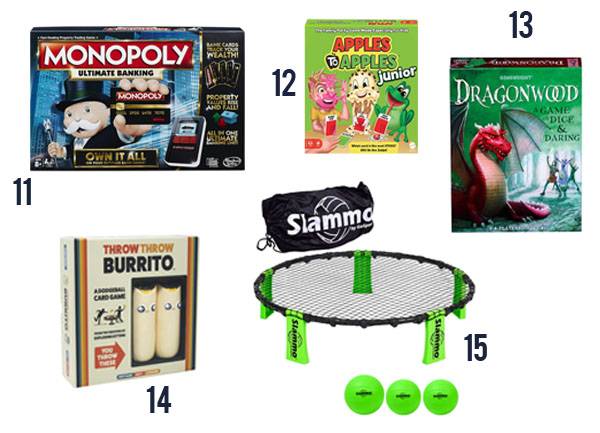 11. Monopoly Ultimate Banking – another fun take on Monopoly that is SO cool you'll want to play it again and again.
12. Apples to Apples – the Junior version of this game will have everyone laughing out loud! Including me and my husband. It's hilarious.
13. Dragonwood – This game I just played last week. What I love about the game is that either the whole family wins or the whole family lose together. No one leaves the game too upset this way! It did take me a while to learn all the rules, but it's a really fun game.
14. Throw Throw Burrito – throw your burrito and collect your cards before you get whacked with a burrito! Yeah. Just imagine the hilarity. You'll love it.
15. Slammo – While technically this isn't a board game, it needed to be included as it's one of the BEST games of all time. It gets you active, bouncing that ball off that net. Super fun.
When is the best time of year to get a deal or discount on board games?
The absolute best time of the year to score a discount on a board game would be during Black Friday.
And… you're in luck as I did a roundup of all the best Black Friday board games deals for 2021 (including amazon links so you can see when amazon is beating the in-store prices!) Much easier to shop at home, especially during these crazy world happenings.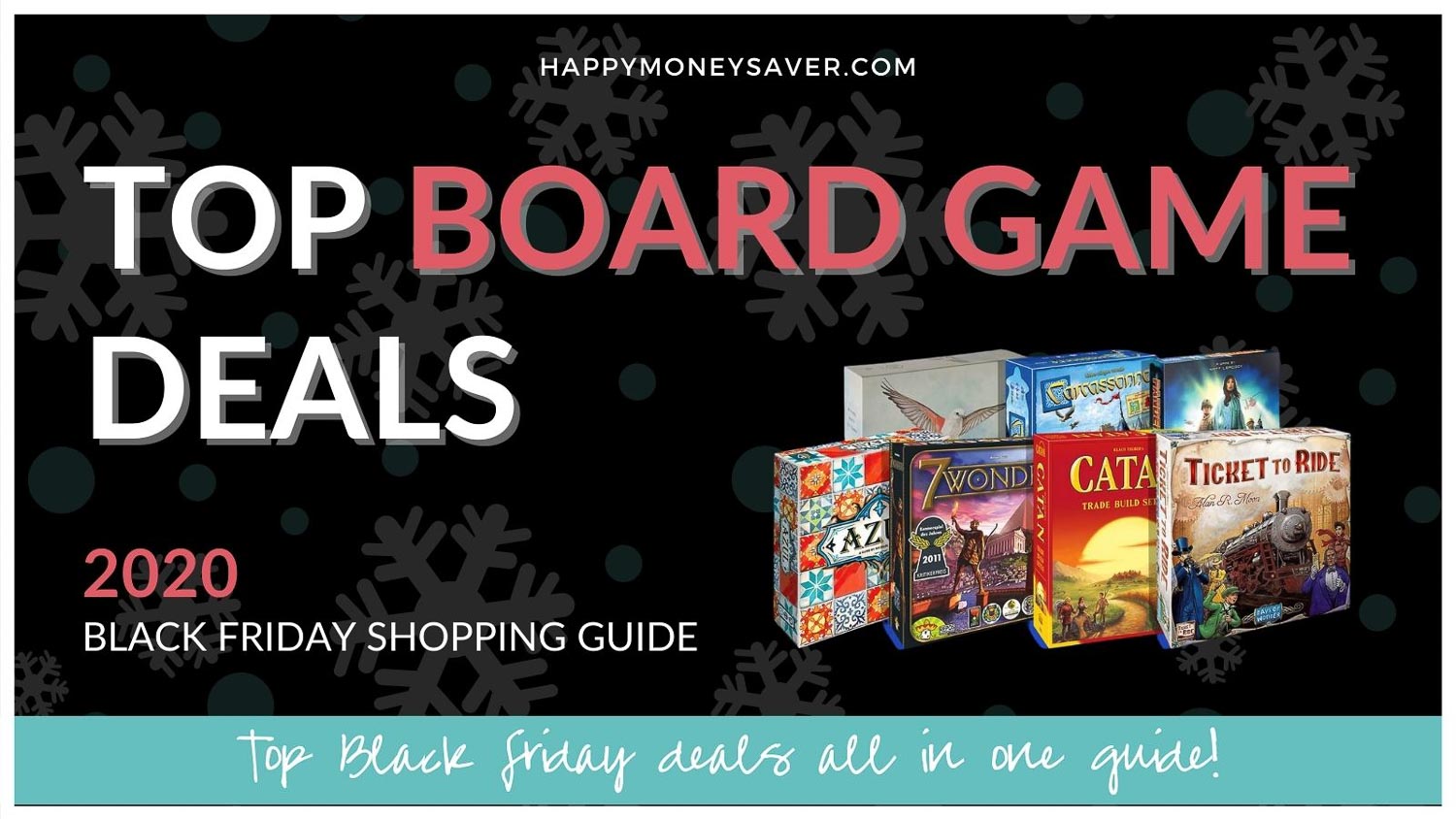 So what board games are YOUR favorites? Did I miss any games you love? Let me know by leaving me a comment below. Share your favs!
---
HOLIDAY GIFT GUIDES
CHRISTMAS GIFTS
STOCKING STUFFERS AND GAMES
WHITE ELEPHANT GIFTS