Christmas is coming, and I have the BEST stocking stuffer ideas from ideas for teens, kids, food, and even the most hilarious stocking stuffers you have ever seen!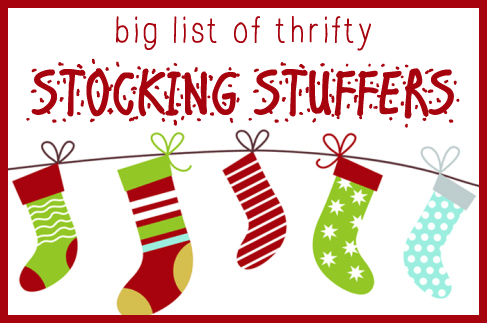 I remember as a child going down and finding all kinds of treasures in my stocking Christmas morning (Thanks, Santa!) As a mom now, I understand how expensive these can be. I find the best plan of attack is to find BIGGER items that take up more room or lots of items that don't cost too much. Here is a big list of thrifty ideas for you!
KID STOCKING STUFFER IDEAS
FUNNY STOCKING STUFFERS
PRACTICAL STOCKING STUFFERS
EDIBLE STOCKING STUFFERS
GAMES AND CRAFTS STOCKING STUFFERS
TEEN STOCKING STUFFER IDEAS
STOCKING STUFFER IDEAS THAT TAKE UP A LOT OF ROOM
CHRISTMAS STOCKING STUFFERS
When in doubt, throw in some money – no one will object, I promise! Let me know of any other Stocking Stuffer ideas you have!
---
HOLIDAY GIFT GUIDES
CHRISTMAS GIFTS
STOCKING STUFFERS AND GAMES
WHITE ELEPHANT GIFTS