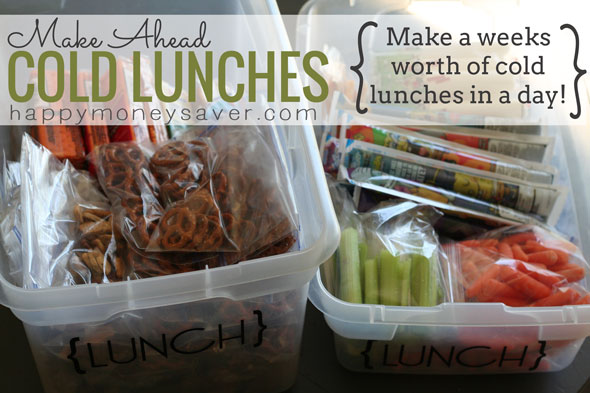 I am re-posting this awesome way to save money by doing make ahead cold lunches! Not only will this save you time but cold lunches can also be a lot more healthy too than the cafeteria mystery hamburgers. Before I tried this method I always had a tough time with packing a cold lunch for my kids.  Even though I always WANTED to pack the kids cold lunches it was a lot of time and work each morning.  I would usually get excited, do cold lunches for about 2 weeks and then get lazy. I found that if I didn't prepare the night before, it was a mad rush in the morning and it was just so much easier to say – "You're getting hot lunch today!"
Last year I tried out making ahead a weeks worth of cold lunches all in one day. And it worked! This idea is kind of like freezer cooking but for cold lunches.  Once a week I chop and bag up all the fresh fruit, vegetables, crackers and any other lunch items all at once. Then I add them to a cold or dry lunch bucket to store in my fridge or pantry. The kids can quickly grab the items to throw in their lunches when they prepare them themselves in the morning or evening before.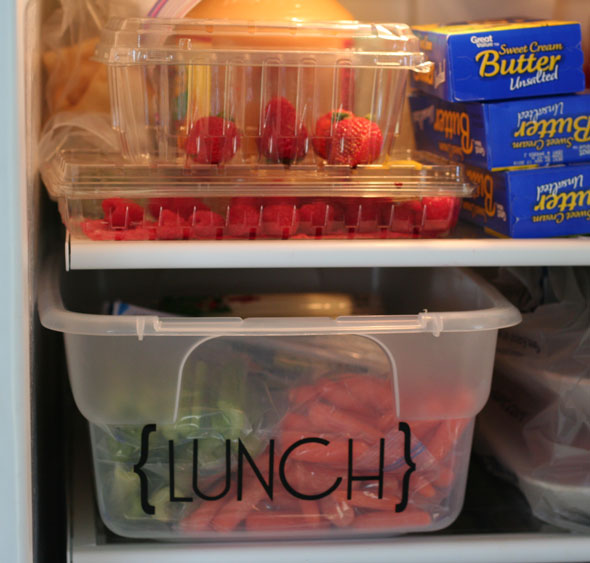 Cold Lunch Bucket
The cold lunch bucket is just a tub I purchased at Walmart. It fits perfectly in my fridge. Once a week I will separate grapes, chop oranges or apples (if I did apples I would first soak them in pineapple juice or fruit fresh so they keep longer), chop carrot or celery sticks and even make up some sandwiches to freeze.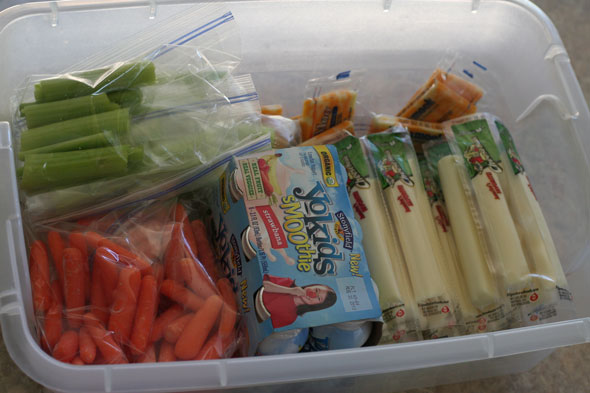 Some of the items I have kept in my own personal cold lunch bucket this past year are:
String Cheese, Babybel cheese
Yogurt smoothies or other yogurt cups
Carrots ( I found little cups with lids at Cash n Carry that I add ranch dip to them sometimes)
Apples
Sliced Oranges
Mandarin Oranges, whole
Green Peppers, sliced thinly
Celery sticks
Grapes, Cherries, Canteloupe or other seasonal fruit cut up
Dry Lunch Bucket
The dry good lunch bucket has all the other dry type items such as bagged pretzels, crackers, homemade granola bars, trail mix, treats and more. This bucket sits in my pantry.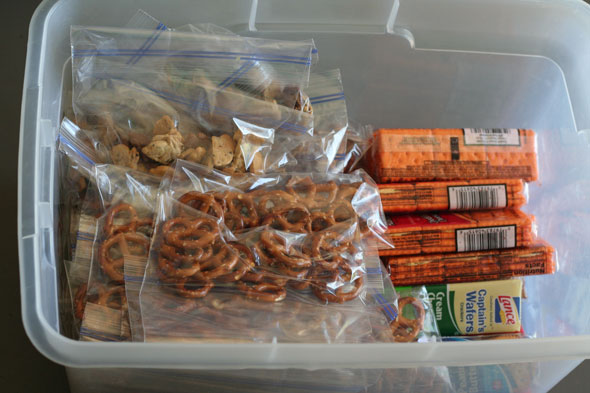 Some of the dry items to consider:
Crackers or Pretzels
Homemade Granola
Granola Bars
Beef Jerkey
Trail Mix
Chips
Graham Crackers
Brownies or Homemade Cookies ( I bake up a bunch and individually bag them up)
Special Treats ( usually for a holiday – like a single candy on Halloween…)
Sandwiches & Wraps
I have found that the easiest way for me to make the sandwich part is to take a large roll or sandwich bun, add in meat and cheese, wrap and freeze individually. My children will take them out in the morning frozen and by the time it's lunch the sandwich has thawed. If they must have the condiments on their sandwiches you can always add them in between the meat and cheese, so when it thaws it won't sog your bread. Wraps will also freeze really well as well as quesidillas. My kids will eat them cold. By the way – my kids favorite is pepperoni + provolone cheese on a hard roll or bun.
How many to Make?
I count out the number of days for cold lunch that week times how many children. Here is my own personal math: 4 kids x 5 days = 20.  20 bags of various chopped vegetables, 20 bags of various chopped fruit, 20 bags of chips/crackers, 20 string cheese or even treats if I feel nice that week..hee hee. 20 Sandwiches, quesadillas, or other main dish options. So I make everything all in one day and get it all prepared.
Where do you get the cute lunch bucket?
The cold inside the fridge box is a 15 qt sterilite container. And the sterilite container for my pantry I found at Walmart.
You can order little Lunch labels through this etsy seller for only $1.50 each shipped!! That is one sweet deal!
Love this idea but want to be more "green" by not using tons of plastic baggies?
One idea you could do is to buy a bunch of re-usable sandwich bags – I love the ones from Neat-os.  They are see through, but are 100% re-usable. It can be expensive to buy a bunch, but it could pay off in the long run.
Consider making up a bunch of bento boxes in advance for the week if you have those containers. You could also just use a few larger gallon sized bags and fill them with all the carrots, string cheese and other items. Then if you are using a bento box or other type of container you can easily just grab some out the day of. It's still better to be prepared.
For me while I want to be green, I am also on a very tight budget. So when I look at $2.00 for 100 little plastic baggies versus having to spend hundreds on re-usables it's tough. So I will be trying to buy a few re-usable bags each month and slowly reduce my waste in the world. You just do what you can! Every little bit helps.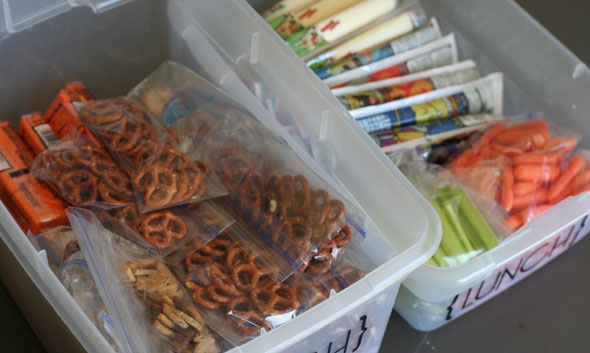 Have you done this as well? Any other great food ideas for kids, teens or even your husband lunches?