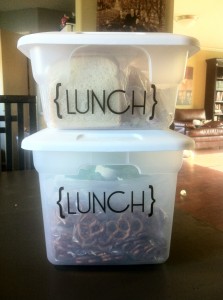 If I am being honest I will tell you that I have a tough time with the whole packing a cold lunch with the kids. I always WANT to do the cold lunch because not only does it save money but it also is often times much healthier as well.   I usually  get excited, do cold lunches for about 2 weeks and then get lazy. If I haven't prepared the night before its a mad rush in the morning and it so much easier to just say – "You're getting hot lunch today!"
So this year I am making cold lunches a priority. I have a plan. Its kind of like freezer cooking but for cold lunches.  Once a week I am planning on chopping and bagging up all the fresh fruit, vegetables, crackers and any other lunch item all at once. Then I will add them  to a "lunch" bin. I have a cold lunch bin and a dry goods bin. The kids can quickly grab the items to throw in their lunches when they prepare.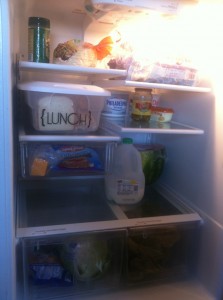 The cold lunch bin fits perfectly in my fridge. Once a week I will separate grapes, chop oranges or apples (if I did apples I would use fruit fresh), chop carrot or celery sticks and even make up some sandwiches or other main dish items.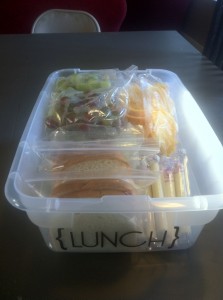 The dry good lunch bin will have the other item such as bagged pretzels, chips, sweet-treats and more.This will be in my pantry.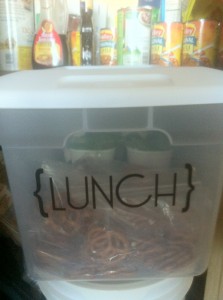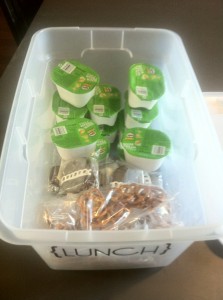 I plan on counting out the number of days for cold lunch that week times how many children. Here is my own personal math: 4 kids x 5 days = 20
20 bags of various chopped vegetables
20 bags of various chopped fruit
20 bags of chips/crackers
20 string cheese or even treats if I feel nice that week..hee hee.
20 Sandwiches, quesadillas, or other main dish options.
So I would make everything all in one day and get it all prepared. That's my plan! I am really hoping that if I do this I will be able to save a lot of money on lunches.
Anyone else have any great strategies to keep those cold lunches going? Anyone want to join me on this goal?